Foley backs Muschamp (again), Gators season 'not acceptable'
Florida athletic director Jeremy Foley has publicly backed Will Muschamp several times, the latest coming before today's game against Florida State
• 2 min read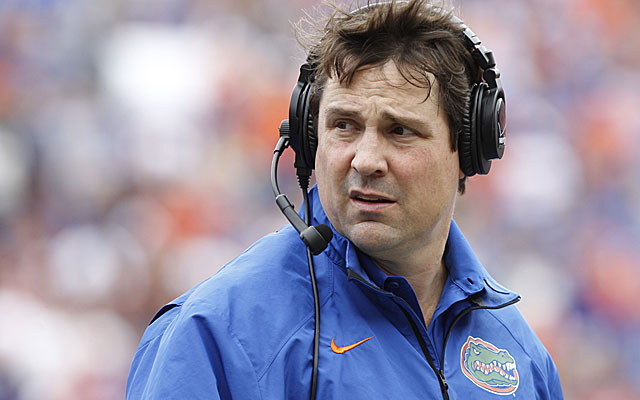 GAINESVILLE -- Jeremy Foley backed his coach -- again -- but acknowledged Florida's dreadful offense needs help. 
Time to rest the notion that Muschamp will be gone in 2013. Despite a season Foley calls "unacceptable," Florida is sending stronger messages than what Nebraska's Shawn Eichorst offered up for Bo Pelini.
"I don't think it's any secret, and Will [Muschamp] will tell you, we have to fix that side of the ball," said Foley before Florida's noon kickoff with No. 2 Florida State.
As the 4-7 Gators limp to the finish line of its first losing season since 1979, the 105-ranked passing game has stunted a once-proud Florida offense. Florida has failed to score more than 20 points in each of its last six games, all losses. Offensive coordinator Brent Pease and offensive line coach Tim Davis are unlikely to return, as colleague Bruce Feldman reports.
Effort seemed to be a problem in losses to Vanderbilt and FCS-level Georgia Southern.
Foley has publicly supported Muschamp three different times throughout the third-year coach's turbulent campaign, making it clear he has no intention of combing the open market.
He wants his coaches to know "when things get tough, we're going to be there."
"The guy was 11-1 a year ago, SEC coach of the year," said Foley of Muschamp, whose Gators went 11-1 in the regular season before losing to Louisville in the Sugar Bowl. "To sit here and be silent or say we'll comment at the end of the year, that's not how we felt. … He's been a big time football coach for a long time. He has a plan."
Coaching had a lot to do with last year's BCS appearance, Foley said.
"You can tell when people are in leadership roles and when things aren't going well how they react and learn about them," Foley said "When I'm around him, I think we're better. I think he will fix it."
Foley did not show the same patience with Ron Zook, firing him seven games into his third season despite having a better record (23-14) than Muschamp's current 22-15.
Foley says those situations are not "apples to apples."
"When you're in a leadership role, you have to make a decision based on your gut sometimes, based on where you think something's headed, whatever decision you think is right for the total organization," Foley said. "In 2004, just didn't think it was going to work out as I had envisioned it. I don't feel the same way now."
Florida's roster got a boost on Tuesday with the return of several key members of the prog...

Tom Hutton joins the ranks of former Aussie rules footballers joining the college football...

The freshman is already on Heisman lists after throwing the walk-off score in the national...
These seven teams should make the most noise down the homestretch towards signing day

Air Force was forced to cancel 11 athletic events because of the 69-hour government shutdo...

Olson has a lot of the tools offensive coordinators want in a quarterback