Football recruiting is becoming more childlike with each passing year
With eighth-graders now committing their services to college programs, how soon is too early to recruit a kid? Seemingly, it's never too soon.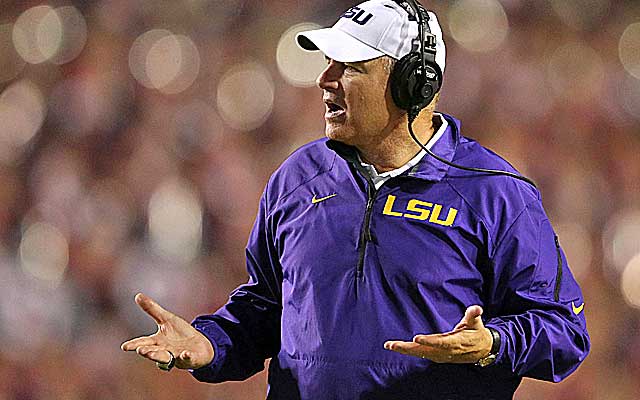 JC Shurburtt got a call the other day. The parents of a 5-foot-9, 166-pound middle-school offensive lineman wanted to let 247Sports' national recruiting director know about their son.
"We'd like to put him in the database," they communicated to Shurburtt, "because we don't think he's getting enough exposure."
At that point, this recent trend of players committing right out of the womb may have found its limit. Shurburtt finally cracked the day he got a tweet about another pre-adolescent flying under the recruiting radar.
"There is no radar," at that age, CBSSports.com's top recruiting guru told me this week. "I don't even respond to half these people.
"These stories of younger kids committing are more like viral-type articles. If college football coaches are smart and players and parents are smart we're not going to see this become an epidemic."
Forget the vaccine because we're already there, aren't we? Six years ago Tyrone Willingham made headlines by offering his first freshman at Washington. One of the top quarterbacks in the Class of 2015 got a scholarship offer from Fresno State when he was 15. A 14-year old quarterback from Somerset, Texas, committed to LSU this week.
And he may have been late. Les Miles' program reportedly became the only one in the country to have commitments for each of the next four recruiting classes through 2018.
"The pressure's really off at this point," said the 14-year-old's uncle, former Heisman winner Ty Detmer. "At the same time these kids are scratching and clawing to get coaches to look at them. Enjoy it, keep working. Potential doesn't get you anything."
That Shurburtt's opinion comes from a big-time talent evaluator is more than ironic. He and his peers are among those responsible for the annual overhyping of recruiting. Now we're setting age limits to the annual recruiting hypefest?
Well, yes. Potential gets more childlike each year with eighth-graders -- and younger -- committing to schools before puberty. Forget whether it's right. It's a distraction, borderline unsavory and probably exploitive.
But this is America, where we've made ratings winners of The Next Top Model and The Biggest Loser. Why not The Next Big Thing? This new (young) frontier is why we read, watch and subscribe to recruiting.
While it makes total sense to project middle school basketball players as college program changers, the nature of football is totally different.
This is different than Chris Evert turning pro at 17 or Jordan Spieth leaving Texas after his sophomore year.
They were among the best in the world at their sport. There is little reason those 166-pound linemen should be evaluated, except to boost mommy and daddy's egos.
Even those recruiting gurus can't -- or won't -- predict the future of a kid who can audible against a blitz but doesn't know the first thing about changing a tire. Or asking out a girl. Or coming in after curfew.
These are life experiences that have be ... lived. You would think we'd learn something from the RoboQB story of Todd Marinovich. That was more than 20 years ago. Since then, the recruiting trail has become a bullet train. You're either on it, or left at the station.
That latest phenom is Detmer's nephew, Zadock Dinkelmann. The 14-year-old already has a built-in advantage in terms of genes and size.
Uncle Ty won a Heisman. His sister Dee married Johan Dinkelmann, who had played at Cincinnati. At 6-foot-4, 190 pounds, Zadock is taller and heavier in junior high than the local high school's starter -- cousin Koy Detmer Jr.
"Zadock," Uncle Ty said, "is a like a full-grown puppy right now."
Is that enough to project him to being a big dog four years from now?
"I kind of get on my soap box as a high school coach," said Detmer, who heads up the program at St. Andrew's Episcopal School in Austin, Texas. "I wish they couldn't offer anybody until their senior year, but it's one of those things. Here's a kid who is working toward notoriety.
"That's kind of where this whole process is going. It's all marketing."
If nothing else, Detmer theorizes, Zadock's commitment will get attention for his cousin, who is about five inches shorter and 25 pounds lighter.
Baton Rouge native linebacker and running back prospect Dylan Moses has similarly committed to LSU -- before his eighth-grade season. Great for LSU, great for the families. But not everyone or everything works out. The Biggest Loser -- in this case -- could be perspective.
Shurburtt, as you may have surmised, refuses to evaluate middle schoolers.
"I'll never do that," he said. "The day that happens is the day I'm going to go to the farm. It's just because you can't scout and do rankings in the seventh or eighth grade in football."
Except that if it's all about marketing, it means there's a market there.
Steve Clarkson kind of started the current youth QB conversation. He's one of the top quarterback gurus in the country. Dads pay hundreds of dollars an hour for his time with their sons. 60 Minutes has profiled him.
He's such a dream maker that he's the self-described Dreammaker.
Four years ago 13-year old David Sills, one of Clarkson's prospects, verbally committed to USC. That basically began a national trend of youth quarterbacks committing early. Way early.
"It's what I sell," Clarkson said. "I didn't say it was right."
Clarkson can only teach these kids, he can't help what happens by the time they're old enough to drive, or date, or sneak in past midnight -- or sign a national letter of intent.
When Sills gets to USC in '15, he could face a quarterback depth chart that includes all of the following -- redshirt senior Cody Kessler, redshirt sophomore <player idref=e, sophomore Jalen Greene and fellow incoming freshman Ricky Town, the No. 2-rated pocket passer in the country.
What Clarkson doesn't do is promise next-level success. This is a guy who told a young Steve Sarkisian "he couldn't play at the highest level. I told him he could be a coach."
Sark didn't speak to his tutor for a month. (It should be noted that USC's new head coach helped win a Cotton Bowl at BYU as a quarterback and a national championship for the Trojans as an assistant coach.)
"I always crack up on these [recruiters] who are on automatic pilot," Clarkson said. "They come into your home and tell you your son is the best thing."
In doing so, "they downplay the guys who are there. They're going to do it to you next year."
They're always trying to recruit over you. Teenage dreams are nothing more than verbal commitments until they become official on Aug. 1 before a prospect's senior high school season. That's the first day a written offer can be presented.
Before that, it's the same as asking a girl to the prom. Until the first slow dance, it's not officially a date.
That's probably a good thing when it comes to recruiting. Four years ago, Lane Kiffin offered -- and Sills committed to -- a pro-style USC offense.
Sarkisian's Trojan offense is zone read, up-tempo with the quarterback in the shotgun.
Teams, coaches and players change. In Sills' case, four years and 180 degrees later, he's one of the top dual-threat quarterbacks in that 2015 class. But where, it should be asked, does that 13-year-old prospect fit in as a college freshman?
Yes, they're always trying to recruit over you.
"Look at Jimmy Clausen as a high school senior," Shurburtt said. "He was the best player in the country but he hit a ceiling."
A ceiling that kept the Clausen from matching the four high school championship rings he wore to a press conference at Notre Dame.
"I kind of go back and forth," Clarkson said. "I don't think you're going to see a lot of these early commitments [in the future]. At the end of the day with these guys, you can't see beyond next year."
Uncle Ty isn't so sure. Detmer does a bit of quarterback training himself. There's this kid he's working with in Austin.
"I can see this kid really has potential," Detmer said. "If things continue to progress, he's way ahead of any kid his age. He's going to be kind of in the same situation as Zadock."
The kid, Detmer says, is in fifth grade.
The team at TheMichiganInsider.com have an exclusive look at Michigan's spring practice

The 'Conference of Champions' won't be in the Round of 32 for the time since 1986

Everything you need to know about Colorado's spring game
Gundy spoke at a Stillwater Public Schools Board of Education meeting

Diaco is the former DC at Notre Dame and Nebraska, and also coached UConn for three season...

Russell passed up on the NFL to return to Auburn to play his senior season in 2018