For college running backs, talent increases as NFL money decreases
NFL free agency is not paying top dollar for running backs -- the draft hasn't been kind, either -- but college and high school running backs still love toting the rock.
• 5 min read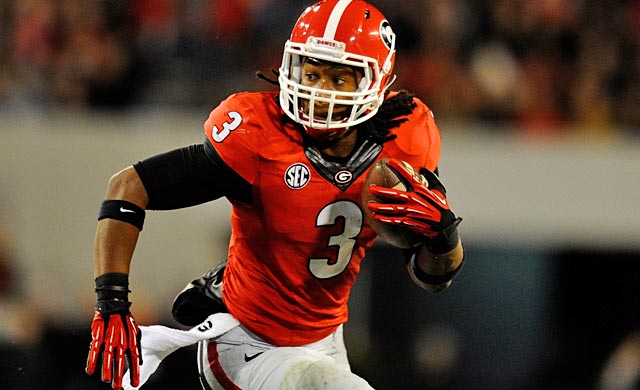 Jacques Patrick loves being a running back. He loves having the ball, loves when his 220-pound absorbs contact – and he certainly doesn't mind the 51 scholarship offers that have come his way as a result.
Now more than ever, running backs better love their position. The NFL hasn't been loving it back.
The once-glorified position is now one of the NFL's lowest-paid. Since free agency opened last week, no reported deal for a tailback has surpassed $14 million in total potential earnings, money dwarfed at least twofold by marquee players at several other positions.
Patrick, the country's fifth-best running back in 2015 according to 247 Sports, doesn't want to switch to safety or receiver any time soon, but he does follow the NFL from afar.
He knows there wasn't a first-round running back in last year's draft. He knows that tailbacks are, more than ever, supporting actors in a rushing-by-committee offensive approach.
Young players might not base their career outlook on hard NFL dollars – at least not yet – but they are paying attention.
Veteran players averaging at least $3M/year
WR:
36
DT:
32
DE:
31
CB:
26
OT:
26
ILB:
25
OG:
25
S:
24
QB:
23
RB/FB:
21
TE:
17
C:
12
OLB:
7
"I've been taking notice of that -- You have to be a special guy to get that big contract," Patrick said. "If you love the position, you're going to play it regardless."
Patrick is part of a healthy tailback talent pool. Ten of the top 100 players from 247 Sports' 2015 rankings are listed as running backs, up from 9 in 2011.
Preseason Heisman Trophy lists will likely include several top-flight running backs such as Georgia's Todd Gurley or Wisconsin's Melvin Gordon.
These future NFL standouts will compete for a smaller salary pool than cornerbacks or tackles or even safeties.
According to salary data obtained from an established sports agency, 21 running backs or fullbacks average at least $3 million per year under their current deals. Only centers, tight ends, outside linebackers and special teamers have less.
If NFL free agency has paid out $650 million in guaranteed money this month, the signed players from the CBSSports.com's top-15 free agent running backs list has less $20 million of that.
Last year's NFL draft was the first without a running back taken in the first round, and this year's could produce similar results. Former first-rounders Trent Richardson and Mark Ingram are among the cautionary tales that have prompted general managers to look for backs in bulk and on clearance.
The biggest deal for a running back last week went to Toby Gerhart, whom Jacksonville gave a three-year, $10.5-million contract with $4.5 million guaranteed.
Using the safety position for contrast – both spots feature players with comparable builds – Jairus Byrd just got $54 million (with $28 million guaranteed) over six years.
Vikings running back Adrian Peterson got much more than that, but that was in 2011 and could serve as an anomaly for years to come.
People interviewed for this story agree: Running back is still a stable path into the league, which is what most young players want. Getting a few million is more than most have going into the pros.
The question becomes, can veteran running backs capitalize the way other positions can?
"It will be hard to get that second contract," said J.I. Halsell, a former salary cap analyst for the Redskins who now works for Priority Spots. "Teams look toward young guys to fill. There just isn't a lot of longevity at the position right now."
Are young players savvy enough to say, 'it's time to work on my backpedal – and get $10 million more guaranteed as a cornerback one day?'
And should teenagers even be making those decisions?
Wisconsin coach Gary Andersen thinks probably not.
"I would hope not, but who knows," said Wisconsin's Gary Andersen, purveyor of the Badgers' running back factory. "I haven't noticed that at all. Most kids, if they are running backs, want to be running backs."
The way Patrick sees it, players might change positions – but not over money.
If Patrick one day makes the NFL, he's OK with defensive backs making more than his position. Good running backs are still making millions, he says.
"If you look at style of play, the NFL changes over time," Patrick said. "A couple of years ago, it was small backs that can catch the ball. Now it's big backs like 6-1, over 200 that can run the ball and catch it. You just have to be ready for those changes."
High school and college players "absolutely" make football decisions with the NFL in mind, said Kenny Carter, former Florida and Louisville running backs coach who's now at Youngstown State.
But most aren't thinking about salary scales, Carter says – "they are thinking how can they get there the quickest."
In that way, running back is still a viable option. Twenty-two tailbacks were drafted last year, or roughly 9 percent of the entire pool.
If Carter had to pinpoint a few reasons for the declining market, he looks to offensive variety --- not as many teams use a West-Coast-based, two-back set anymore.
Many coaches believe developing good running backs is easier than pass rushers that get sacks and stop the run. Those guys are rare, hence deserving of more pay.
"You can't be a basic hand-me-the-ball guy anymore," Carter said. "Fifty percent of guys coming out won't make it because they won't pass protect."
Some colleges recruit big running backs with positional flexibility in mind – they can move to safety in a few years if necessary.
Playing safety might lead to a longer NFL career. Many backs don't make it through a rookie contract because they get replaced.
Running backs are essentially taking less money for more physical pounding. Patrick knows the career shelf life of a running back is generally short, though he notices more college teams lessening workloads, which helps. A running back rarely carries the ball 40 times a game anymore.
But with the chance to burst through a hole and go for 50, there's still nothing like being a running back, Patrick said. The rush is palpable.
Forget the finances. The glory is imminent.
"If I work hard, I can do well in college and have a long career," Patrick said. 
Saban isn't going to win Alabama's special election, but the Crimson Tide coach got some l...

The Sooners' quarterback and Badgers' rusher stood out among their peers this season

Clark led UAB to an 8-4 overall record, 6-2 in conference this season
SportsLine simulated every bowl game 10,000 times for pick'em leagues and confidence pools

The Tigers are going worldwide for their next punter

Led by Heisman Trophy winner Baker Mayfield, the Big 12 finished with seven first-team sel...