Forget USC, Texas; Fitzgerald's magic works at Northwestern
Pat Fitzgerald makes brainy Northwestern a winner. With Lane Kiffin fired and Mack Brown squirming, you'd think Fitzgerald to be a candidate for USC or Texas. Think again.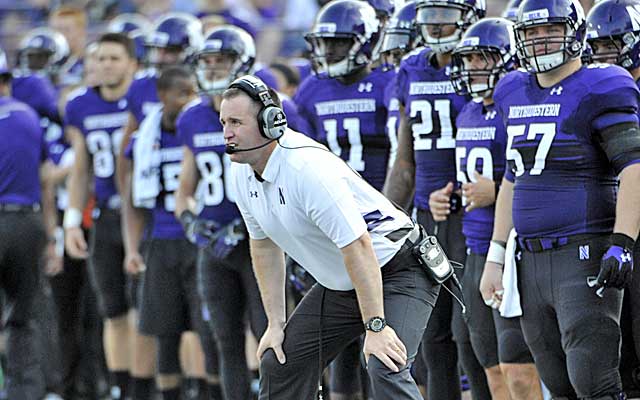 EVANSTON, Ill. -- Pat Fitzgerald was ruminating recently on his perfect college football life.
"I know what some of my colleagues have," Northwestern's 38-year old wonder coach said.
Fitzgerald was reminded that little of his precious meeting time this -- or any -- game week is taken up examining the local police blotter and/or a lengthy report about the team's academic shortcomings. It's some of the stuff Nick Saban famously calls "clutter."
"It's a great blessing and privilege to work at Northwestern," Fitzgerald says, almost thankfully. "We get the privilege and opportunity to coach the best and brightest young men."
The narrative for <span data-shortcode= State" data-canon="Ohio Bobcats" data-type="SPORTS_OBJECT_TEAM" id="shortcode0">-Northwestern this week -- brains vs. brawn -- has changed a bit in the wake of Lane Kiffin's firing. Not only does Fitz have that perfect football life, it also should be noted he'd be the perfect coach for USC, or Texas or other high-profile jobs that open up.
It's a silly (offseason hiring) season that is upon us already in October. Losing Fitz seems unlikely. When Michigan started poking around before it hired Brady Hoke, Fitzgerald not only stayed but got a new 10-year deal to 2020.
Still, there has seldom been a year when so many elite jobs could open. Fitzgerald and his bosses will have to deal with it until someone says -- paraphrasing Saban -- "I guess I'll have to say it. I'm not going to USC."
Or Texas. AD DeLoss Dodds was expected to announce Tuesday he's retiring and moving into a consultant role. It would take less than a conspiracy theorist to assume that this move has been planned for a while. Kiffin's firing may have forced Texas' hand. The school can now can publicly pursue a new AD. That's the first move to be made if Mack Brown is replaced.
We're talking two of the top jobs in the country opening up. Both schools could be calling the same people to be their next coach.
"What I've told him repeatedly [is] we will never take your loyalty for granted," Northwestern AD Jim Phillips said. "As good as you think he is, he's even better. He represents everything that is good and right in college football."
Stability has its perks
Young, accomplished, principled, Fitzgerald doesn't seem to be into ladder climbing. Still, it seems his name alone should be programming sports talk shows this week. Strangely, it's not. Neither the school nor the coach has felt compelled to react to the USC opening. Perhaps that's unsightly with more than half a season to go. In this sedate academic enclave on the shores of Lake Michigan, it is evident this is home as long as Northwestern wants him. Which is to say, possibly, decades.
"Nowadays, coaching stability is such an overlooked thing," quarterback Trevor Siemian said. "For me, back in the day, when I was offered, my odds are pretty good that Coach Fitz is going to be here four or five years."
At least. There are few coaches nationally so ingrained in their school's history, mission and athletics. Fitzgerald was a two-time Butkus Award winner here. He won two Big Ten titles as a punishing linebacker. Fitz is one of the youngest players in the College Football Hall of Fame. His players have piled up 2,000 hours in community service at the coach's behest. The school's marketing department uses his accomplishments to declare Northwestern is Chicago's Big Ten Team."
Here's what stability gets you -- the program's first bowl win since 1949, the first preseason ranking since 2001, the third 4-0 start in four years.
Could he own LA or Austin? Absolutely. Charisma and youthfulness ooze. Fitz's teams are tough, uncompromising. There is much anticipation in the air this week with the No. 4 Buckeyes coming to town. The teams haven't played since 2008. The Buckeyes sport a 17-game winning streak and have won 28 of the past 29 in the series. If that paints an image of Goliath, David wears purple this week.
Win Saturday and the No. 16 Wildcats are entertaining realistic thoughts of a Big Ten Legends Division title and perhaps a Rose Bowl. Lose it and there is disappointment, but little else.
Kiffin was axed five weeks into his fourth season with a .650 winning percentage. Fitzgerald has won 58 percent of his games, which would make him the school's winningest coach in 108 years. Only two coaches in the program's history have stayed longer than Fitz, now in his eighth season. That currently makes him No. 2 in longest-tenured Big Ten coaches.
It's all about perceptions and serendipity. The two coaches were born six months apart. One is out of work. The other leads the hotness list. Fitzgerald could get more money, have access to better players and more championships but sedate enclaves have their advantages. The administration loves him because -- like Gary Barnett -- he proved that academics and athletics can ascend on dual planes. Players love him because he is tough, but fair. The Northwestern Excuse -- 10 winning seasons since 1963 -- will not be tolerated.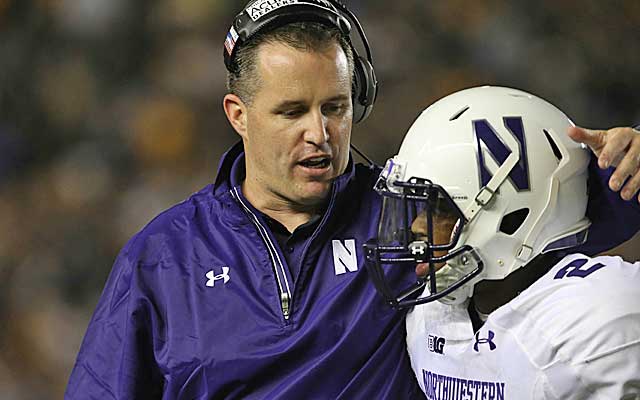 "We don't really see ourselves as the underdog," offensive coordinator Mick McCall said.
Media love him because he is quotable and opens his practices.
"We've got nothing to hide," Fitzgerald said refreshingly.
There is an understanding that if the media sees something like a new wrinkle or trick play, their silence on the matter -- until it is used in a game -- is a fair trade for access. It seems to work for everyone.
Players are able to ease into the season with Northwestern being on the quarter system. The first day of classes was a week ago, coinciding with a bye week before Ohio State.
"It's a huge advantage for us not having classes in the nonconference schedule," Fitzgerald said. "For us not having school [during the bye week] they got a trial run. It lines up really well."
The Northwestern way
In this Season of Nerds, Northwestern's No. 1 mission never is too far from the surface.
A win over Ohio State would be nice but is not essential to the school's image. It's evident there is a different mindset here, chatting on a bench with Siemian on a beautiful sunny day during the first day of classes. The communications major (business minor) has brought with him a copy of Sun Tzu's The Art of War. He's reading it for fun.
"If I can get a free Master's," the redshirt junior said, evaluating his scholarship and how far it will take him, "I'd be stupid to pass that up."
Among schools with that academic label, only Stanford is currently ranked higher -- in the college football polls. The distinction has to be made. Elsewhere, U.S. News and World Report has Northwestern ranked in the top 15 schools. The school's acceptance rate is 13 percent, according to SI.com. Northwestern also sports the nation's best NCAA Academic Progress Rate.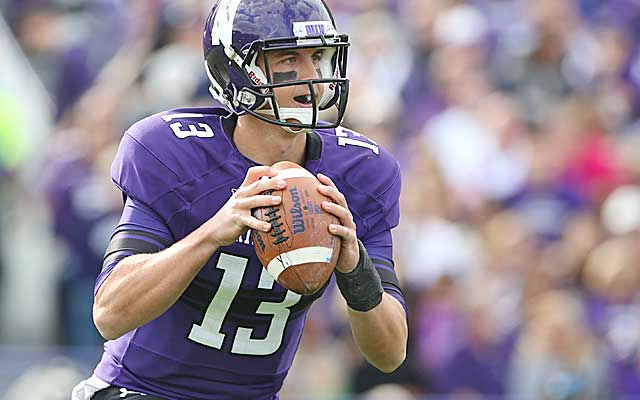 Barnett proved it's possible to win big at Northwestern. Fitzgerald proved it's possible to make a home here. The Wildcats have gone to a school-record five straight bowls. The 10-win season in 2012 was the school's third in history. It doesn't seem like a brief spike in the program's history.
"Gary was the first, kind of, trail blazer," Phillips said. "But the baton has been passed."
"There's the whole underdog thing, trying to earn respect from people," Siemian said. "I think Coach Fitz has done a heck of a job, because I think perceptions are changing around the program. It's easy to get caught up in the perception."
Siemian is one half of one of the most unique quarterbacking situations in the country. To make it simple, Kain Colter is the runner. Siemian is the passer. Their time share is intentional. They do it -- perhaps not gladly -- but it's not uncomfortable, either. The two are friends. The old whatever-helps-the-team ethic applies.
"We start off with a plan," McCall said. "[For example] Kain's going to play these plays and Trevor's is going to come in on the third series. After that it's kind of a feel thing. They know this football team needs both of them."
That adds to the underdog theme. Ohio State's Braxton Miller started the season as the preseason Heisman favorite. Meanwhile, Colter the runner is 131st nationally in rushing yards. Siemian the passer is 103rd in completions per game.
At other programs the old saying would apply: You either have one quarterback or no quarterbacks. McCall and Fitzgerald don't go into homes telling recruits, "Come to Northwestern and split time." The situation  evolved organically. Last season, Siemian threw more but Colter took the most snaps. In the opener, Colter was clocked by a defender and had to leave. Enter Siemian who was able to finish a 44-30 win, throwing for 276 yards.
"The last five years, going on six years, we always have somebody get banged up at some point in time," McCall said. "The No. 2 guy has to come in, No. 3 has to get ready because that's going to happen. We know that."
Fitz has established something real, tangible and permanent. If not for his presence, there may not be plans for a gleaming, new football facility on these Lake Michigan shores. Players will be able to actually look out onto a real beach on those shores. Between class and football, it remains to be seen how much sand they will ever feel.
"Teams know," Siemian said, "they have to strap it up when they're playing us." 
Harbaugh also said that Trump's comments at an event in Alabama were 'ridiculous'

The Horned Frogs had all the right defensive answers for the Cowboys

Stay with us all day Saturday for updates and highlights from Week 4 of the 2017 season
The Tide looked as you'd expect the top team in the country to look on Saturday in Nashvil...

Tua got plenty of action in the second half of Alabama's win at Vanderbilt

Mayfield gave Baylor a piece of his mind during warmups on Saturday