Former Georgia coach Vince Dooley, 80, skydives for charity
Legendary Georgia coach Vince Dooley recently went skydiving with his son and grandson to help raise money for charity.
• 1 min read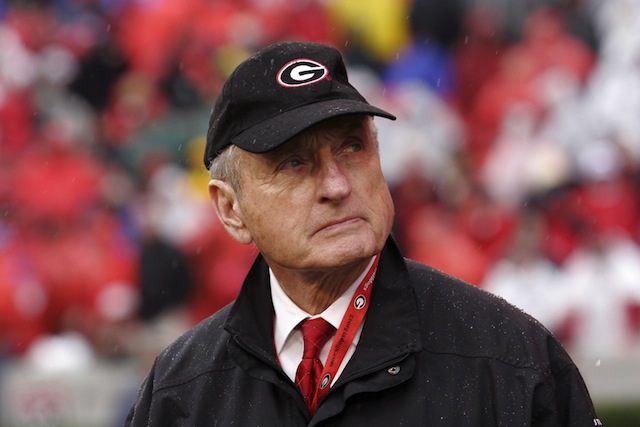 Skydiving is a once-in-a-lifetime activity for some. But when jumping out of a plane will help raise money for charity, Vince Dooley, 80, will not let his age stop him from doing it again.
The legendary former Georgia coach and athletic director first went skydiving with his son Daniel in 1992. This time it was his grandson, Matthew, who wanted to take the jump for a good cause. 
Matthew has cerebral palsy and is confined to a wheelchair. Last week he was able to convince his father and grandfather to join him in a skydive for charity. Together, the trio raised $47,000 for a group that works with people who have disabilities called ESP: Extra Special People. 
"It kind of pulls at your heart because he makes the statement that when he's in the air, he said, 'I'm just like everybody else,' Vince Dooley told the Orlando Sentinel, referencing his grandson's condition. "So you can't say no."
The ex-coach originally told Matthew no when asked about jumping. The elder Dooley eventually gave in once Matthew's father, Daniel, was added to the equation. 
Skydiving might seem risky at age 80 -- or at any age for that matter. But this is Vince Dooley, who survived 25 years of coaching at football-hungry Georgia and won six SEC title s and a national championship. The thrill-seeking desire likely never goes away.
Florida State and Alabama will face off in a highly touted game in Atlanta in Week 1

Five NC State freshman were punished team rules and code of conduct violations

Browne was benched in favor of Darnold early into last season
There are new names to learn every season, and here are 14 to keep an eye on from the SEC

Taking a close, detailed and opinionated look at the SEC a week before the start of the 2017...

Rosier will start for the Hurricanes in their opener against Bethune-Cookman