Former Iowa WR Johnson-Koulianos jabs at Ferentz on Twitter
The Hawkeyes' all-time leader in receptions says he's weighing a book offer on his turbulent Iowa career.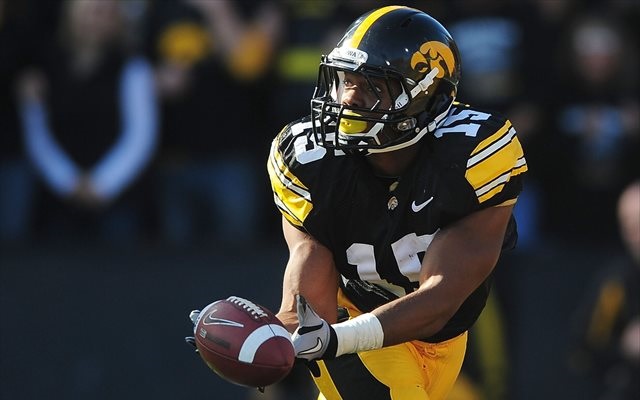 It's fair to call the years-long headbutting between Derrell Johnson-Koulianos and Kirk Ferentz the most explosive, turbulent player-coach relationship in Iowa football history, right?
And if it wasn't already, it certainly seems like it after the Hawkeyes' all-time leader in career receptions blasted Ferentz on his Twitter account in the wake of the ESPN documentary "Youngstown Boys." A Youngstown, Ohio native, Johnson-Koulianos starred for the Hawkeyes from 2007 to 2010 but frequently butted heads with his head coach and left the program on less-than-favorable terms after his late 2010 arrest on drug charges. (Johnson-Koulianos eventually pleaded guilty to marijuana possession.)
Among the tweets issued by "DJK":
Would u like it if u slaved for someone 4 5 yrs then when you arrived @ adversity they abandon you & tell potential employers not 2 hire u?

— DJK (@coachkoul) December 17, 2013
At least 10 NFL teams said to me "We understand you made a mistake but my concern is no one at Iowa had anything good to say about you."

— DJK (@coachkoul) December 17, 2013
Recruits need to consider this about KF before going to Iowa. It's all good when you're converting 3rd downs and touchdowns but don't F up.

— DJK (@coachkoul) December 17, 2013
KF punished me by making me wear a trash can on my head for an entire practice while recruits parents were at practice...

— DJK (@coachkoul) December 17, 2013
...then Chris Doyle took a picture and hung it in the weight room. You think recruits will like that?

— DJK (@coachkoul) December 17, 2013
Johnson-Koulianos also said he would be writing a book on his experiences at Iowa playing under Ferentz, though he told the Gazette he had not signed any contract and would not name the publisher who had made the book offer.
An Iowa spokesman told the Gazette the school would not comment on Johnson-Koulianos's statements. (For whatever it's worth, a Gazette commenter claiming to have been a former teammate described the "trash can" incident in detail.)
Unless Johnson-Koulianos's book is written and levels some truly explosive allegations against Ferentz, there's nothing to see here where either the coach's future or the Hawkeyes' present -- which includes an Outback Bowl battle against LSU -- is concerned. But it's nonetheless worth noting that even when it comes to one of the greatest on-field stars in Iowa's long history, some hatchets just won't stay buried.
Division, conference and playoff races are on the line over the holiday weekend

A look at the weekend that was in the world of college football

Rashaad Penny etched his name in San Diego State's history books
Kelly led Oregon to a national championship appearance and is an innovator in the game

This week's AP Top 25 college football rankings remained largely unchanged

Mora went 46-30 since joining UCLA in 2012, taking the Bruins to four bowl games