Former LSU players Mathieu, Jefferson out of jail after marijuana charges
According to the Baton Rouge Police Department, four ex-Tigers -- Mathieu, former starting quarterback Jordan Jefferson and former safeties Karnell Hatcher and Derrick Bryant -- were booked on misdemeanor drug charges after officers were called to a complaint at an apartment complex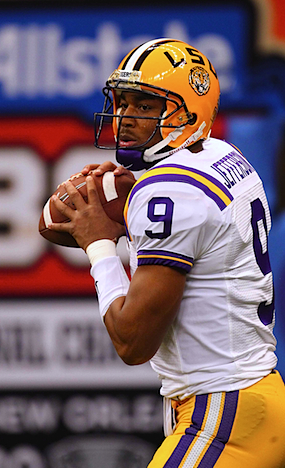 As of earlier this month, exiled LSU cornerback/kick returner Tyrann Mathieu was back in classes in Baton Rouge, paying his own way, and every indication from coach Les Miles was that his former star would have a "very legitimate chance" of returning to the team next year. That chance now seems significantly less legitimate after Mathieu was arrested along with three former teammates Thursday afternoon for possession of marijuana.
Mathieu, along with former LSU teammates Jordan Jefferson and Karnell Hatcher were released from jail on Friday morning. Ex-Tiger Derrick Bryant was not released with his former teammates.
According to a press release from the Baton Rouge Police Department, all four ex-Tigers were booked on misdemeanor drug charges after officers were called to a complaint at an apartment complex. Per the release:
At approximately 3:30pm officers were dispatched to an apartment at 262 West State in reference to a complaint about a man attempting to force his way in to the complex through a security gate. The man was confronted by a maintenance worker and words were exchanged. Before officers arrived the man had been let into the complex by a resident and was seen going into apartment 2116. When officers went to the apartment and knocked on the door it was answered by the resident, TYRANN MATHIEU, 20.

Officers immediately smelled a strong odor of marijuana and obtained consent from Mathieu to search the apartment. Inside they found three other men, including the one who had allegedly tried to force his way through the gate. He was identified as JORDAN JEFFERSON, 22, [address redacted]. The other two men were identified as DERRICK BRYANT, 22, [address redacted] and KARNELL HATCHER, 22, [of] DELRAY BEACH, FLORIDA.

A search of the apartment found a marijuana grinder, digital scale and 10 bags of high grade marijuana. 7 of the bags were found inside Bryant's booksack. All four men were taken into custody and arrested.
Mathieu, Jefferson and Hatcher were charged with one count apiece of simple possession of marijuana, in Hatcher's case a second offense. Bryant was charged with possession with intent to distribute. All four were booked into the East Baton Rouge Parish Prison.
Jefferson graduated earlier this year after starting 32 games over the course of his LSU career, most memorably the BCS Championship debacle against Alabama in January, in which Jefferson passed for just 53 yards with two turnovers en route to a 21-0 shutout in his final game. Last year, Jefferson was suspended for much of his senior campaign after being charged with felony battery in a bar fight just before the start of the season. That charge was later reduced to a misdemeanor, and Jefferson eventually returned to the starting lineup over the Tigers' final four games.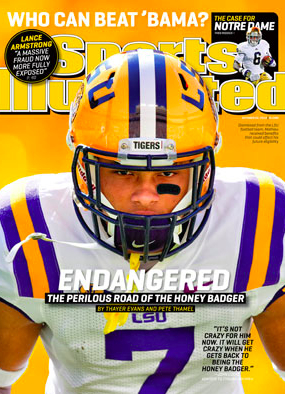 In August, Jefferson signed with the Montreal Alouettes of the Canadian Football League, but is no longer listed on the team's current roster.
Mathieu was dismissed from the team in August, reportedly for the latest in a series of failed drug tests. After considering a transfer to a smaller school where he had a chance to play this season, Mathieu instead decided to enroll in a rehab clinic in Houston and return to LSU with an eye toward rejoining the team in 2013.
As a sophomore in 2011, Mathieu finished as the leading tackler for the No. 2 defense in the nation in both yards and points allowed, including 7.5 tackles for loss, and forced more takeaways – two interceptions, six fumbles – than anyone else on a team that finished second in the nation in turnover margin. He was also fourth nationally in punt return yards, and led the nation with four non-offensive touchdowns. In December, he came in fifth in Heisman voting, won the Bednarik Award as the best defensive player in the nation and was voted a unanimous All-American by every major outlet.
As a true freshman in 2010, Mathieu recorded 57 tackles, 8.5 of them for loss, and generated seven turnovers (five forced fumbles, two interceptions) despite starting just one game. Multiple outlets tabbed him as a Freshman All-American, and he closed the season by being voted Most Valuable Player in the Cotton Bowl.
Assuming he's still eligible under standard NCAA rules (there's no indication he is not), Mathieu has two years of eligibility remaining at LSU or another school. But he'll also be eligible for the 2013 NFL Draft next spring, where scouts had sized him up as a probable first or second-round pick, depending on how concerned they are about his less-than-ideal size (he's listed at 5-foot-9, 176 pounds) and man-to-man cover skills. Although he may still be picked in a later round, a year out of football altogether will force him to fend off questions about rust, and another drug-related incident on his record leaves him open to the dreaded "character risk" label.
Here are the early lines for big Week 5 games from Vegas

Georgia jumped four spots to No. 8, while Florida State dropped 14 spots to No. 25

Louisville and TCU get big-time bumps after conference rivals fell on Saturday
The Bulldogs jumped up to No. 7 after an emphatic win over Mississippi State

The Penn State running back made a case that he's a legit Heisman Trophy contender

The Nittany Lions came up huge when they needed to against Iowa