Former North Carolina football player sues school over academic scandal
Michael McAdoo has filed a class-action lawsuit over fake classes at North Carolina and claims players were cheated out of a legitimate education.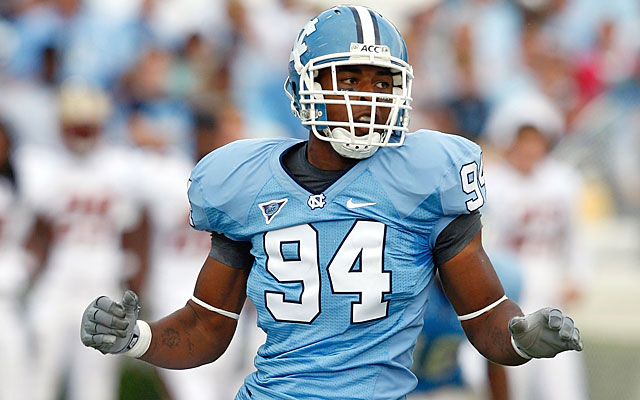 The North Carolina academic fraud scandal has now reached federal court. A former Tar Heels football player is suing the university and alleging North Carolina broke its promise to legitimately educate football players in exchange for their participation in athletics.
Lawyers for Michael McAdoo, who played football at North Carolina from 2008 to 2010, filed the class-action suit on Thursday in North Carolina federal court. They're attempting to represent all North Carolina scholarship football players between 1993 and 2011. During that period of time, academic counselors in North Carolina's athletic department pushed athletes into a system of fraudulent, no-show classes to keep players eligible, according to a recent university-commissioned report.
McAdoo was dismissed from the football team in 2010 because he was accused of having a tutor do improper work. He sued to get back on the team by claiming there was inaccurate information regarding his ineligibility ruling. A judge dismissed McAdoo's lawsuit against the NCAA and North Carolina in 2011.
McAdoo became one of the first athletes to publicly reveal he took fraudulent classes at North Carolina. This latest lawsuit, which was first reported by CNN, could uncover more information than the recent investigation by Kenneth Wainstein given that the legal proceeding will have subpoena power. Some former North Carolina coaches did not cooperate with Wainstein's investigation.
The lawsuit alleges North Carolina breached its contract with football players; violated the state's consumer protection law regarding unfair or deceptive acts or practices affecting commerce; and committed fraud by recruiting athletes through falsely representing they would receive a legitimate education if they enrolled as a football player.
"National Collegiate Athletic Association rules prohibit student-athletes, including football student-athletes, from receiving remuneration from their schools, so the revenue from football games and the sponsorship and advertising related to those games is the universities' alone," the lawsuit states. "The UNC football student-athletes' reward for their athletic participation was supposed to lie in the legitimate UNC education they were promised in exchange for their athletic efforts. UNC systematically deprived its football student-athletes of the benefit of the bargain. UNC has reaped substantial profits from football student-athletes' performance for the school, but it has not provided them a legitimate education in return."
The lawsuit states McAdoo is seeking "actual damages" for the class and "injunctive relief including, but not limited to, a court appointee reviewing the curriculum and course selection for all football student-athletes and the provision of four-year guaranteed scholarships to all football student-athletes going forward." North Carolina announced in July that all athletic scholarships will be guaranteed "for life," meaning any former scholarship athlete who didn't finish his or her degree may return to school.
"The University of North Carolina at Chapel Hill became aware yesterday of the lawsuit filed by former student Michael McAdoo," Rick White, North Carolina associate vice chancellor for communications and public affairs, said in a statement Saturday. "The University will reserve further comment until we've had the opportunity to (fully) review the claims."
In the lawsuit, McAdoo says he was promised by then-North Carolina coach Butch Davis and assistants John Blake and Charlie Williams that he would get a good education at North Carolina. McAdoo chose North Carolina over offers from other universities, including Vanderbilt, Notre Dame and Duke.
Almost immediately after arriving at college, McAdoo expressed interest in a criminal justice major but was told football players "were urged" to consider only Exercise Sport Science, Communication or African-American Studies, the suit says. African-American Studies is the department where the fraudulent classes occurred with little to no work required while grading was handled by a non-faculty member.
"When Mr. McAdoo asked why he should not pursue other majors, he was told these three were the only majors that would accommodate his football practice and playing schedule, and that the football program had 'relationships' with professors in those departments," the complaint says.
McAdoo alleges that Beth Bridger, who used to oversee academic support for the North Carolina football program, gave players pre-assigned course schedules that included "shadow curriculum" courses. McAdoo had no role in selecting the courses, the suit states. McAdoo previously made similar claims to the Raleigh News & Observer.
"Mr. McAdoo questioned his enrollment in the 'shadow curriculum' courses and expressed his desire to take more meaningful courses, but representatives of the football program explained to him the importance of taking the courses so that he could focus on football," the suit says. "Taking the courses was part and parcel of being on the team, and not doing so signaled lack of commitment."
The suit alleges Bridger told football players she advised that "you can fail one course per semester and still be NCAA eligible."
In Wainstein's report released last month, Bridger told investigators the counseling staff would call the African-American Studies department each term to find out which "paper classes" would be offered and counselors would facilitate athletes' completion of the papers during study hall. Bridger recently separated from her job at the University of North Carolina-Wilmington, the News & Observer reported in October.
McAdoo's lawsuit was filed by the law firms of Ferguson, Chambers & Sumter in Charlotte, NC, and Mehri and Skalet in Washington, DC.
A new names joins Saquon Barkley, Baker Mayfield and JT Barrett in the race

Anderson didn't hold back when taking a shot across the state

Arizona State will wear military-themed uniforms against Colorado on Nov. 4
The Gators are off to their worst start since 2014

Just in case you wanted another reason to watch this game

Irvin's son is a sophomore tight end for the Hurricanes