Former Oregon player to 'ignorant' fans: 'Go [expletive] yourselves'
An anonymous former Oregon players attended his first Duck game as a fan, and didn't like what he experienced at all.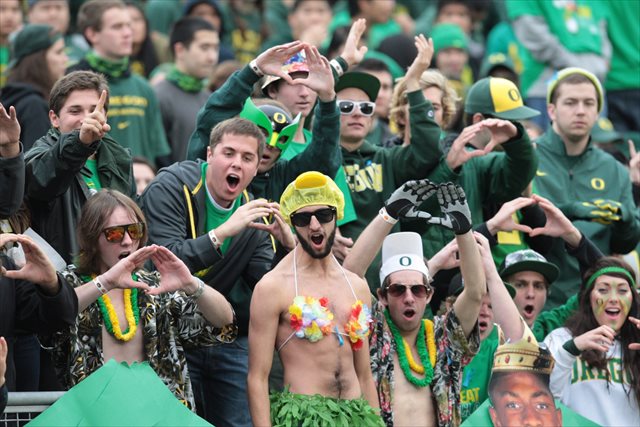 An anonymous former Oregon player attended his first Duck game as a fan last Saturday, and it's safe to say he wasn't all that impressed by his Autzen Stadium experience.
"Having been on the outside now, to witness this disgusting display of 'support,' I know that I want no [expletive] part of it," the player wrote in a letter to The Oregonian and columnist John Canzano titled "I Love The Ducks. I Hate Duck Fans." 
"I will never attend a duck game as a spectator again," the player wrote. "I am disgusted by duck fans and I will sit back and observe from afar with high hopes for the player's success and understanding of their sacrifice, without having to hear the spoiled woes of ignorant fans.

"I will always love the ducks: my coaches, my teammates, my brothers and family. The rest ... Go [expletive] yourselves."
Canzano described the player as one who "played in a recent BCS bowl game for Oregon," but gave no other identifying details.
The player took vehement issue with the criticism of current Duck players Marcus Mariota, De'Anthony Thomas, and others shown by "a couple of drunk [expletives]" seated behind the player. After confronting the [expletives], the player wrote that he was "verbally attacked by other spectators saying, 'you need to keep your [expletive] mouth shut, because you don't know [expletive] about football."
Obviously, assuming the player isn't exaggerating for effect, he's got perfectly good reasons to be unhappy with the fans and his Autzen experience. But it's also true that unruly, overly negative fans -- particularly, yes, among those who have had a few drinks -- are a scourge of many, many college football stadiums across the country. The player may not have enjoyed being just-another-fan at Autzen, but if player criticism is going to be a problem, there are a lot of venues where he might not have enjoyed himself.
The movie will zero in on former Penn State coach Joe Paterno during the Jerry Sandusky sc...

Bidding for Salaam's trophy, which the auction house says was obtained legally, ends Satur...

Locksley has been the offensive coordinator at Illinois and Maryland during his coaching c...
Many NFL-eligible juniors ignore advice provided by the league and risk going undrafted each...

Snyder died in Manhattan, Kansas, on Wednesday

Locksley joined Alabama's staff in 2016