Former USC defensive lineman Armond Armstead sues school over painkiller injections
Former USC defensive lineman Armond Armstead has filed a lawsuit against school over painkiller injections that gave him a heart attack and ended his collegiate career prematurely.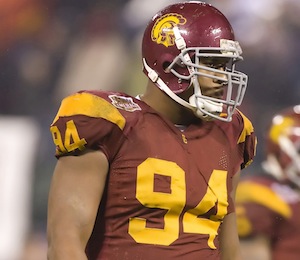 Former USC defensive lineman Armond Armstead has filed a lawsuit against the school over team doctors' treatment that eventually caused a heart attack and led to a premature end of his college career, the Sacramento Bee reports.
The suit, filed in L.A. Superior Court on Thursday, claims doctors injected Armstead with the painkiller Toradol 10 different times as he recovered from shoulder injury in 2010. The injections were apparently called "mandatory" for the 6-foot-5, 295-pounder and he was later told they were a "substantial" factor in a heart attack he suffered in February 2010 during workouts.
Armstead also claims the school blocked his attempts to transfer elsewhere and cost him a shot at playing in the NFL. According to the report, damages were not specified but could be several million dollars.
"Such a level of financial success depends on fielding superior players game after game," said the suit filed by Sacramento attorney Roger A. Dreyer, in reference to the millions of dollars USC made off its football program.
Officials from the school did not comment on the lawsuit. Armstead is currently playing in Canada while his younger brother, Arik, is a freshman defensive lineman at Oregon this season.
Memphis outscored Houston 42-21 in a wild second half win on the road

Scott leads the Spartans with 408 rushing yards

One of the finest restaurants in Columbia has a unique partnership with University of South...
While Mother Nature has wreaked havoc, some teams have been just plain bad so far this sea...

Bryce Love's video game season and early-season turnarounds lead our group

Trust the Process as Tom Fornelli leads you toward his best bets for Week 8 of the season