Freeh Report: Cover-up topples the final facade of Paterno's legacy
"In short, nothing was done and Sandusky was allowed to continue with impunity."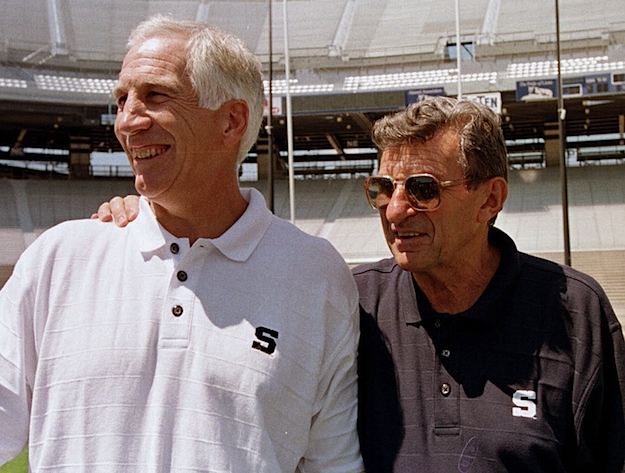 The full report into Penn State's response to allegations of sexual abuse by longtime defensive coordinator Jerry Sandusky, following an eight-month investigation overseen by former FBI director Louis Freeh, fills 267 excruciating pages. But to put the finishing touches on the obliteration of a half-century of goodwill, it only took 163 words:
The evidence shows that these four men also knew about a 1998 criminal investigation of Sandusky relating to suspected sexual misconduct with a young boy in a Penn State football locker room shower. Again, they showed no concern about that victim. The evidence shows that Mr. Paterno was made aware of the 1998 investigation of Sandusky, followed it closely, but failed to take any action, even though Sandusky had been a key member of his coaching staff for almost 30 years, and had an office just steps away from Mr. Paterno's.

At the very least, Mr. Paterno could have alerted the entire football staff, in order to prevent Sandusky from bringing another child into the Lasch Building. Messrs. Spanier, Schultz, Paterno and Curley also failed to alert the Board of Trustees about the 1998 investigation or take any further action against Mr. Sandusky. None of them even spoke to Sandusky about his conduct. In short, nothing was done and Sandusky was allowed to continue with impunity.
That is an excerpt from the seven-page press release summarizing the findings in the full report. It is a bombshell. The four men in question are former Penn State president Graham Spanier, former athletic director Tim Curley, former administrator Gary Schultz and former head coach Joe Paterno. All four lost their jobs and their reputations last November over their apparently negligent reaction to an allegation against Sandusky in 2001; Curley and Schultz also face serious criminal charges stemming from that incident. Now, in light of confirmation that the most powerful men on campus had been confronted with the same charges against one of their own at least three years earlier, negligence is the least of their sins.
First, the facts. In 1998, an allegation by the mother of an 11-year-old boy (later identified in court documents as "Victim 6") who claimed Sandusky had sexually assaulted him in a locker room shower led to an investigation by Penn State campus police and local law enforcement. That investigation resulted in a 95-page police report – but no charges against Sandusky. During that investigation, according to a November 2011 indictment by the Pennsylvania Attorney General, "Sandusky admitted showering naked with Victim 6, admitted to hugging Victim 6 while in the shower and admitted that it was wrong." According to the mother of Victim 6, who reported Sandusky to authorities when her son told her they had showered together, the coach told her during the investigation, "I understand. I was wrong. I wish I could get forgiveness. I know I won't get it from I you. I wish I were dead," while detectives secretly listened to the conversation in another room.
During Sandusky's trial last month – in which he was convicted on 45 counts of sexual abuse against a dozen victims, including Victim 6, over more than a decade – former Penn State investigator Ronald Schreffler testified that he had been surprised when the 1998 investigation closed without charges being brought against Sandusky, and thought dropping the case was a mistake. The district attorney who made the decision not to pursue charges, Ray Gicar, later disappeared under still-mysterious circumstances in 2005 and was declared legally dead last July.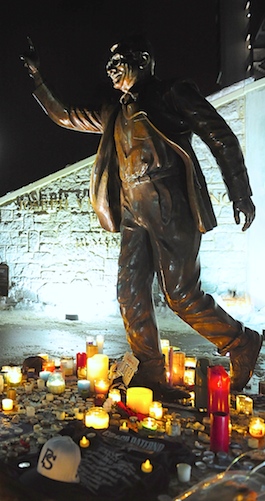 Crucially, Spanier, Curley and Paterno later claimed to have no knowledge of the 1998 investigation into Sandusky, nor of the accusation that prompted it. By their accounts, they had no reason to suspect Sandusky of any wrongdoing (criminal or otherwise) prior to his retirement from Paterno's staff in 1999. Freeh said today there is no evidence that Sandusky was forced out, and e-mails cited in the report indicate Paterno had no problem with his former player and longtime colleague continuing to serve as defensive coordinator. Following his retirement, Sandusky maintained "emeritus" status and regular access to university facilities. By all outward appearances, he remained a respected coach and upstanding citizen, venerated for his decades of work with troubled kids, and no one at Penn State – certainly not Joe Paterno, the most venerated man in American sports – had any reason to suspect otherwise. At least, until 2001.
Even by that account, the one in which everyone around Sandusky is completely oblivious to who he really was, there is no defense for the inaction that followed the 2001 accusation by then-graduate assistant Mike McQueary, who claims he personally witnessed Sandusky raping a young boy in a locker room shower. McQueary subsequently reported the incident to Paterno; Paterno ran it up the ladder to Curley, who consulted with Shultz, spoke with McQueary and ultimately let Sandusky off with a warning. In a preliminary hearing last December, Curley's attorneys argued that McQueary failed to convey the seriousness of what he'd seen to Paterno, that the allegations subsequently came across as "not that serious" to Curley, and that it seemed to amount to a case of "he said, she said."
Here, negligence is damning enough: Confronted with a serious, credible charge against a colleague, they opted for plausible deniability. They didn't inform the police. They didn't disassociate themselves with Sandusky. They didn't move to keep him off campus. They didn't move to keep him from working with children on a regular basis. That much cost them their jobs, and in Curley and Shultz's case, it may still cost them their freedom. It's even worse, as we learned last week, that Paterno appears to have personally intervened to convince Curley to handle the charge internally rather than report Sandusky to authorities. According to the Freeh Report, "the only known, intervening factor between the decision made on February 25, 2001, by Messrs. Spanier, Curley and Schulz to report the incident to the Department of Public Welfare, and then agreeing not to do so on February 27th, was Mr. Paterno's February 26th conversation with Mr. Curley." In short, nothing was done and Sandusky was allowed to continue with impunity. What could possibly be more damning than that?
Only this: That Penn State had already allowed Sandusky to operate with impunity for years even before McQueary came forward. If today's report is correct – if "the evidence shows that Mr. Paterno was made aware of the 1998 investigation of Sandusky, followed it closely, but failed to take any action" – Paterno had had every reason to suspect that Sandusky was a violent predator for at least three years when McQueary walked into his office. Yet did nothing when those suspicions were confirmed, and did nothing for the next decade. The report could not have leveled a more devastating charge. The old man already knew.
Earlier, I used the term "sin" deliberately, objectively. This is not merely a matter of hindsight, or a single, egregious lapse in judgment by a confused old man at the end of an otherwise distinguished career. It is not about a man acting judiciously out of an abundance of caution, except for his own skin. In a sober, well-crafted response to the Freeh Report released this morning, Paterno's family describes Sandusky as "a great deceiver," and maintains that "many people didn't fully understand what was happening and underestimated or misinterpreted events." But after the report, there is only one possible interpretation. Joe Paterno and other Penn State officials continued to tolerate and to some extent shelter an alleged sex offender despite multiple, credible accusers over the course of more than a decade.
In its summary of the initial charges against Sandusky last November, the AG's office wrote that "there is no indication that anyone from the university ever attempted to learn the identity of the child who was sexually assaulted on their campus [in 2001] or made any follow-up effort to obtain more information," and "there was no effective change in Sandusky's status with the school and no limits on his access to the campus." Today's report repeats the charge. Sandusky maintained an office in the Lasch Football Building and (according to the attorney general) had "unlimited access to all football facilities" until his arrest last year, including the locker room. He also kept a parking pass, a university Internet account and a listing in the faculty directory. As recently as 2009, he was still running an overnight football camp for children as young as 9 on a Penn State campus. He was still working out in football facilities as recently as last October. Sandusky told the New York Times in December, more than a month after his arrest, that he still had his keys to the building where he committed many of his worst crimes.
The same building where Joe Paterno went to work every day to oversee the empire that he built over 46 years, and tried to protect at any cost. The reverence that defined Paterno's later decades was never a matter of mere longevity; it was only in part a matter of the six undefeated seasons, two national championships and record win total. The legacy he really prized was the success of the "Grand Experiment," the spotless NCAA record, the library that he helped build. The chair in the English department that he endowed. The hundreds of players who were still willing to stand up for him last December based on "the immense quality of Joe's character." The assurance that an old teacher needed that his chosen profession, big-time college athletics, really could be done The Right Way.
Instead, Penn State is left to confront a record of crippling insularity and deceit. When Paterno died of lung cancer in January, barely three months after being fired from the only job he'd really ever known, it was tempting to hope that there could be two eulogies, one to the celebrate the greatness of what he built, and one to lament the tragedy his (almost literally) fatal flaw. But the more we learn, the less room there is for anything but tragedy. And whatever else is still in store for Penn State via the Department of Education, the NCAA or the inevitable civil suits filed by Sandusky's victims, the epitaph is set in stone: Nothing was done and Sandusky was allowed to continue with impunity.
Schiano would have made $4.4 million in Year 1 with annual raises as part of a six-year de...

Dykes spent this season as an offensive analyst at TCU

The "Wyoming Wild Man" notched six tackles for loss as a junior in 2017
Zaycoven Henderson was charged with aggravated assault with a deadly weapon

Patterson is a former No. 1 recruit in the country

Baker Mayfield and two Sooner teammates made the first team