Freeze: Profane video could extend Denzel Nkemdiche suspension
Denzel Nkemdiche isn't practicing with Ole Miss this spring and won't be helped, Hugh Freeze said, by a profane spring break video that appeared on the Internet.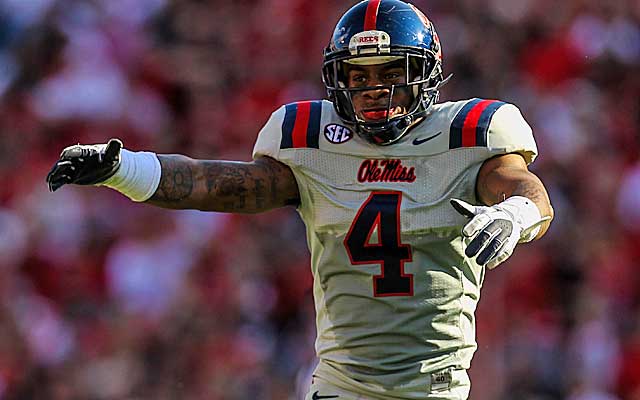 A tumultuous offseason for Ole Miss's 2012 All-SEC linebacker Denzel Nkemdiche got even more tumultuous last week, when a YouTube video surfaced of Nkemdiche unleashing what the Northeast Mississippi Daily Journal described as "a profanity-laced tirade" towards a group of rival fans on a spring break beach.
The video has since been deleted, but not before Hugh Freeze got a look at it -- and told reporters Monday that it won't help the suspended Nkemdiche get back in the program's good graces. The rising junior will miss at least the Rebels' season opener against Boise State, Freeze has said, after his February arrest on charges of disorderly conduct and disturbing the peace.
"I'm not happy with him, not proud of it, hope he's not," Freeze said, per the Daily Journal. "The process may be longer now. I'm not going to be put in a box on it. He'll have to change some of his ways to get back right with us."
Freeze said that Nkemdiche's reaction on the video was inappropriate "regardless" of what might have incited it.
Nkemdiche is not practicing with the Rebels during their current spring camp. 
Nkemdiche is also at the center of a lawsuit which alleges that he and five-star brother Robert Nkemdiche -- the Rebels' now star defensive end -- punched and kicked a man at a 2013 fraternity party. The Nkemdiches have filed a counter-suit accusing the plaintiff of "untrue and false statements." 
Ole Miss has issued a statement supporting the Nkemdiches in the lawsuit.
Saban isn't going to win Alabama's special election, but the Crimson Tide coach got some l...

The Tigers are going worldwide for their next punter

Led by Heisman Trophy winner Baker Mayfield, the Big 12 finished with seven first-team sel...
Schiano would have made $4.4 million in Year 1 with annual raises as part of a six-year de...

Dykes spent this season as an offensive analyst at TCU

The 'Wyoming Wild Man' notched six tackles for loss as a junior in 2017