Freshman Dante Phillips is Florida's first academic casualty, but he may not be the last
Four-star Gator lineman was academically cleared by the NCAA, but denied admission by the university.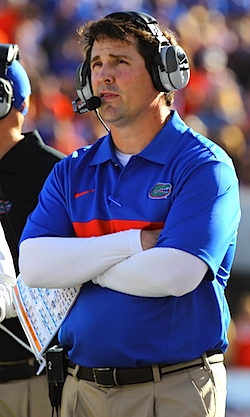 As of last week, Florida was still waiting on three of its most coveted 2012 recruits, all defensive linemen, to clear final academic hurdles before arriving on campus. As of today, it appears that number has been reduced to two, and not in the way the Gators had hoped: According to the Gainesville Sun, four-star defensive tackle Dante Phillips has been rejected by UF admissions despite being cleared for eligibility by the NCAA:
"We were kind of blindsided," [Phillps' stepfather, Damon] Wilson said Monday. "He did everything he needed to do to be cleared by the (NCAA) Clearing House, but now he's been told he doesn't have a scholarship to Florida.

"He's been cleared by the NCAA. He's academically eligible. But the admissions office says he can't enroll at Florida. If he can't get in there, we have to look at other places. He's got some offers out there. He's totally qualified (academically). …Something like this should never happen."
The Gators are not facing any sort of scholarship crunch (quite the opposite, in fact), so score one for SEC… uh, academics? Wilson said Phillips is appealing the decision this week, with an eye on enrolling in the university's second summer session, but there's only "a small chance" that the university will reverse course, at best.
Meanwhile, Florida is still keeping its fingers crossed for the two highest-ranked members of its incoming class, five-star defensive ends Dante Fowler Jr. and Jonathan Bullard, both of whom have been prevented from joining their future teammates in class – today marks the beginning of the Summer B session – as expected. Fowler's father said last week his son planned to arrive in Gainesville on Monday after completing an online course; his grade still has to be submitted and approved by the NCAA clearinghouse. Bullard said last Monday that he expected to arrive on campus the following day, but at last check had not left his hometown of Shelby, N.C. There are no reports that either has been denied admission or otherwise expects to miss the start of preseason practice in August.
Not that the Gators are facing any imminent shortage of blue-chip maulers on the defensive line this fall: Former five-stars Sharrif Floyd, Omar Hunter and Dominique Easley are just hitting the prime of their college careers with 43 starts between them. If nothing else, though, the hyped incoming crop was being counted on as an insurance policy in the likely absence of another former five-star, Ronald Powell, who tore his ACL in the spring after starting all 13 games last year as a sophomore. If Fowler and Bullard wind up on ice, too, well, even SEC powerhouses can't afford that much insurance.
- - -
Update, 8:03 a.m., 7/03. According to his father, Dante Fowler Jr. has been accepted by UF admissions and plans to enroll this week.
Saban isn't going to win Alabama's special election, but the Crimson Tide coach got some l...

The Tigers are going worldwide for their next punter

Led by Heisman Trophy winner Baker Mayfield, the Big 12 finished with seven first-team sel...
Schiano would have made $4.4 million in Year 1 with annual raises as part of a six-year de...

Dykes spent this season as an offensive analyst at TCU

The 'Wyoming Wild Man' notched six tackles for loss as a junior in 2017