Friday Five: Five new rivalries we just made up like Bob Diaco
Every Friday, the Friday Five will rank something in the world of college football -- anything and everything from the logical to the illogical. This week we create five new rivalries and rank them in no particular order.
Every Friday, the Friday Five will rank something in the world of college football -- anything and everything from the logical to the illogical. This week we create five new rivalries and rank them in no particular order.
When Bob Diaco first created a rivalry between UConn and UCF without UCF's consent it was funny, if not a little sad. The fact that he's continued pushing it as a real rivalry since has only proven to make the entire situation all the more amusing.
So for this week's Friday Five I figured why not just make up five new rivalries that should exist in college football?
Now, unlike Bob Diaco's fantasy rivalry, I wanted mine to be somewhat ridiculous, but also make some logical sense. I think I've come up with some decent ones, and here are the top five that my dumb brain was able to create.
5. Kansas vs. Iowa State
This one actually makes sense! The states of Kansas and Iowa do not border one another, but they still seem like natural rivals. First of all, Kansas lost one of its greatest enemies when Missouri left the Big 12 for the SEC, and it's just been kind of lonely since. I mean, yes, it has Kansas State, but Kansas State has just been so much better than the Jayhawks have been. It's not really fair. Iowa State also has what's considered a rivalry with Kansas State, and you know what they always say, "the rival of my rival is my friend so let's be rivals too." Plus, think of how many times the annual matchups between these two teams settle who finishes last in the Big 12. So this game has a lot on the line every year. So create a trophy called the Jayclone Trophy and let's do this thing already.
4. Charlotte vs. Wake Forest
Charlotte is the new kid on the FBS block in 2015, and as a new program it doesn't have any enemies on the football field. So when you're the new kid at school, the best way to fit in with the cool kids is to make fun of the same kid they all make fun of. North Carolina, Duke and NC State may not get along all the time, but they're basically the Mean Girls of North Carolina college football. They look down upon Wake Forest. So Charlotte should do the same, plus this rivalry comes with the added benefit of having an opponent you might be able to beat once in a while, and one from a Power Five conference at that!
3. Maryland vs. Rutgers
Listen, every school in the Big Ten has rivalries and rivalry trophies. Minnesota plays for like 10 different trophies a year. Bob Diaco would love the Big Ten because he could just make up a trophy and nobody would notice, they'd just assume it was around since 1905. Maryland considers Penn State a rival, but Rutgers comes into the Big Ten without one. So shouldn't they just make this a rivalry game and create a trophy for it? They're both the new kids, they're only about a 200-mile drive apart, and they're in the same division so they're going to play every season. The winner literally gains control of the state of Delaware for the year.
2. Texas vs. Texas A&M-Kingsville
Texas A&M wants to leave the Big 12 for the SEC and cut the cord on its rivalry with the Longhorns? Fine, screw them, the Longhorns don't need those Aggies anyway. Not when Texas A&M-Kingsville exists! It's just like Texas A&M, but with Kingsville at the end of its name! And it's not a pushover program, either, as the Javelinas (which is a great name) have won seven Division II national titles as well as 34 conference titles. And no Division II school has put more players in the NFL than A&M-Kingsville, and that includes three Pro Football Hall of Famers in Gene Upshaw, Darrell Green, and John Randle.
1. Alabama vs. UAB
You had to know this was coming, right? I mean, how could I not put this here after all that's gone on in the world of UAB football recently. If you aren't entirely aware of the situation, the UAB football program was killed off by the Alabama board of trustees (UAB stands for University of Alabama at Birmingham), which just so happens to have a trustee named Paul Bryant Jr. Paul Bryant Jr. just happens to be the son of legendary Alabama coach Bear Bryant, and has a long feud with the late Gene Bartow, who founded UAB athletics, and accused Bear Bryant of cheating in a letter to the NCAA in 1991. Well, many people believe that the younger Bryant wanted to get his revenge against Bartow by killing off Bartow's creation before he left the Alabama board of trustees at the end of the year, and he did. Until UAB was recently resurrected from the dead.
And once it gets back on the football field, who better to be its biggest rival than Alabama?
Honorable Mention: Boston College vs. Hawaii (the eastern-most FBS school vs the western-most school), Bowling Green vs. Ball State (the trophy would be a Bowling Ball)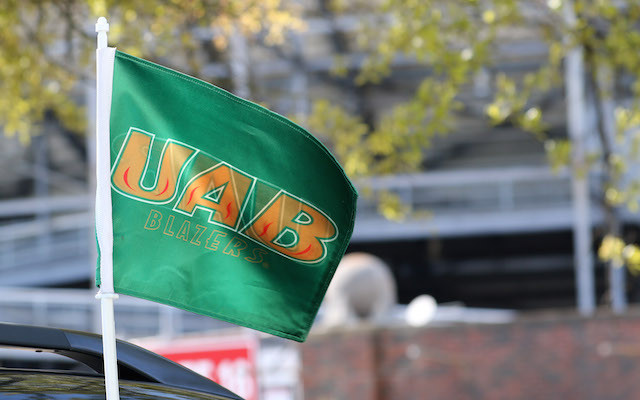 CBS Sports HQ Daily Newsletter
Get the best highlights and stories - yeah, just the good stuff handpicked by our team to start your day.
Please check the opt-in box to acknowledge that you would like to subscribe.
Thanks for signing up!
Keep an eye on your inbox for the latest sports news.
Sorry!
There was an error processing your subscription.
The Orange and Blue now feature the signature Jumpman logo

Making predictions in a loaded Big Ten between Ohio State, Michigan, Penn State and Wiscon...

The Gators have been down for too long, and Mullen seems to know how to save them
Mullen has been known for rocking the sneaker and suit combo for a few years now

Justify grouped with wide receivers as part of Louisville's claim to Speed City

Instant replay and legalized sports betting are two areas that will impact college football...