Friday Five: Running backs who will be Heisman trophy dark horse candidates
These five running backs won't start the year being mentioned in the Heisman race, but could finish there
Every Friday, the Friday Five will rank something in the world of college football -- anything and everything from the logical to the illogical. This week, we rank five running backs who could sneak into Heisman contention.
There's been a bit of a shift in the college football landscape. Since moving from the 1900s to the current century, quarterbacks had dominated the sport, and particularly the Heisman Trophy. From 2000 to 2014, there were 15 different Heisman winners, and only two of them were running backs. Reggie Bush won the award in 2005 (and has since been stripped of it over some nonsense), and Mark Ingram won it in 2009.
Then last season began, and it was the year of the running back. LSU's Leonard Fournette was the early favorite, but he made way for Alabama's Derrick Henry down the stretch. Finishing behind Henry was Stanford's Christian McCaffery, and further down the ballot we found Fournette, Florida State's Dalvin Cook, Ohio State's Ezekiel Elliott, and even Navy's Keenan Reynolds, who was a quarterback in name, but mostly a running back in trade thanks to Navy's option offense.
As the 2016 season begins, Henry, Elliott and Reynolds may be gone, but McCaffery, Cook and Fournette all return, and all three are early season favorites for the Heisman, as many believe that Clemson's Deshaun Watson is the only quarterback in the country that truly serves as a threat in the preseason Heisman race.
But others will emerge. They always do.
While quarterbacks will always garner Heisman hype, for this week's Friday Five, I have decided to look for five other running backs who could make waves in the Heisman race this year. After all, not many people knew who Christian McCaffery was heading into last season, and he nearly won the award.
I can see a few guys who have the talent to do it this season, even if they aren't receiving much attention right now.
Unfortunately, unfair as it may be, the fact is that you probably have to play for Power Five school to win the Heisman, no matter your position. The last player to win the award from outside what is now a Power Five school is BYU quarterback Ty Detmer, and he did it in 1990.
So it's been a while.
This eliminates a lot of good running backs from the conversation, though I'll make sure to namecheck my favorite G5 running backs at the end of the post. The Heisman voters may not see you, but I do.
Anyway, let's start our actual rankings in the Pacific Northwest.
There are plenty of questions surrounding Oregon heading into the 2016 season, as there are plenty of people who believe this is a program on a downward trend, and are skeptical about another season with an FCS grad transfer at quarterback. Then there's the defense, which wasn't good last year, and now has a new defensive coordinator and a new scheme courtesy of Brady Hoke.
One thing I'm sure of, though, is that if the Ducks rely on Royce Freeman, plenty of good things can still happen for this team.
Freeman has rushed for 3,201 yards and 35 touchdowns in his first two seasons. He's big enough to run between the tackles, and fast enough to run away from defenders in the open field. Should Oregon compete for a Pac-12 title and a College Football Playoff berth, Freeman will likely be a big reason why, and that will put him in the Heisman conversation.
There's a lot of preseason hype surrounding Tennessee this season, and Jalen Hurd is a major reason why.
Hurd got off to a bit of a slow start to the 2015 season once the Volunteers entered conference play. After rushing for 109 yards against Oklahoma, he went over the century mark against Florida as well, finishing with 102 yards, but that total was due more to volume than anything else.
Then, over Tennessee's next five conference games he averaged "only" 82.6 yards per game, but finished the season strong. In three games against Missouri, Vanderbilt and Northwestern (Mizzou and Vandy didn't have good seasons, but it sure wasn't the fault of their defenses, and Northwestern had one of the best defenses in the country) he averaged 133.7 yards per game.
Should he continue with that kind of production in 2016, and improve his touchdown total -- he had 12 last year -- he'll garner more attention nationally.
3. Ronald Jones, USC
Jones found himself in a tandem last season, and he'll likely continue to split carries with Justin Davis this year, though I'm not sure that should be the case. In my mind, Jones has a much higher ceiling than Davis, and he ended up finishing the season leading the Trojans in rushing despite the fact he averaged only 10.9 carries per game.
He made them count, though, finishing with 987 yards and eight touchdowns while averaging 6.45 yards per carry.
Jones deserves more carries in 2016, and if he gets them, he's going to put up very nice numbers and more than a few highlight reel runs. Combine that with the pedigree of being a USC running back, and he'll get the attention of voters.
I love Elijah Hood. He's the type of player I see who doesn't get a ton of attention nationally as a college player, but I believe could really shine on the next level. In other words, at this time next year, when you're getting ready for your fantasy drafts, as the rest of your league reaches a bit early on guys like Fournette and Cook, you should sit back and grab Hood later and then reap the rewards.
Hood rushed for 1,463 yards and 17 touchdowns last season, averaging 6.68 yards per carry.
This year, he'll be the featured player in North Carolina's up-tempo attack, and could easily improve on those numbers, even as his role expands. If he does, and North Carolina is once again competing for an ACC title, people better take notice.
Though, again, if they don't, he'll be a great fantasy sleeper for you next summer.
When Chubb went down last season in Georgia's game against Tennessee, it broke my heart. Not just because the injury was gruesome to behold -- just thinking about it still sends shivers down my spine -- but because Chubb is just so damn good, and while you never want to see anybody hurt, you especially don't want to see guys with such incredible talent go down.
And Chubb is talented, man. So, so very talented.
Before the injury, Chubb had averaged 149 yards and 1.4 touchdowns per game through five games, and that includes a 146 yards and a 7.3 yards per carry performance against Alabama. If you extrapolate those numbers across a 13-game season, Chubb finishes 2015 with 1,937 yards and 18 touchdowns.
In other words, if he doesn't get hurt, he's probably a Heisman finalist last year.
Considering Georgia is likely to be starting a freshman quarterback in 2016, the Bulldogs will be leaning on Chubb to help shoulder the offensive load. If he stays healthy -- please stay healthy -- he's going to end up in New York come December.
Honorable Mention: Saquon Barkley, Penn State; Corey Clement, Wisconsin; Wayne Gallman, Clemson: Samaje Perine, Oklahoma: Bo Scarbrough, Alabama
Group of Five Studs: Matt Breida, Georgia Southern; Kareem Hunt, Toledo; Marlon Mack, USF; Elijah McGuire, UL Lafayette; Jeremy McNichols, Boise State; Donnel Pumphrey, San Diego State; Ito Smith, Southern Miss
CBS Sports HQ Daily Newsletter
Get the best highlights and stories - yeah, just the good stuff handpicked by our team to start your day.
Please check the opt-in box to acknowledge that you would like to subscribe.
Thanks for signing up!
Keep an eye on your inbox for the latest sports news.
Sorry!
There was an error processing your subscription.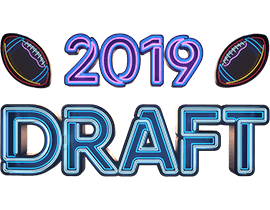 Get Live Coverage of Every Pick
Eighteen of the 32 first round picks were four- or five-star prospects as recruits

Breaking down the first round of the 2019 NFL Draft by college team and conference

The Sooners wanted to guarantee an evening kickoff time by moving the game
It's the second time this week football has been mentioned

The CFP is holding its annual meeting this week in Irving, Texas

Plenty of mid-round picks become solid NFL players, and I think these could be the next se...