Fringe benefit of College Football Playoff? No more mythical titles
Schools will do anything to claim a football championship -- years or decades after the fact. The upcoming playoff will finally put that practice to rest.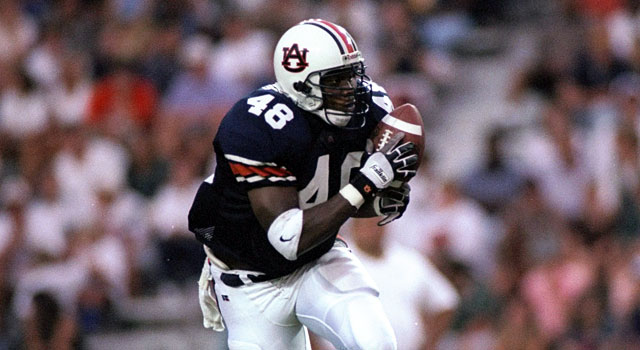 More college football: Jon Solomon | Jeremy Fowler | Latest news
Maybe it was just offseason boredom. Maybe some PR flack had a self-serving idea.
But at some point delusion overtook promotion.
At Auburn, AD Jay Jacobs truly believes it's worth looking into retroactively bumping up his football program's national championship total.
"It's right there, nothing but facts," Jacobs said earlier this year. "It's awful hard to argue against facts."
He's not the only one. Claiming "lost" titles has become a sort of a laughable, outlaw cottage industry. For years, Alabama (which claims 15) and Notre Dame (11) have listed championships outside the accepted boundaries.
Everybody just kind of winked because they were Alabama and Notre Dame -- war daddies high on their own fumes. Then, suddenly, it seems to have gotten ridiculous. Recently Texas A&M -- even Minnesota -- gave themselves championship makeovers.
You may not care, but they care. And that's OK -- within reason.
Just don't mess with college football tradition. Tradition dictates that the legit championship era didn't begin until the AP poll debuted in 1936. Tradition -- common sense, really -- dictates that in no way should the NCAA be involved in this discussion.
Part of the Auburn frenzy is based on a book, Auburn's Unclaimed National Championships. Much of its point is made claiming "NCAA-recognized" champions. Under "Football Traditions" Auburn's own website cites the NCAA record book listing titles in 1913, 1983 and 1993 (as well as "legit" championships in 1957 and 2010).
Jacobs has attempted to clarify himself, but the narrative remains. Someone, somewhere believes it's worth digging up Auburn's game film from 100 years ago.
Yeah, I know. Impossible on several levels.
One being that championships don't lie around unclaimed like a '73 Torino at a police auction. We're talking tangible, touchable objects. In that wire-service era (1936-1997) national championships are mythical enough without cooking up more unicorns.
Also, the NCAA has nothing to do with crowning major college football champions. FCS has its own playoff administered by the association. But since 1936, things have been largely subjective at the highest level.
The NCAA's web page listing national champions is just that -- a web page. It is the regurgitation of a list gleaned from somewhere else.
It's also something different than what is listed in the association's football records book.
If you're confused, don't even look at 2004. That year the NCAA website lists a title vacated by the BCS and ignored by the coaches' poll.
In fact, the NCAA had every reason to snub USC.
But in that records book, Auburn was one of four "champions" from 1993. That despite being ineligible for the SEC championship and a bowl because of NCAA improprieties.
Yes, much of this discussion is selective recall. Given the long, sordid infractions history of Auburn, it's strange to see some Tigers referencing the NCAA for championship credibility.
There are 39 polls/indexes on that NCAA website naming champions all the way back to 1869. It's silly enough to believe that Princeton is recognized as a "champion" for beating Rutgers in that first game 144 years ago (so says the National Championship Foundation).
It's another to argue about it. Former Lafayette coach Parke H. Davis retroactively proclaimed (in 1933) that Rutgers and Princeton shared the title.
And you thought split national champions was a thing in 2003 (LSU and USC)?
Arkansas' off-the-books 1964 claim has more legitimacy than most. That year Alabama was consensus national champion only because, back then, the Associated Press and United Press International polls ended after the regular season. They didn't take into account the bowls.
The Hogs ended up being the nation's only unbeaten team that year. Meanwhile, Bama got beat in the bowl game.
If there was a college football prime minister, someone we all believed in, it would be different. But the game never has -- probably never will -- have a singular authority.
The lack of a leader -- all this poll dancing -- are reasons to welcome the playoff era. The subjective whims of hundreds of human voters -- and wacky computers -- have been replaced by the subjective whims of 13 other human voters.
Still, something feels better, fairer.
Hopefully, the playoff era should put an end to the unclaimed titles era. Four teams, two semifinals, one champion. There won't be much championship carping about No. 5. At least there shouldn't be.
In most years, a playoff basically accommodates all the undefeated teams produced by the Big Five conferences (Pac-12, Big 12, ACC, SEC, Big Ten). We can speculate about the prospects of the Group of Five (MAC, Sun Belt, American, Mountain West, Conference USA). But in the 16-year history of the BCS only one non-BCS school (TCU, 2009 and 2010) finished in the top four.
Beginning this season, the traditional polls themselves will be diminished. The only one that truly matters will be produced by those 13 folks on the playoff selection committee.
That means an end to the coaches' conflict of interest in their poll. In the BCS age, that poll was responsible for putting millions of dollars in the pockets of the coaches who administrated it.
That means an end to tedious multiple championship trophy presentations at the day-after press conference. Only one trophy -- the College Football Playoff's -- will matter.
In that moment, playoff precision will have overtaken the current delusion and promotion.
CBS Sports HQ Daily Newsletter
Get the best highlights and stories - yeah, just the good stuff handpicked by our team to start your day.
Please check the opt-in box to acknowledge that you would like to subscribe.
Thanks for signing up!
Keep an eye on your inbox for the latest sports news.
Sorry!
There was an error processing your subscription.
Durkin was fired from Maryland last year in the aftermath of Jordan McNair's death

Clemson is an overwhelming favorite to continue its run of ACC championships

Daniel Faalele is still growing into becoming a high-caliber college football player
LSU just one-upped the rest of the SEC in the facilities battle

Jim Harbaugh releases a statement after many criticized comments he made during a recent i...

Harbaugh and Michigan are joining the RPO generation to fire up the Wolverines' offense