FSU handles Miami; now comes the hard part -- jumping Oregon
Miami covers the largest spread between two top 10 teams.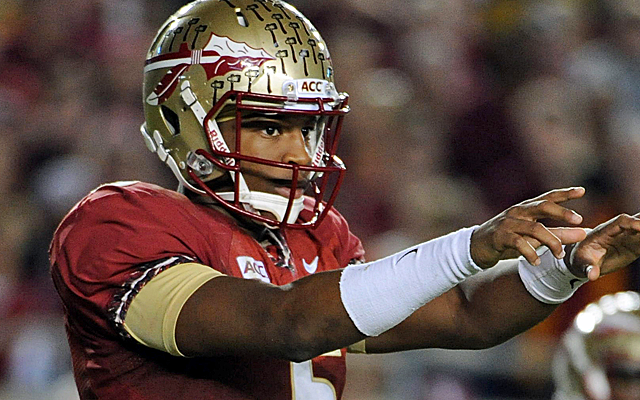 TALLAHASSEE, Fla. --  Florida State covered.
Those words resonated Saturday night from Oregon to Columbus, Ohio to Baylor and back again. No. 3 FSU won comfortably Saturday night. Did it win convincingly enough?
The line was 21 points but with the seconds ticking away in the Noles' 41-14 win, Miami had the ball driving for  a garbage touchdown that could have been the most damaging backdoor cover ever. A touchdown would have made it a 20-point win and not only would gamblers grumble, the margin would have raised the question that gets raised this time of year.
"Are the (insert team in question here) good enough?"
In this case FSU was. The Seminoles scored at least 40 for a school-record eighth time in a season. Jameis Winston overcame the first two-interception game of his career to bury the Hurricanes. FSU knocked out Miami's best weapon, tailback Duke Johnson, who was seen after the game on a cart with his right leg in a cast.
And yet, from here on in FSU's best friend is whoever beats No. 2 Oregon. That is, if No. 2 Oregon gets beat.
Remember, that not every voter sees every game. From here on in, FSU must win and impress to get into the top two in the BCS.
In the waning seconds, the record Doak Campbell Stadium crowd was chanting "We Want Bama," over and over.
"Is that what they were chanting?," FSU coach Jimbo Fisher said. "We just gotta get ready for Wake Forest. If the time comes, it'll come."
A party in the streets will eventually give way to that stark reality. FSU's final four opponents do little for its BCS profile. Coming into Saturday, Wake Forest, Syracuse, Idaho and Florida were ranked – in order – 75th, 77th, 169th and 23rd in the Sagarin Ratings, the oldest BCS computer component.
The Noles likely won't play another ranked opponent until a possible ACC championship game. That's really the FSU issue right now. Saturday night marked a great victory. It also marked a jumping off point into an abyss.
There's a glass ceiling here in Tally. The Noles can't break through unless the Ducks break down. That could happen – easily. Oregon travels to Stanford Thursday night. If the Ducks lose there, the Noles would conceivably cruise into the No. 2 spot in the BCS.
If not?
It's kind of oily that the best team here in a decade does not control its own destiny, that a refreshing redshirt freshman quarterback can chase a Heisman – and it's overshadowed having to play to a point-spread standard. That's the new normal here.
A great, traditional rivalry game involving two undefeated teams wasn't supposed to be a game. It was reportedly the largest in history between top 10 teams.
"That's cute, that's cute," said defensive back Lamarcus Joyner when told of the Alabama chant. "Alabama is a powerhouse football team. If we want to get on their level we have to continue to do what we do."
At its best, FSU essentially is Alabama. Fisher has practically cloned his program after Nick Saban's. From play-calling to media policies to training table to recruiting.
"I want to be the most physically dominating team that has great skill," Fisher said.
That describes the Tide and the Noles.
But for a half, a funny thing was happening to Florida State on the way to the ACC title, the Heisman and a national championship berth.
Miami had arrived too.
The plucky Hurricanes, who had rallied from three double-digit deficits this season, weren't shying away from equally undefeated FSU. Las Vegas and a nationwide audience may have thought otherwise.
Winston threw two bad interceptions, overthrowing his intended receivers. Miami converted both into their only scores, trailing 21-14 at halftime. In the first 30 minutes the Hurricanes may have at least inflicted enough damage to the Noles' championship hopes to another twist to the rivalry.
Translated, did the three-touchdown favorites just push one Wide Left?
"I made a promise to my team [at halftime]," Winston said. "I'm not turning the ball over anymore this game. I kept that promise. I felt that was the only reason that they scored.
"This is the first time I went to the defensive side [of the lockerrom]. I said, 'If we don't turn the ball over and do anything wrong they can't stay on the field with us."
That's exactly what happened in the second half. Winston completed his first seven passes, leading consecutive scoring drives to push the lead to 35-14. At that point from late in the first quarter to late in the third, he had completed 12 of 13 passes.
The only miss was a pick. In the second half, he completed 12 of 14. Afterward, folks were calling it the shakiest outing of his career (21 of 29, 325 yards).
"You have to go through that," Fisher said. "You have to go through these rivalry games, these emotional games. You keep forgetting he's a freshman, too."
That fact is easy to forget. The Noles' best leader has played in eight college football games. He may be the leader for the Heisman despite that less-than-famous game out of Jamies.
Perhaps Winston's best quality is his ability to shake off adversity. His six-yard scramble on third-down at the beginning of the second quarter, kept alive a drive that resulted in a go-ahead touchdown by James Wilder Jr. At one point FSU had converted nine of 10 third downs.
The signature play of the first half, perhaps the game, emerged with five minutes left in the half. Winston floated a screen pass to tailback Devonta Freeman  on the most perfectly executed such play you'll see. Left guard Josue Matias and center Bryan Stork got out in front as blockers. Freeman went down the left sideline 48 yards virtually untouched to make it 21-7.
These are the days when style points count as much as the results themselves.  Considering the spread, the Noles are playing Las Vegas as much as lousy football teams down the stretch.
The Noles need a series of blowouts – badly.
Unless Oregon loses, that glass ceiling is looking a lot like cement.
Florida's roster got a boost on Tuesday with the return of several key members of the prog...

Tom Hutton joins the ranks of former Aussie rules footballers joining the college football...

The freshman is already on Heisman lists after throwing the walk-off score in the national...
These seven teams should make the most noise down the homestretch towards signing day

Air Force was forced to cancel 11 athletic events because of the 69-hour government shutdo...

Olson has a lot of the tools offensive coordinators want in a quarterback