FSU, Winston might have best Noles team ever, former DC says
Long-time FSU defensive coordinator Mickey Andrews says FSU and Jameis Winston on pace to become the Seminoles' best team ever.
• 2 min read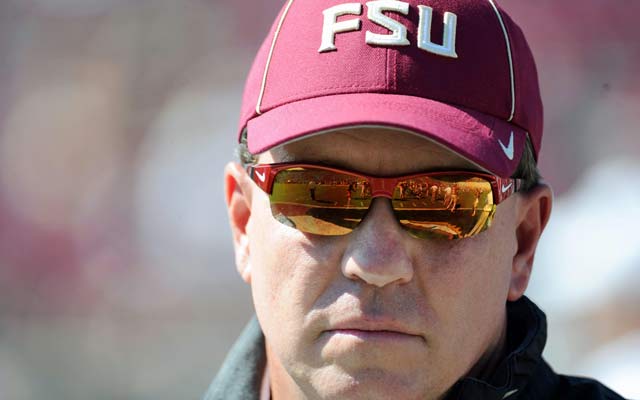 Not many can place this year's stellar FSU team in a historical context better than long-time Seminoles defensive coordinator Mickey Andrews, who was inside some of college football's greatest locker rooms from 1984-2010. He still lives in Tallahassee, frequents FSU practices and attends home games.
If you think this group belongs in the school's best-ever conversation, Andrews can validate that inclination.
"As far as talent goes, they might have the best we've ever had," Andrews said. "As far as depth, too."
The 1993 and 1999 championship teams led by quarterbacks Charlie Ward and Chris Weinke are known as FSU benchmarks, meaning FSU likely needs a 14-0 march into BCS folklore to surpass those teams.
Andrews admits eras can be difficult to compare because 1990s football was more of a North-South, reduced-area game, compared to the spread-out sets of today. But he's seen enough of this year's Seminoles to know their combination of athleticism and football instincts is difficult to ignore.
The season is unraveling so smoothly because quarterback Jameis Winston, widely considered the Heisman front-runner, has so much help, Andrews said. The Seminoles have five receivers and three running backs that could do damage on any team, Andrews said. The offensive line is imposing. The freshmen class is contributing.
The Seminoles have scored at least 40 points in each game this year, and the remaining regular season schedule – Syracuse (5-4), Idaho (1-9) and Florida (4-5) – shouldn't hold this team back, at least on paper. 
"It looks like to me this is a team that is blessed at Florida State with a lot of what those past teams had -- intangibles that go with our physical abilities," Andrews said. "If they continue to work hard with it, they'll have an opportunity to do something that hasn't happened around here since 1999. They don't just make plays, they force plays. And they limit mistakes. They don't beat themselves."
Andrews remembers coach Jimbo Fisher telling him last year, before Winston played a game, how Winston was "going to be special" because he understood early in his career what has unfolding on the field and how to adjust quickly.
Instead of making a Ward-Winston comparison, Andrews says Winston reminds him most of Deion Sanders, who, instead of harboring jealousy among teammates because of his flashy play, became an unquestioned leader with the way he connected with players and coaches.
"I look at him play, I'm amazed at some of the plays he makes, I really am," Andrews said. "But I'm more impressed by the plays he doesn't make. He wants to win more than he wants individual statistics, so he makes winning plays and doesn't make many mistakes."
Fisher has the envious task of steering his team's focus from broad BCS discussion to weekly game prep. Fisher has these concerns because he's turned elite recruiting into a ready-made roster that Andrews believes would provide a "very good matchup" with Alabama based on both team's skill sets, athleticism and execution.
Andrews has seen growth from Fisher at FSU, a place he can win for a long time.
"He's grown as a coach, he's grown as a man, he's grown in how he's managed his staff," Andrews said.
There are new names to learn every season, and here are 14 to keep an eye on from the SEC

Taking a close, detailed and opinionated look at the SEC a week before the start of the 2017...

Rosier will start for the Hurricanes in their opener against Bethune-Cookman
Alabama has won three straight conference titles, and the rest of the SEC is full of quest...

Struggles out of the SEC in 2016 were a mere blip on the conference supremacy radar

Georgia Tech has been with Russell Athletic since 1992