FSU's Jimbo Fisher is Nick Saban on three cans of Red Bull
FSU's Jimbo Fisher is eerily similar to Alabama coach Nick Saban in the way he talks about football and his program, but he's also his own man.
• 3 min read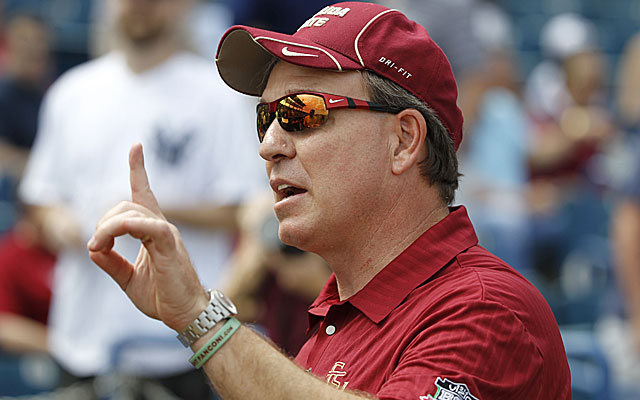 More college football: Dennis Dodd | Jeremy Fowler | Jon Solomon | Latest news
GREENSBORO, N.C. -- Red Bull is not Jimbo Fisher's choice of drink. He preferred to drop peanuts one-by-one into a Diet Coke while answering questions at ACC Kickoff. Apparently it's a delicacy.
But Fisher is already a walking supercharged energy drink. His answers grew fiercer with every minute during his Monday session, pronouncing FSU's aim for an "attitude of dominance" while covering everything from teeter-totters to Larry Bird to the German national soccer team.
No breath wasted, Fisher pumped out words at a no-huddle pace -- until he was asked how he and Nick Saban were different.
"That's a good question," Fisher said. "I'd have to sit down and think about that."
Now the pupil is looking just as dangerous as Saban, who won the first of his four national titles at LSU while Fisher was his offensive coordinator in 2003.
Fisher is his own man, no doubt, but it's also hard to listen to FSU's coach talk without realizing The Process is strong in this one.
They both talk football with a philosophical tilt. It's all about human nature and molding young men and buying into a new title chase.
They even use the same NBA player, Michael Jordan, as an example for maintaining a championship level.
The winners of the last three national titles come from a slice of West Virginia land about 22 miles long, from Saban's hometown of Fairmont to Fisher's town of Clarksburg.
While their blueprints might be similar -- recruit the best classes and overwhelm opponents with talent -- Fisher makes it clear he's creating his own football enterprise.
The BCS era had two teams that rode momentum to multiple championships. That momentum usually has a three-to-five-year shelf life. USC had it. Alabama had it.
FSU might be next.
Fisher wants to make sure of it, and he's got something Saban hasn't had: the ability to churn out NFL-ready quarterbacks consistently.
It's easy to forget Fisher produced two first-round quarterbacks at FSU before Jameis Winston.
Phil Savage, former Browns GM and now Senior Bowl director, told me there aren't many college coaches that evaluate arm talent better than Fisher, who had a potential star SEC quarterback, Alabama transfer Jacob Coker, on his bench last year.
If that's not enough, Fisher treated the ACC event with the approach of an NFL coach. No depth chart breakdowns. Instead, he sounds like a coach obsessed with creating a "championship organization."
In that way, Fisher's "process" might actually be more of a professional model than Saban's. Fisher cited Germany occupying a hotel in Brazil for training purposes leading up to the World Cup, which it won. Players-only hotels erecting on Tallahassee's campus, perhaps?
"Championship organizations, it's not all about players," Fisher said. "It's about the culture of the place, and the message it sends about how it's conducted. ... It's how you think and how you walk and how you talk and how you breathe, you know you've put that work in -- not just in the fall, but all year long."
Clemson's Dabo Swinney and others are confident the ACC gap is not wide, and even if that's true, no other team in the league has FSU's balance. No perceived weaknesses at any spot, save maybe punter. And when you score a bunch, you rarely need one.
Yes, the ACC had 11 teams with a winning record last year, but unless Clemson or someone from the Coastal cluster gets hot, FSU's playoff path is manageable.
"They don't give rings out," Fisher reminded.
That's why Fisher said he has studied Jordan and Bird and Joe Montana, athletes that fought through pain and kept winning.
Fisher's not interested in record-setting offensive numbers, explaining his teeter-totter system: Sometimes a sluggish offense is necessary to win a game depending on the flow of it.
"We're not defending anything," Fisher said. "We want to create an attitude of dominance."
Fisher's biggest obstacle won't be his lineup or motivational speeches, but whether his quarterback proves sincere in wanting to mature while the spotlight is on him.
Fisher has been generous with Winston's leash. He did not suspend Winston for shoplifting crab legs, which came months after his sexual assault investigation closed, because the incident was not "malicious" and his suspension from the baseball team already "cut his heart out."
"If it was done maliciously, we may have done other things," Fisher said.
After using buzzwords like "mature" and "leader" during Winston's interview session Sunday, will the quarterback show over time his intentions are more than press-conference orchestration?
If so, there's no team or coach better positioned in 2014.
Not Saban.
"It was done last year, why can't it be done again this year?" Fisher said.
McElwain will coach receivers and help coordinate the offense for the Wolverines

Nathaniel Watson Jr. was involved in a car accident that injured a passenger in early Febr...

The honorable Tom Fornelli presides over the ASU vs. UM case
Arkansas State is seeking $650,000 for a canceled home game last September due to Hurricane...

Friday Five is tackling the big questions this week

Two unnamed players are being investigated for an incident at an off-campus apartment