Fun with Numbers: ACLs kinder to some (Big 12) than others (SEC)
ACL injuries have ravaged Georgia, Florida, Michigan and other teams across the country. But most schools in the Pac-12 and Big 12 have avoided the dreaded ligament tear.
• 3 min read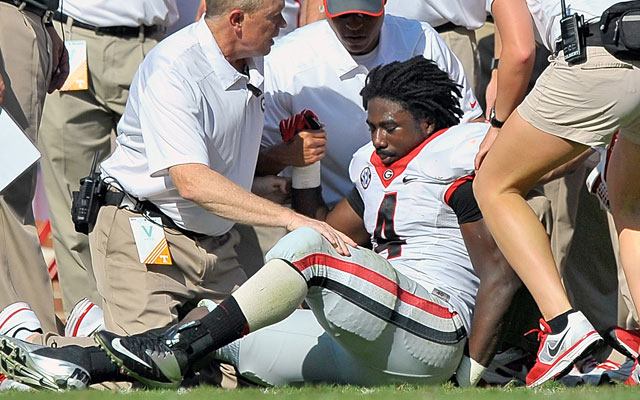 ACL. Those three letters encapsulate today's football culture as much as no-huddle offenses and coaching contract extensions.
Players tear an anterior cruciate ligament, see Dr. James Andrews, rehab toward an 8-to-10-month return. Rinse, repeat.
Good knees equal explosion -- and, eventually, money. Bad knees can be good again, but in the short term that doesn't help the teams with messy ACL realities as they watch their seasons derail.
This year's Georgia-Florida matchup in Jacksonville should be renamed the Brace Bowl. The Dawgs and Gators both have three losses and have lost at least three key players to ACL tears either during the season or in camp. These teams have other problems, but the knee injuries contributed to their SEC nosedives.
The violence of the game and the supreme athleticism won't curb the ligament tears, but most of college football has fared better than the NFL.
According to ESPN NFL writer Kevin Seifert ...
Thirty players have been placed on injured reserve this season because of torn ACLs. The entire 2011 season didn't surpass that total, according to Seifert, and this year is on pace to shatter the 2012 number.
After combing through team injury updates and media reports (and a shout-out to PhilSteele.com), below is a 'Fun with Numbers' unofficial breakdown of the five power conferences by ACL tears, with the SEC coming the closest to that NFL pace. The Big 12 preserves knees better than anyone.
This is unofficial because some ACL tears might go unreported, and sometimes a school doesn't specify whether a season-ending knee injury is in fact an ACL.
To be included, the ACL tear must have occurred during the season or in camp (basically, early August to now).
If we missed any, feel free to notify us and we'll update.
SEC
ACL tears: 13 (10 in-season, three in camp)
NFL comparison (based on 32 teams): 29.64 including camp, 22.8 without
Teams without ACL tears: Mississippi State, Vanderbilt, Missouri, South Carolina, Kentucky
Outlook: This does not include Kentucky long snapper Kyle Budde and Alabama defensive end Dalvin Tomlinson, who are expected to miss the season with knee injuries. Georgia lost playmakers Malcolm Mitchell, Justin Scott-Wesley and Keith Marshall, all this month. Florida's defense hasn't been the same since Dominique Easley went out. Alabama (Vinnie Sunseri), Auburn (Josh Holsey) and Texas A&M (Kirby Ennis) have lost key defenders.
ACC
ACL tears: 10 (Five in-season, five in camp)
NFL comparison: 22.8 including camp, 11.4 without
Teams without ACL tears: Florida State, Duke, Maryland, Georgia Tech, Wake Forest, Boston College,
Outlook: Clemson (receiver Charone Peake, reserve linebacker Kellen Jones) is the only ACC team with multiple in-season ACL tears. The loss of NC State safety Jarvis Byrd is tough for the Wolfpack, and Virginia Tech has lost two players to ACLs since August. This doesn't count Miami receiver Phillip Dorsett, who has a partial knee tear.
Big Ten
ACL tears: Seven (all in-season)
NFL comparison: 18.7
Teams without ACL tears: Iowa, Illinois, Ohio State, Nebraska, Michigan State, Purdue, Wisconsin, Penn State
Outlook: Michigan is carrying the league with three tears (Joey Burzynzki, Drake Johnson, Ondre Pipkins). Northwestern lost starting corner Daniel Jones in the season opener against Cal. Indiana lost offensive lineman David Kaminski and safety Antonio Allen. Minnesota lost corner Briean Boddy-Calhoun.
Pac-12
ACL tears: Three (two in-season, one in camp)
NFL comparison: 7.98 including camp, 5.32 without
Teams without ACL tears: Oregon, Stanford, UCLA, Southern California, Arizona State, Arizona, Washington, Washington State, Utah, Colorado
Outlook: After a stellar nonconference performance, the Pac-12 is staying healthy for the stretch run. For all of Cal's injuries -- at one point, the Bears had three players available from their preseason defensive starting lineup -- only one player has torn an ACL during the season (center Chris Adcock). The Bears also suffered a tear during camp. Oregon State lost long snapper Michael Morovick.
Big 12
ACL tears: Two (camp)
NFL comparison: 0 in-season, 5.32 in camp
Teams without ACL tears: Oklahoma, TCU, Texas Tech, Kansas State, Baylor, Texas, Kansas, Iowa State
Outlook: The Big 12 is a health and wellness club. Every ACL has remained intact through 63 league games. Commissioner Bob Bowlsby has Miyagi hands. Oklahoma State starting left tackle Devin Davis tore his ACL in late August. West Virginia linebacker Shaq Petteway tore his in late August.
A concert is a nice way to break up preseason camp

Mills was arguably Georgia Tech's most important player coming into the season

Hugh Freeze's phone records reportedly show another troubling pattern for Ole Miss
They aren't necessarily great teams, but they're teams I'm really interested in following this...

The Irish will wear them on Nov. 18 against Navy

The fourth-year coach of the Nittany Lions led the program to the 2016 Big Ten Championshi...