Fun with Numbers: College football's most underpaid coaches
FSU's Jimbo Fisher, Miami's Al Golden and Ole Miss' Hugh Freeze are among CBS Sports' list of the most underpaid coaches in the country.
• 3 min read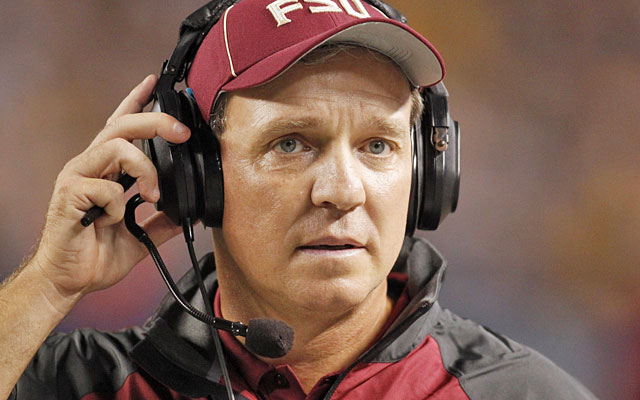 This is supposed to be 'Fun with Numbers,' and is there any college football number more F-U-N than a coach's salary?
Coach money fascinates, surprises, underwhelms, reminds us of the all-important "Inc." that belongs after any mention of college sports. Salaries symbolize the big business of college sports in a tangible way.
For every coach calling a brilliant third-down play, there's an agent landing that coach an extension after one season.
USA Today ran its annual database of coaching salaries Wednesday, prompting some always-goes-down-smooth afternoon Twitter fodder about who's deserving and who's not.
What's amazing, and hardly shocking, is that eight SEC coaches rank above any ACC or Pac-12 names. Part of the SEC's success is its willingness to pay big. The Big Ten and Big 12 have a combined 10 names in the top 20. The Pac-12 and ACC have zero, according to this list.
Below is a breakdown of underpaid coaches in the college game based on national market value. Hard to say any coach in the top 50 is underpaid. Everyone knows the numbers are absurd.
But some coaches are maximizing their value more than others. We're avoiding the overpaid card here, because though some are fairly obvious, most coaches are paid for what they've done in the past, which is hard to knock them for.
The private-school salary numbers can be skewed. Vanderbilt's James Franklin ($1.84 million) and Notre Dame's Brian Kelly ($1.09 million) make much more than the total pay listed. The same goes for Baylor's Art Briles ($2.4 million).
How a coach is paid isn't always clear-cut. Some coaches prefer to spread more money among assistants, thus affecting their bottom line. Bonus structures can also affect the overall compensation.
Overall, there are probably more than 10 coaches who could be paid more relative to their conference peers, but these 10 stuck out to me based on the USA Today numbers.
Jimbo Fisher, Florida State, $2.75 million: Fisher and FSU brass talked about an extension in the offseason but didn't get it done. That must change, even if the Noles drop a game this year. Fisher is proven at 39-10. You bet ACC coaches are rooting for Fisher's salary to bloat. The conference is lagging behind the SEC, Big 12 and Big Ten in money.
Al Golden, Miami, $2.148M: With Miami's steady improvement in each of his three years while navigating an exhausting three-year NCAA process, Golden has earned a bigger salary. Save a late-season implosion, it wouldn't be a surprise if Golden has his contract reworked in the offseason.
Hugh Freeze, Ole Miss, $2M: Freeze is an elite recruiter and is working on his second consecutive winning season, but he's nearly last in SEC salary, edging Kentucky's Mark Stoops by about $4,000. To keep up with renovations in the SEC cul-de-sac, expect Ole Miss to bump Freeze after the season if he goes to another bowl game.
Kliff Kingsbury, Texas Tech, $1.855M: Less than two bills for Kingsbury -- who's next-to-last in Big 12 pay -- is good living for Texas Tech, which gets wins and marketing appeal on the cheap. How long that bargain lasts is the question.
Mark Helfrich, Oregon, $1.8M: Oregon might have the best bargin around. Why not start Helfrich in the $2.4 million range like first-year Pac-12 counterparts Sonny Dykes and Mike MacIntyre? No reason Helfrich should be 10th in Pac-12 pay.
Jerry Kill, Minnesota, $1.2M: The Big Ten treats its money like Uncle Scrooge, yet Kill is making about $600,000 less than South Florida's Willie Taggart. The lowest-paid coach in the Big Ten is on leave to treat his epilepsy but has established a program that's contending for a divisional crown with three straight wins. Throw some of that Big Ten Network money his way.
Mike Riley, Oregon State, $1.417M: OSU recently gave Riley $300,000 to do as he pleases, and he allocated all of it to his assistants. So, perhaps Riley could have more money. But the lowest-paid coach in the Pac-12 has four seasons of at least nine wins at a place where it's not that easy to do so.
Tim DeRuyter, Fresno State, $655K: That the coach of the country's No. 16 team is No. 7 in the Mountain West coaching salary scale is curious at best. DeRuyter is 17-4 in two seasons, which should give him options for a bigger-money job if he wants it.
Pete Lembo, Ball State, $399K: Lembo could be much wealthier after this season if he takes advantage of the job market. Ball State is 9-1 entering next Wednesday's matchup at Northern Illinois with MAC title implications.
Rod Carey, Northern Illinois, $376K: His first-year status probably affects his bottom line, but Carey won't be near the bottom among MAC coaches for long. The Huskies are vying for a second consecutive BCS bowl.
A tough end to the 2017 slate will have Notre Dame against the ropes for the rest of the s...

SportsLine's top college football expert, on a 12-4 run, locks in his top picks for a loaded...

The newly-ranked Tigers and top-10 Hurricanes better watch out this week
Occidental College was reportedly down to 35 healthy players for the 2017 season

Midway through the season, we make some (more educated) predictions for the rest of the ye...

Babe Ruth supporting the Fighting Irish is one of the best photos of the week