Fun with Numbers: Colleges running the rock at significant rate in 2013
Baylor is an example of a team with a pass-happy rep that is actually running the ball a ton in 2013. Nearly half college football is average 40 or more rushes per game.
• 3 min read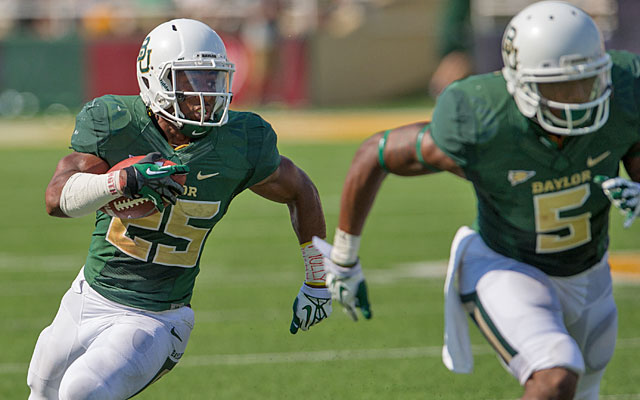 The mushrooming no-huddle trend has not compromised rushing totals in the college game.
In fact, they seem to be enhancing because of it.
Though two games is a small sample size, the rushing totals this year are growing at a significant rate.
Consider these "Fun with Numbers" ...
13: Number of FBS teams averaging at least 50 rushes per game this season.
7: Number of FBS teams that averaged at least 50 rushes per game in 2012.
59: Number of FBS teams averaging at least 40 rushes per game this season.
40: Number of FBS teams that averaged at least 40 rushes per game in 2012.
28: Number of FBS teams that averaged at least 40 rushes per game in 2009.
This means nearly half of FBS is pounding the rock at least 40 times per game (that's usally one RB with 20 carries and 20 more to distribute).
That's good balance even for fast offenses that run 80 or more plays.
And then there are these gems from Baylor sports information director Heath Nielsen (@HeathNielsen) about the Bears, who have a pass-happy rep nationally.
99: Number of rushing attempts by Baylor through two games.
53: Number of passing attempts by Baylor through two games.
305: Number of rushing yards per game.
This trend stems from the combination of no-huddle offenses and teams that run a traditional power game, according to Fresno State coach Tim DeRuyter.
"Up-tempo, no-huddle isn't only pass -- see Oregon and Arizona, then add in Stanford, Arkansas, Wisconsin, Alabama, LSU, power offenses and those numbers make sense," Deruyter said.
Running the ball effectively gains instant street cred in traditionalist circles, but the next question is, can a super-fast no-huddle offense win a national title?
Clemson offensive coordinator Chad Morris says yes.
"There's no question about that," Morris said. "I think Auburn did that a couple of years ago. I think it's remarkable to see what's happened and see how it's carrying over to the NFL."
Auburn was a high-powered, quick offense with Cam Newton and then-OC Gus Malzahn, but the Tigers averaged 67.7 plays per game that year. They still ran at an SEC-like pace.
Oregon, the loser in the title game, ran 78.8 plays per game. The Ducks would have accentuated their stance as torch-bearers for the quick offenses with a win that night.
If a no-huddle team from the Pac-12 or Big 12 knocks off the SEC, it will probably be with a potent running game.
"What you're going to find is more and more people want to do this," said Morris about the no-huddle. "It's exciting. It's easy to recruit with."
Arm numberage
For this week's Fast Football episode on CBS Sports Network, I got the chance to talk with several NFL scouts and college offensive coordinators about quarterbacks with the quickest throwing releases. Here are the results, based on players named most prominently in those talks.
1: Clemson's Tajh Boyd
2: Fresno State's Derek Carr
3: Texas A&M's Johnny Manziel
4: Miami's Stephen Morris
5: Oregon's Marcus Mariota
6: Ohio State's Braxton Miller
A&M numberage
11: Number of freshmen Texas A&M's defense played through the first two games, per defensive coordinator Mark Snyder. That's good for the long term, but vs. Bama's experience? At least the Aggies get all their suspended players back. The Aggies are fast yet young on D.
0: Number of times A&M ticket prices have gotten remotely close to the open-market cost of $763 (per Forbes) for this week's Bama game. "I don't remember anything approaching those kind of numbers. My goodness," said former Texas A&M athletic director Bill Byrne. Senior associate AD for external affairs Jason Cook said the ticket demand is "unprecedented" for a Kyle Field game.
Random numberage
1: Number of times since 1986 that Florida lost one of its first two games and finished the year with more than eight wins (seven tries). The Gators are 1-1 after last week's Miami loss.
1,000,000: Number of apparent trick plays Fresno State offensive coordinator Dave Schramm has in the Bulldogs' playbook. (Note this hook-and-ladder touchdown with Fresno offensive lineman Austin Wentworth).
0: Number of college quarterbacks who have ever thrown for more than 935 yards in their first two starts like Cal's Jared Goff has (h/t @JeffFaraudo).
The 2021 Chick-fil-A Kickoff Game will feature Louisville and Ole Miss

The Fornelli 50 ranks teams based on nothing but their performance in 2017

Penn State better have its eyes wide open with a trip to Iowa City on deck this weekend
Ohio safety Javon Hagan has a rather unique personal tradition during games

Mississippi State has been good to Mullen, but he should be the next Bulldog to upgrade

Cowart was the No. 3 overall recruit in the 2015 class but has not panned out yet for the...