Fun with Numbers: Minor leagues, Delany? Every third top recruit gone
Jim Delany says go ahead, NFL, make a minor league. Well, we did some legwork for the Big Ten commish -- and Roger Goodell.
• 4 min read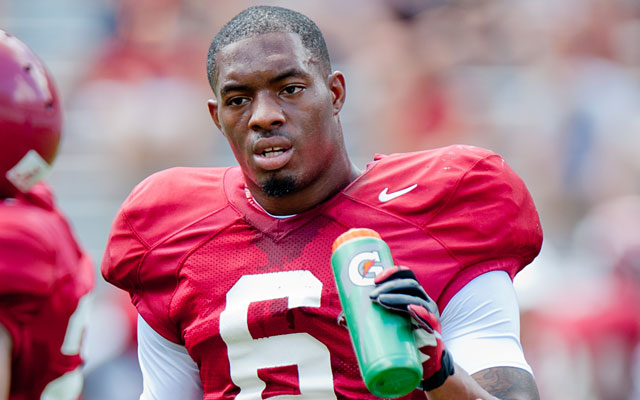 From the desk of Roger Goodell…
Hey Jim. Your recent comments on pay-for-play got us thinking. Maybe we should start a minor-league system for players. Yes, we enjoy the free system college football provides. But since we saved a good half-billion from what we should have paid the plaintiffs in the concussion lawsuit, we can use that money to low-ball your recruits out of high school before their value increases. Then, we don't have to draft them and can churn them through the NFL machine. But we have great work benefits, though.
Anyway, below is a hastily thrown-together percentage index of players we might be able to corral based on drafts in MLB and the NBA. Most of your student-athlete football base will be intact, but we plan to poach more than a third of your top-100 guys. Golf's on me next time I'm in the Chi.
Go #B1G or go home.
Rog
This week's "Fun with Numbers" is Goodell's fake plan, taking a theorhetical look at how the collegiate talent pool might shake out with an NFL minor league system. Bask in the fakeness.

35.3: Percentage of top-100 recruits who sign with the NFL minor-league system annually based on the trend of high schoolers signing in the first three rounds of the 2013 MLB Draft and this year's NBA Draft one-and-dones vs. the rest of the draft base.
Young football talent is difficult to project. Many five-stars don't pan out, many two-stars do.
But for projected top talent, perhaps you can forecast intent in broad terms. Most top-100 players in any sport are aiming for the pros, which is why we're dealing with high-end real estate that, in theory, would have had a difficult choice to make because the pros had obvious interest and signing bonuses to validate that interest.
Since baseball percentages are much higher than basketball, perhaps football would fall somewhere in the middle.
Consider ...
43.4: Percentage of high schoolers selected in the first three rounds of the MLB Draft in June (43 out of 106). MLB signing bonuses in the first three rounds are good enough to entice most high schoolers. 
17.0: Percentage of NBA one-and-dones selected in the first two rounds (8 of 47 -- excluding international players). Maybe a few of these players would have gone to college, but most were valued by the NBA and had an attractive option.
Who stays, who goes
There's no way to know which current college players would have opted for the minors instead of college. They never had that choice. They are in school.
But let's pretend, for the sake of the projections above, roughly 35 percent of the top 100 class from 2011 rankings from 247Sports.com opted to skip school.
The 247Sports numbers show that 10 schools signed at least five recruits in the national top 100 that year. In this exercise, we try to project which players from those schools would have gone pro if they had the option. This is fairly arbitrary, though some selections seem obvious enough (Clemson's Sammy Watkins and Notre Dame's Stephon Tuitt are pros -- so, they're gone here). Players who left are in italics. Remember, the 2011 class is simply for gauging the process. Some of these players are no longer with their original school.
Texas (10): Steve Edmond (15), Sedrick Flowers (22), Malcolm Brown (24), Jaxon Shipley (30), DeAnthony Arnett (37), Quandre Diggs (48), Josh Turner (78), Desmond Jackson (80), Sheroid Evans (92), Mykkele Thompson (94)
Florida State (9): Timmy Jernigan (4), Karlos Williams (7), Nick O'Leary (16), James Wilder (27), Nick Waisome (44), Devonta Freeman (52), Jordan Prestwood (71), Kelvin Benjamin (90), Derrick Mitchell (98)
Alabama (8): Cyrus Kouandjio (2), Ha Ha Clinton-Dix (19), Trey DePriest (23), Marvin Shinn (57), Xzavier Dickson (62), Dee Hart (70), D.J. Pettway (82), Brent Calloway (91)
Notre Dame (7): Aaron Lynch (6), Stephon Tuitt (38), Ishaq Williams (45), DaVaris Daniels (64), Ben Koyack (67), Matt Hegarty (84), Ben Councell (97)
LSU (6): La'El Collins (3), Anthony Johnson (8), Jarvis Landry (17), Odell Beckham Jr. (55), Jermauria Rasco (58), David Jenkins (74)
Georgia (6): Isaiah Crowell (14), Malcolm Mitchell (36), Ray Drew (41), Jay Rome (47), Damian Swann (65), Christian LeMay (93)
Ohio State (6): Braxton Miller (20), Curtis Grant (43), Michael Bennett (63), Doran Grant (68), Steve Miller (88), Kenny Hayes (96)
Clemson (5): Sammy Watkins (9), Stephone Anthony (10), Tony Steward (12), Charone Peake (50), Mike Bellamy (73)
Southern California (5): George Farmer (11), Greg Townsend Jr. (33), Marqise Lee (59), Amir Carlisle (66), Christian Heyward (83)
Auburn (5): Christian Westerman (26), Reese Dismukes (53), Quan Bray (77), Kris Frost (85), Jonathan Rose (89)
Speaking of incoming freshmen ...
Several freshmen are putting in work in 2013, such as Virginia Tech running back Trey Edmunds, one of 23 freshmen or redshirt freshmen getting playing time for Virginia Tech as the Hokies enter Thursday night's game with Georgia Tech.
2: Freshman in national top 25 in tackles (Wyoming LB Lucas Wacha, Ball State LB Zack Ryan)
5: Freshmen with at least two interceptions (Va. Tech DB Brandon Facyson, UTEP's Dashone Smith, Florida's Vernon Hargreaves III, Wisconsin's Sojourn Shelton, Army's Josh Jenkins)
2: Freshmen in national top 30 rushing yardage (Arkansas' Alex Collins, Va. Tech's Trey Edmunds)
3: Freshmen in national top 30 passing (Cal's Jared Goff, Texas Tech's Baker Mayfield, Central Michigan's Cooper Rush)
1: Freshman in national top 30 receiving yards per game (Pitt's Tyler Boyd)
Rhoads led Iowa State to three bowl games in seven years as head coach

The Georgia middle linebacker is one of the most valuable players in college football

Explaining my 2017 Heisman Trophy ballot and Jackson's tremendous season
Mayfield is the sixth Oklahoma player to win the Heisman since its inception

The Heisman Trophy will be presented to the best college football player this season

Army topped Navy for the second straight year in an absolute thriller in Philadelphia