Fun with Numbers: Winning helps Auburn offset Chizik buyout money
The Auburn Tigers reap the benefits of the Gus Malzahn hire entering the Iron Bowl with Alabama. Winning helps revenue, too
• 3 min read
Auburn athletic director Jay Jacobs knew making a coaching change last year would cost his department millions.
That didn't matter. Auburn needed a spark.
"Not that we're cavalier or reckless with our money, but winning's important," Jacobs said. "All that turns into revenue. That's why these (Iron Bowl) tickets are going for a lot of money."
That's about $300 on average, depending where you look.
After taking serious heat for the Gene Chizik malfunction, Jacobs could take a victory lap for looking smart with the Malzahn hire, eschewing bigger names for a former high school coach with one year of college head coaching experience.
Not even Jacobs expected Auburn (10-1) to enter this week's Iron Bowl with a chance for an SEC West crown in Malzahn's first year, a performance prompting RVs to line up by College Street a week before the game.
From the late defensive stand against Texas A&M to the Marshall Miracle, Auburn is having the type of season that inspires shoe ads.
The Malzahn hire put it into motion.
"Having played here and growing up here, it means a lot to me," Jacobs said.
Jacobs made the coaching move to "give the players a chance to win games," he said, but any athletic director also must consider the health of the department with such a move.
For Jacobs, that meant weighing financial implications of the Chizik buyout against the promise of winning.
First, the hard numbers, per AL.com.
*$11.09M: Total buyout money due to Chizik and his assistants for the act of firing, assuming they don't get jobs before the 2015-16 season.
*$7.5M: Chizik's buyout if he's paid in full.
The buyout money is paid out over four years, Jacobs said. So, splitting that in half…
*$3.5M: Chizik's estimated buyout money if he gets a job after next season (two years from firing).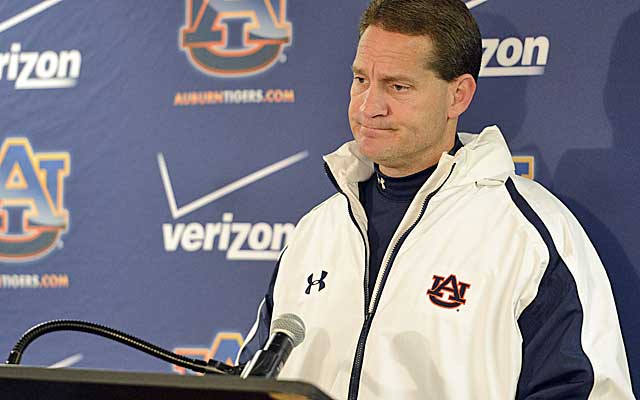 Every assistant save Trooper Taylor is now coaching in college or the pros, Jacobs said, which shaves money from that $11.09 million.
Let's say the bottom line ends up costing Auburn $6 million after Chizik and Taylor get jobs. That's $6 million Auburn needs to make up with a winning program.
Attendance is a good place to start.
*82,646: Auburn's attendance in 2012, according to reports, a decrease of nearly 5 percent from the previous year.
*85,400: Auburn's attendance through seven home games this season (597,801 total), with Alabama's Iron Bowl likely to reach Jordan-Hare's capacity of 87,451
In theory, that's a difference of 2,754 per game, which works out to…
*19,278: Number of more tickets sold this season than last. At, say, $50 a pop, that's…
*$963,900: A ballpark (and probably a conservative one) of how much Auburn has recouped from last year's ticket sales. The Alabama game will only bolster that number.
That's just one example of Auburn's uptick. Couple that with potential merchandise/BCS money (Auburn still in mix for at-large or national title bids) and the pot has sweetened on the Plains.
"Auburn football is back," Jacobs said. "Gus had a plan for it."
That plan included…
26: The number of letters Malzahn covered in his extensive interview package for Auburn brass. "A to Z," Jacobs said. "His attention to detail was very impressive, more impressive than anybody else."
The interview got Malzahn in the door. Once inside, Jacobs said, Malzahn showed he'd care for players, outwork competitors and put together a banner staff.
Jacobs knew he wanted a coach who appreciated the rebuilding process, largely because of the current roster…
18: Number of Auburn players from the 2010 national title team still on the roster, according to Auburn sports information. Thirteen of those players were active participants in 2010, and five redshirted. "If we get it right for them, it gets right for Auburn," Jacobs said. "We had to get somebody that could come and pull the pieces from this shattered program together."
Finally, Jacobs says he wasn't looking for someone to combat Nick Saban. Instead, he needed someone willing to compete with this…
7: Number of consecutive SEC titles. "The trees are pretty tall in this league," Jacobs said.
Trust the Process as Tom Fornelli leads you toward his best bets for Week 13 of the season

This edition of the sport's greatest rivalry will go down in history as one of the most im...

Dennis Dodd makes his prognostications for the last and most important week of the regular...
Kelly is presently deciding whether to start anew with the Gators or Bruins

There are a handful of conference championship games still to be determined

SportsLine's top college football expert, on a 30-18 run, locks in his top picks for a loaded...