Gamecocks looking into potential Clowney-Jay Z relationship
NFL.com reported Tuesday that South Carolina compliance is examining a potential relationship between new agent Jay Z and Jadeveon Clowney.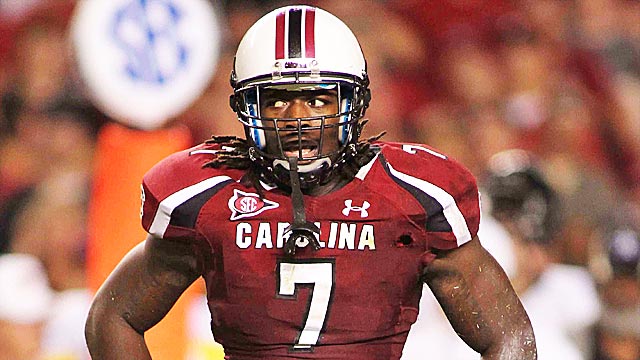 South Carolina compliance officers are reportedly looking into whether their superstar player has committed any violations in talking to an even-bigger-superstar agent.
Gamecock assistant athletic director for media relations Steve Fink confirmed to NFL.com that the school is examining a potential relationship between Jadeveon Clowney and none other than hip-hop mogul Jay Z and his quickly expanding Roc Nation Sports agency.
Fink called the investigation "standard operating procedure."
Other reports claim contact has been made between Roc Nation and Clowney, reports that Clowney did nothing to discredit when he sent this picture -- a screengrab of a tweet describing the reports -- to his Instagram account with the caption "You kno we about to turn up. Dream coming true":
Clowney quickly deleted the image from his account.
The good news for any potentially hyperventilating South Carolina fans: there's no indication that Clowney has put his college eligibility in danger just yet. Merely talking to an agent is within NCAA rules, as long as the athlete in question accepts no benefits from the agent and does not make any agreement to have the agent represent him or her after their college career.
The relevant section from the NCAA bylaws:
It is not a violation of NCAA rules if a student-athlete merely talks to an agent (as long as an agreement for agent representation is not established) or socializes with an agent. For example, a student-athlete could go to dinner with an agent and no NCAA violations would result if the student-athlete provided his own transportation and paid for his meal.
This means that unless South Carolina discovers either that Jay Z or Roc Nation provided Clowney with benefits, or that Clowney has already agreed to sign with the agency in 2014*, Jay Z and Clowney could exchange all the phone calls/texts/tweets/e-mails/Snapchats/smoke signals they want -- as long as they didn't amount to a deal. (It even appears, from the above, that the two parties could actively discuss Clowney's plan for representation following his time with the Gamecocks, just so long as they didn't reach an agreement.)
Gamecock compliance finding evidence that such an agreement exists -- one which would surely be verbal in nature -- seems extremely unlikely. So unless there's a receipt showing that Clowney's visits to Arby's have been paid for by Jay Z's credit card, Clowney seems likely to be in the clear.
That said: if the Gamecocks (and potentially down the road, the NCAA) aren't bothering to look, they're certainly not going to find anything. Now they're looking, which means instead there's certainly some chance they do find something. Just because these reports aren't the end of the world doesn't mean they aren't something to worry about, either.
*Technically speaking, Clowney could elect to play his senior season in Columbia and shun the 2014 NFL Draft. Technically speaking.
Instagram screengrab via SBNation.
Cristobal's first game at Oregon ended the same way Chip Kelly's did

Conner Manning and the Panthers dominated the Hilltoppers in the Cure Bowl

You can only go to the well so often before it dries up
The Trojans beat LSU earlier in the year and now have their first 11-win season as a FBS t...

Saban has never been a fan of the early signing period and made it clear that hasn't chang...

Paul Tyson is a three-star quarterback prospect for the 2019 recruiting class