Gamecocks RB Mike Davis questionable for opener
South Carolina running back Mike Davis is questionable for next week's opener against Texas A&M.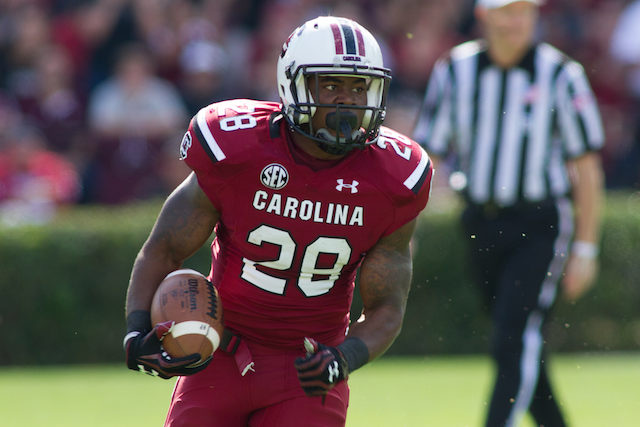 A week from tonight South Carolina and Texas A&M will kick off the SEC season, but there's a possibility that South Carolina could be without its starting running back when the game begins. 
Mike Davis has missed the last few days of practice with a rib injury, and according to Steve Spurrier, it's possible he won't be able to go next week.
"Mike Davis has been hurt, he hasn't practiced all week," said Spurrier on a local radio show. "I don't know if he'd even be able to start or not. But we got Brandon Wilds, he's ready to go. Shon Carson, Dave Williams, so we're in good shape there.
"[Davis] hasn't practiced much, so we'll see how much he's ready to play for the game."
While the Gamecocks could survive without Davis for a game, his absence would still be a big one. Davis finished fourth in the SEC last season with 1,183 rushing yards and scored 11 touchdowns as well. 
The good news is that Spurrier could just be doing his thing and playing mind games with the Aggies, as both Davis and running backs coach Everette Sands told The State that the rib injury isn't anything serious.
There was also this tweet from Davis Thursday morning.
Y'all really think I'm going to miss the first game ? ok

— IG Mike28Davis (@Mike28davis) August 21, 2014
So I guess we know what his plan is. Still, while I expect Davis to play in the opener, a rib injury for a running back could prove to be a problem, even if it's only a minor one at the moment. Backs tend to take a lot of hits in the midsection, after all.
The former Rebels coach was suing the school for harming his reputation

Florida and Georgia's rivalry game is the SEC on CBS Game of the Week

Everything you need to know from the week in college football to stave off your case of the...
Our full set of 130-team FBS college football rankings start with Alabama back at No. 1

The Hurricanes have showed out in a major way over the first half of the 2017 season

An early look at the gambling odds for Week 8 of the college football season