Gary Andersen had 'conversation' with Browns about coaching job
The Cleveland Browns spoke to Wisconsin's Gary Andersen during its recent head coaching search, Andersen announced Tuesday.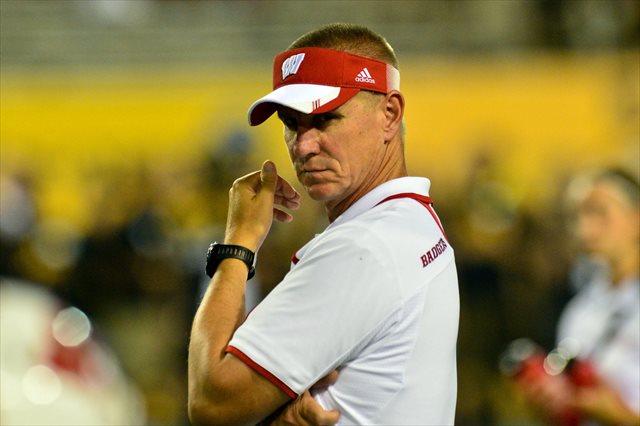 The Cleveland Browns have had quite the interesting offseason, one that even before Tuesday's front office upheaval included a coaching vacancy linked to a number of college coaches -- most notably Auburn's Gus Malzahn -- before being filled by Buffalo Bills assistant Mike Pettine. 
But until Tuesday, Wisconsin's Gary Andersen had not been one of the coaches linked with the Browns. That changed when none other than Andersen himself -- along with Badger athletic director Barry Alvarez -- announced that he had entered an "intitial conversation" with the Browns about possibly replacing Rob Chudzinski. 
"Officials from the Cleveland Browns contacted me to talk about their head coaching vacancy," Andersen said in a statement. "After our initial conversation, I decided not to pursue the position.
"I am committed to the University of Wisconsin and the student-athletes in our program. I love the city of Madison and am grateful for all the support from Badgers fans around the state and around the country. I look forward to the start of spring football in a couple weeks and turning the focus to preparing for 2014."
"I'm appreciative that Gary handled all of this the right way," Alvarez said. "He alerted me immediately that he had been contacted by the Browns and affirmed his commitment to the University of Wisconsin. When you have talented coaches on your roster, there will always be people who want to talk to them. I think that Gary is one of the top coaches in the country and am glad that he is leading our team."
Andersen received an extension from Alvarez at the end of January, having led the Badgers to a successful 9-4 season and Capital One Bowl berth in his first season at the helm. Madison.com reported the extension was unrelated to the Browns conversation.
And frankly, that makes sense. A Utah coaching lifer who waited his entire career before the Badgers finally lured him out of the Beehive State, Andersen has never come across as the sort of coach who'd want to abandon a job after a single season, particularly to take on the high-stress world of the NFL and double-particularly at the helm of the perpetually surf-tossed ship that is the Cleveland Browns. 
The Cowboys and Longhorns look to stay in the Big 12 title hunt on Saturday

The storied rivalry is a Top 25 matchup in 2017

Penn State hosts Michigan in its toughest test and arguably the best Big Ten game to date
Two of the top teams in the American Athletic Conference battle on Saturday

The 'Third Saturday in October' rivalry between the Vols and Tide will take place Saturday...

Here's every NCAA football game you need to watch this week; just make sure you have the r...