Gary Andersen receives extension from Wisconsin
The Badgers' first-year head coach had his contract extended through the 2019 season.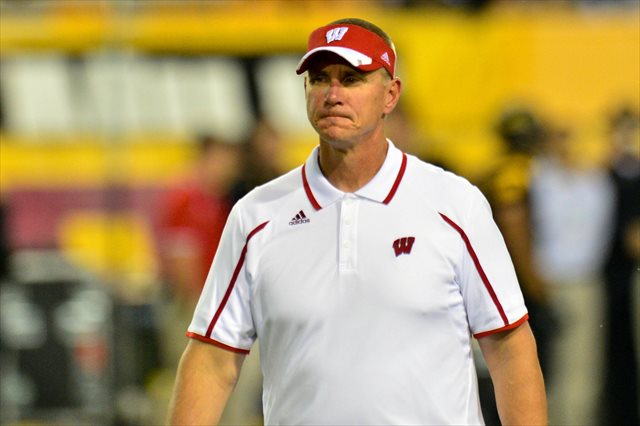 A two-game losing streak to end the season might have downgraded Gary Andersen's debut season at Wisconsinfrom "extremely impressive" to merely "impressive," but it hasn't stopped the Badger administration from rewarding their head coach with a one-season contract extension.
Per the Associated Press, the extension takes Andersen's contract through the 2018 season to January 2019. Financial terms of the new deal were not announced. Andersen's original contract after his December 2012 hire from Utah State paid him $10 million over five years.
Though Andersen's 9-4 campaign and second place in the Big Ten Leaders division snapped the Badgers' three-year streak of Rose Bowl appearances, it also improved on Bret Bielema's farewell season by one win (despite one fewer game played) and saw Wisconsin post an average margin of victory in its 9-2 start of 29.7 points. (Those two losses weren't anything to hang the Badgers' heads over, either, coming at Arizona State in the biggest officiating controversy of the season, and at Ohio State by seven points.)
An inexplicable season-ending home upset to Penn State and a Capital One Bowl defeat to South Carolina took a little bit of shine off the season, but Andersen offered no evidence in 2013 he can't keep the Badgers directly in the Big Ten title mix -- making Saturday's announcement something dramatically less than a surprise.
Bookmaker.eu has odds on quarterback battles, and we have thoughts on the best bets

Michigan has few returning starters and even fewer wins over its rivals under Harbaugh entering...

Carrington was the Ducks' leading wideout in 2016 but was dismissed from the team this off...
Michigan coach Jim Harbaugh always makes things interesting at media days

The Sooners and Longhorns have top-10 classes with Texas landing four top in-state players

These three Big Ten teams could surprise in 2017