Gators grieving over, Florida eyeing an Auburn-like turnaround
The Florida Gators have had to answer questions all offseason about why they are terrible. Now they are ready to flip it -- they can actually be good.
• 2 min read
More college football: Dennis Dodd | Jeremy Fowler | Jon Solomon | Latest news
HOOVER, Ala. -- Florida is in Phase 4 of the college football grieving process.
Phase 1 was firing assistant coaches.
Phase 2 was the head coach shouldering blame for his suddenly lava hot seat.
Phase 3 was listing nearly half the team by name from the podium on SEC Media Days, for a good 11 minutes.
Phase 4 is, by far, the most fun -- it allows a once-wretched team to validate itself, reminding that it might not actually be terrible. Actually, it could be pretty good.
"Winning the [SEC] East, going to the playoff -- that would let everybody realize we're back," cornerback Vernon Hargreaves III said about his goals for this year.
And the examples are all around him. Florida on Monday roamed the halls of the Wynfrey Hotel a few hours after Auburn, which is fresh off a mammoth turnaround from three wins to 12.
Coach Will Muschamp isn't about to emulate the team where he coordinated defense from 2006-07 -- SEC recruiting is too prideful, anyway -- but he did acknowledge a bad team's luck can change just that quickly in this league.
Devoured by injuries and drained of all confidence a year ago, Florida might be a few good fourth quarters away from a job-saving season.
"Everything's possible," Muschamp said about the boom-or-bust nature of the SEC.
Before the Gators can dream, they need to inject confidence into the roster, particularly the offense. Muschamp makes the important distinction between practice confidence and game confidence, something you can't simulate in off-season workouts.
That's why, at least for Florida fans, the Gators' soft September open of Idaho, Eastern Michigan and Kentucky should be a welcome slate (insert Georgia Southern joke here). There's no reason why the Gators shouldn't be 3-0 before traveling to Alabama on Sept. 20.
A reasonable request for Muschamp, assuming the roster remains healthy, is to double last year's win total by getting to 8-4. The defense is still reliable, and new offensive coordinator Kurt Roper has quarterback Jeff Driskel back in the spread offense, where he's most comfortable and can utilize his athleticism. Muschamp insists his shaky wide receiver corps has improved, along with his offensive line.
Yep, Muschamp knows there's only one way to combat the hot seat talk.
"Winning games," Muschamp said.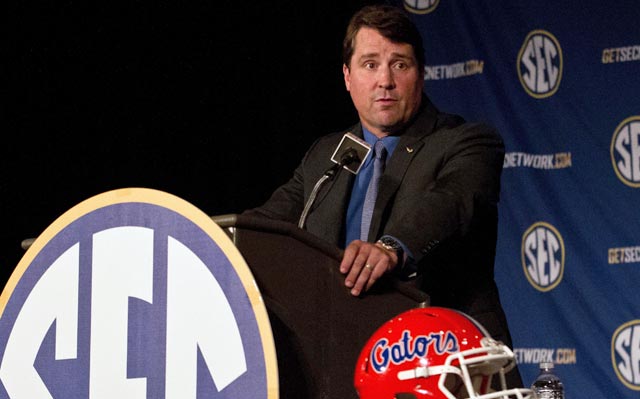 Winning won't take place without steady play from Driskel, who, after missing nine games with a broken leg, experienced light soreness in spring ball but is fully healed now.
Driskel will be all over that leg in the fall. He expects to run the ball more in Roper's offense than two years ago, when he rushed 118 times for 408 yards under then-coordinator Brent Pease.
"That's a weapon we have," Driskel said. "We showed a few years ago the quarterback run is a play where we had a lot of production."
The Gators will take production however they can get it after a historically bad offense. Fix Florida football? Try getting into the red zone more than 3.5 times per game first. Or maybe avoid being the only SEC team with less than 10 passing plays of 30-plus yards.
"They lost confidence in what they were doing," Muschamp said of the offense. "Coach Roper has brought a lot of positive energy."
As one of the SEC's top returning defensive backs, Hargreaves knows the Gators won't go down without trying to knock a few people over.
The defeatist attitude is gone.
"You don't have to stay 4-8," Hargreaves said. "We see it's possible."
The Michigan coach had quite a few things to say on Monday after their visit to West Lafay...

Injuries are ravaging an LSU team that is searching for an identity

Jones started answering an injury question and then went off about 'fake news'
The full ranking of all 130 college football teams includes TCU up and a major drop for Florida...

The charges all stem from an investigation into improper debit card charges

LSU at Florida has been picked as the SEC on CBS Game of the Week