Gators OL Jessamen Dunker jailed on scooter theft charges
Florida's freshman lineman Jessamen Dunker was booked into the county jail on Wednesday.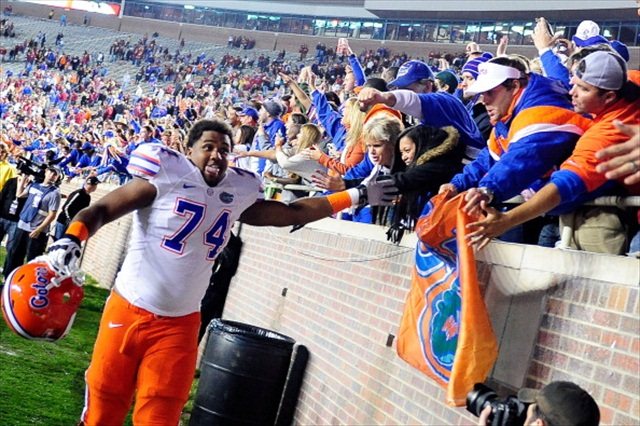 Jessamen Dunker might have badly damaged his chances of moving into Florida's lineup. (Getty Images)
After several quiet months -- finally -- on the off-field arrest front, the Florida Gators have seen one of their players charged with running afoul of the law once again. 
247Sports Florida affiliate GatorBait.net reported that freshman offensive lineman Jessamen Dunker was booked into the Alachua County Jail at 12:01 p.m. ET Wednesday after being arrested on charges of grand theft auto and driving with a suspended license. Dunker was booked by Florida's University Police Department, which said Dunker was spotted driving a motor scooter without a tag.
"Traffic stop was initiated, and during that stop it was determined that he was driving on a license that had been suspended," the UPD's Brad Barber said. "He was aware of that. The scooter, in fact, was stolen."
Per the Palm Beach Post, Dunker told police that he did not steal the scooter, and had purchased it for $600.
Grand theft auto is a third-degree felony; the suspended license a misdemeanor. Bond has not yet been set. Dunker's case record, via the Alachua County Jail records site:
A consensus four-star recruit and one of the nation's most-coveted offensive linemen in the class of 2012, Dunker enrolled early, redshirted and was expected to compete for a starting position on Florida's 2013 offensive line this spring. A Florida spokesman said coach Will Muschamp was "aware of the incident" but was busy recruiting and would offer no further comment at this time.
Per GatorBait, Dunker's arrest marks the 15th of a Florida player during Muschamp's two-year tenure and the sixth in the past 12 months.
Craig Kuligowski is reportedly leaving Miami to take the same job with Alabama

BT Potter is about to be very popular in the Clemson locker room

McElwain will coach receivers and help coordinate the offense for the Wolverines
Nathaniel Watson Jr. was involved in a car accident that injured a passenger in early Febr...

The honorable Tom Fornelli presides over the ASU vs. UM case

Arkansas State is seeking $650,000 for a canceled home game last September due to Hurricane...