Gene Chizik buyout could cost Auburn $7.7 million, might hit $10 million with whole staff
A handsome raise for Gene Chizik after his BCS championship might now cost Auburn millions of dollars, and not for the reasons the school first intended.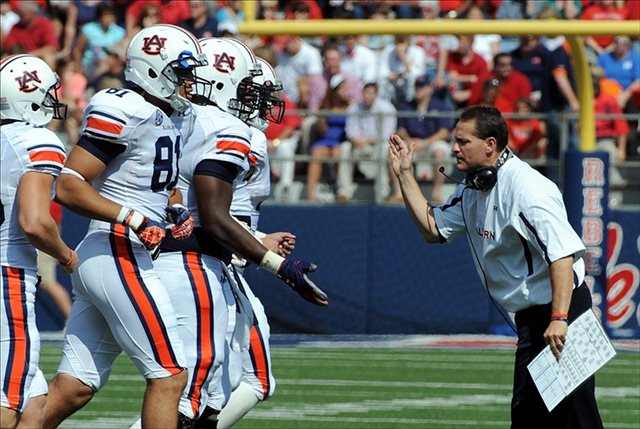 Gene Chizik's days at Auburn could be numbered. (US Presswire)
Will CBS's broadcast of Nov. 24's Iron Bowl be the last time Auburn fans see Gene Chizik on the Tigers sideline? If so, it's going to cost their school a pretty penny.
The Opelika Auburn-News chronicled the details of Chizik's contract situation Monday, putting the total of his buyout at $7.7 million if president Jay Gogue and athletic director Jay Jacobs -- himself in danger of being ousted -- elect to make a head coaching change. Auburn would owe only $7.5 million is Chizik is fired after Nov. 30.
But even that single week between what looms as a demolition at the hands of Alabama and the Nov. 30 cutoff might prove too long for Auburn to save the $200,000. Gogue is reportedly already making preparations to dismiss Chizik, and with Kentucky already searching for a head coach and both Arkansas and Tennessee likely in the market for one as well, every day Auburn isn't actively searching for its next coach (in the event Chizik is indeed fired) could be costly.
Auburn would also have to pay to terminate the high-priced contracts of its national championship-winning position coaches (the richest of which pays receivers coach/assistant head coach Trooper Taylor $425,000 per season) and two-season deals for its first-year coordinators, Brian VanGorder (at $825,000 per season) and Scot Loeffler (at $500,000 per season). The total bill for a complete staff housecleaning could rise to more than $10 million --and that's before the Tigers start paying salaries for their new staff.
But there's some good news for Auburn, too. Each of the buyouts is payable in monthly installments over the length of the contract rather than as a lump sum -- Chizik's doesn't expire until Dec. 31, 2015 -- and any salary earned by the fired coaches could be deducted from the buyout. The contracts also require Chizik and the other coaches to "use reasonable efforts to obtain other employment and/or income from third parties."
So factoring in the pro-rated buyout, the likelihood of deductions, and the incoming windfall from the future SEC network and new league TV contract, and it's fair to say Auburn can afford to start over. But being able to afford it and saying it's "affordable" are two different things -- even at an SEC school like Auburn, a $7.7 million price tag is still something close to a $7.7 million price tag.
So don't expect the buyout to stop Gogue when the time comes. But you can expect him -- and anyone working on the Auburn athletic budget -- to feel the sting all the same.
Guice is dealing with a 'minor injury' that has not been specified by coach Ed Orgeron

Professional college football bettors are loving Jim Harbaugh and Michigan against Purdue

Temple knocked off USF last year to claim the division title
These are the best bets to make in Week 4 including Florida-Kentucky and Oklahoma State-TC...

Two players died as a result of playing college football on Saturday

Gary Danielson previews this week's SEC on CBS Game of the Week from Nashville