Gene Chizik, Rich Brooks part of group charged with recruiting reform
Former Auburn coach Gene Chizik is one of 12 committee members tasked with evaluating potential football recruiting changes.
• 2 min read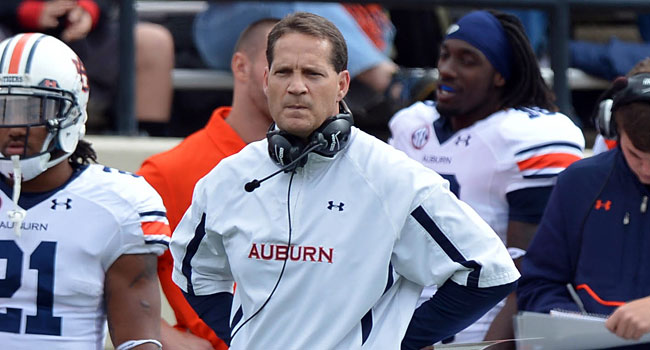 More college football: Conference Predictions | Jon Solomon | Dennis Dodd

If college football's recruiting world gets an overhaul -- hello, early signing period -- then this working group appointed by MAC commissioner Jon Steinbrecher will drive that change.
A 12-person group of conference officials, athletic directors and former coaches will take a "deeper dive" into the health of recruiting starting in September, Steinbrecher told CBSSports.com. The Conference Commissioners Association appointed Steinbrecher to field a team and make a recommendation on the future of football recruiting.
The committee, officially titled the CCA/National Letter of Intent Football Recruiting Working Group, includes Steinbrecher and 11 others: 
* Former Auburn coach Gene Chizik
* Texas Tech athletic director Kirby Hocutt
* Former Kentucky and Oregon coach Rich Brooks
* South Atlantic commissioner Pat Britz
* Big Ten association commissioner for compliance Chad Hawley
* ACC internal affairs chief Brad Hostetter
* Former Wake Forest coach Jim Grobe
* Georgia athletic director Greg McGarity
* Stanford athletic director Bernard Muir
* UTEP athletic director Bob Stull
* Nicholls State athletic director Rob Bernardi
The group will seek input from current coaches, but Steinbrecher admitted placing coaches on the committee during the season was always unlikely.
A formal recommendation could come in the winter or early spring, said Steinbrecher, who hand-picked the diverse group.
The group will take a broad look at how players are recruited, how and when they sign, how they get their star ratings, the merits of official/unofficial visits and everything else. The group must enter the conversation with no preconceived notions, Steinbrecher said.
"We want to take a step back and examine, what is the culture of football recruiting?" Steinbrecher said. "Is it healthy for the sport? Are we happy where it's at? What changes are necessary and appropriate? What are the strengths and weaknesses?" 
As for a potential change to National Signing Day, which falls on the first Wednesday of February every year, Steinbrecher said "perhaps we end up there" but has no idea where those discussions will lead yet. Nearly every college coach has a spirited position on early signing period. Some like the current format, others want players to sign in August or November, or whenever they want.
Steinbrecher said he has a large folder with articles of coaches "saying a lot of different things," but the group discussions will go far beyond signing day.
"There's probably been a shift in when kids make up their minds and various factors and tools that have probably changed in the past decade," Steinbrecher said. "We need to be cognizant of that and, as a result, what does that mean?"
It may have been impossible for Sumlin to meet the expectations set for him in College Sta...

Some players are more easily replaced than others

The 2017 season is in the books, and several big-name stars are jumping early to the NFL
Love was second in the nation in rushing with 2,118 yards in 2017

It looks like Jennings is slowly making his way back to the Vols after being dismissed last...

Offensive coordinator Brian Daboll's departure to the NFL has left a void at Alabama