Georgia depth chart: All-SEC LB Ramik Wilson on second team
Georgia's first depth chart of the 2014 season included a surprise at linebacker, where the SEC's leading tackler in 2013 is listed as second string.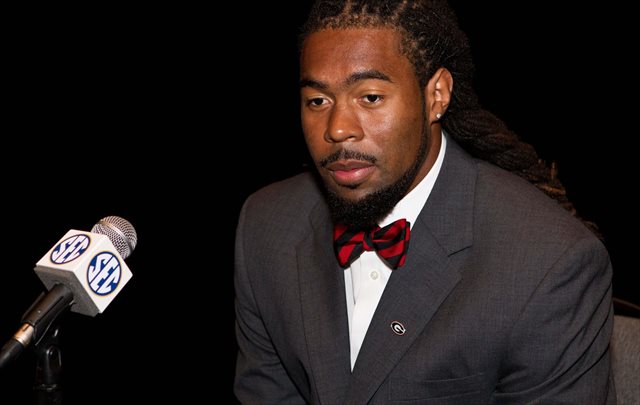 More college football: Jon Solomon | Dennis Dodd | Jeremy Fowler | Latest news
Could a player named to the preseason All-SEC team and considered a leading candidate for the league's Defensive Player of the Year honor start the 2014 season on his team's second string?
That looks like a distinct possibility for Georgia senior Ramik Wilson, who led the SEC with 133 tackles from his inside linebacker position in 2013 but sits on the second string on the the Bulldogs' first depth chart of 2014, behind sophomore Tim Kimbrough.
Georgia opens their season Saturday vs. Clemson in Athens. 
There have been whispers that Wilson might find himself ousted as the season-opening starter, with Dawgs247 recently writing in their projection of the Bulldogs' initial depth chart -- albeit one that still included Wilson in the starting lineup -- that "something has been missing" with Wilson in fall camp and "coaches have gone out of their way to publicly challenge Wilson lately."
"Any time you miss practice it sets you back and he missed a bunch," Georgia linebackers coach Mike Ekeler told the Atlanta Journal-Constitution last Friday, after Wilson missed two weeks of camp following a concussion*. "It kind of is what it is. We've made some moves and he's trying battle his way back right now."
Whether Wilson actually sits to start the Clemson game remains to be seen, as it's conceivable Ekeler, Mark Richt and new defensive coordinator Jeremy Pruitt could be using this as a motivational ploy or for some other reason. (Dawgs247 writer Gentry Estes writes that "in the past, UGA's official depth chart has not been 100 percent accurate.")
But for now, the depth chart should probably be taken at something close to face value -- and it seems clear, at the least, that Wilson has some real work to do if he wants to enjoy the same kind of season he enjoyed in 2013. 
*Surely the Georgia staff wouldn't penalize one of their best players just for suffering a concussion, right?
Olson has a lot of the tools offensive coordinators want in a quarterback

The Tigers have a wealth of talent at their biggest position

Pineiro received the award for stopping an attack the morning of Oct. 15, 2017
The first opening weekend lines for college football in 2018 have been posted

A year-end wrap-up of college football statistics you need to know from 2017

Stanford produces apps and Super Bowl participants