Georgia dismisses S Josh Harvey-Clemons for team rule violation
The Georgia career of Josh Harvey-Clemons has ended with the junior safety's Tuesday dismissal for a violation of team rules.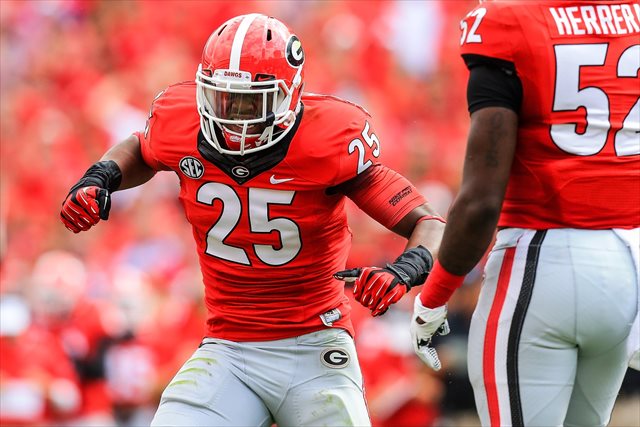 The turbulent Bulldog career of Georgia safety Josh Harvey-Clemons has come to a close.
Georgia announced Tuesday that Harvey-Clemons -- the team's third-leading tackler as a sophomore in 2013 and a former five-star recruit -- has been dismissed from the team for a violation of team rules. No other details were made available.
Harvey-Clemons already missed the Bulldogs' Gator Bowl loss to Nebraska and faced a three-game suspension entering the 2014 season after reportedly violating the university's marijuana-use policy for a second time. Harvey-Clemons was also suspended for the Bulldogs' season-opening loss against Clemson after telling police that he had smoked marijuana in a dorm room.
Despite those suspensions, Harvey-Clemons started the Bulldogs' other 11 games in 2013 and appeared to begin making good on the potential that made him a 247Sports composite five-star signee. The No. 20 overall player in the class of 2012, Harvey-Clemons finished the past season third on the Bulldogs in tackles with 65, and added 5.5 tackles-for-loss, two forced fumbles, five passes defended, and an interception.
However, many Bulldog fans -- and Auburn fans -- will remember his 2013 season first for his failed attempt to knock away the pass that became the "Prayer at Jordan-Hare."
Harvey-Clemons also made waves on Signing Day 2012 when his letter-of-intent never arrived at the Georgia offices, despite Harvey-Clemons declaring his pledge to the Bulldogs on national TV. Harvey-Clemons' grandfather had not signed the paperwork, which was delivered the following day.
If there's any good news here for Georgia, it's that Harvey-Clemons' departure only increases the number of lost 2013 starters from one to two. Nonetheless, Harvey-Clemons represented the rare prospect that has both experience and loads more potential to tap -- and if he ever does, now he won't tap it in Athens.
Everything you need to know about the Spartans 2018 spring game

Everything you need to know about Miami's spring practice

How would a NCAA Tournament-style event play out in college football? Let's take a look
The billboard quotes ESPN's Dan Le Batard calling Kansas 'the most incompetent thing' in s...

Money has been tight at the school despite more recent success on the field

March Madness has been great, but it doesn't need to translate to the college football pos...