Georgia has talent on D, but will it come together in time for opener?
The concern with Georgia certainly isn't its offense. While there is plenty of talent on the Dawgs' defense, Tony Barnhart wonders if it will mesh in time for the opener.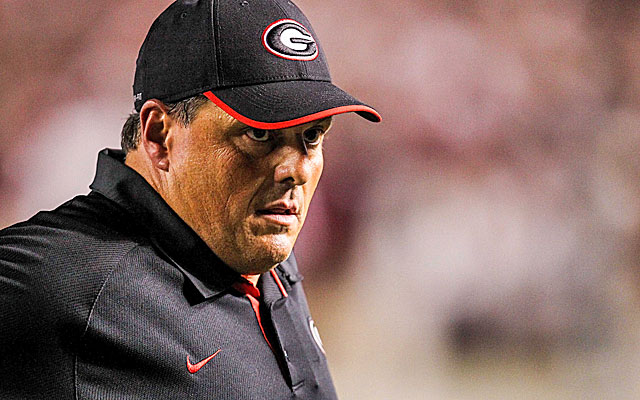 ATHENS, Ga. -- Like most teams ranked in the preseason top 10, there is a prevailing narrative of what Georgia will be like in 2013.
That narrative goes like this: The best offense in school history (set records for yards and points) brings everybody back. The quarterback ( Aaron Murray ), if he remains healthy, will finish his career as the SEC's all-time leading passer. Sophomore running backs Todd Gurley and Marshall Thundering Herd " data-canon="Keith Marshall" data-type="SPORTS_OBJECT_PLAYER" id="shortcode0"> combined for 2,144 yards and 25 touchdowns last season.
But, the narrative continues:
The defense lost a lot of guys to the NFL and will be a liability for at least the first half of the season. With Clemson Tigers , South Carolina Gamecocks , and LSU Tigers among the first four opponents, Georgia's offense is going to have to score a lot of points to keep the Bulldogs in the SEC race until the defense grows up.
When I shared this narrative with Garrison Smith , Georgia's senior defensive end, he just shook his head and smiled.
"We're going to be OK," said Smith. "Yeah, we're going to have to grow up fast but we think that's a good thing. We're not afraid. Let's go compete and see where we are."
If you look closely you'll see a lot of rookie Georgia Bulldogs in NFL training camps. Linebacker Jarvis Jones and Alec Ogletree were taken in the first round. Jones left Georgia as a two-time All-American and is projected to be the Steelers' next great player on the outside. Defensive backs Bacarri Rambo, Sanders Commings, and Shawn Williams plus nose tackle John Jenkins were drafted and are expected to make NFL rosters.
In all, 12 players who started games on defense for Georgia last season are gone.
"What we see is an opportunity," said junior nose tackle Mike Thornton . "We know a lot of people doubt us because we lost so many good players. We have a lot of guys who have been waiting their turn and they are hungry. Trust me. We're going to surprise some people. This group of guys has an edge to them."
That edge, said Georgia's players, is being brought to this defense by coordinator Todd Grantham.
"He's electric," said Thornton of Grantham. "He sets things on fire quickly. He makes you want to work harder."
When Mark Richt became Georgia's head coach in 2001 he had some immediate success. The Bulldogs went 13-1 and won the SEC championship in 2002. They played LSU, the eventual national champion, in the 2003 SEC Championship game. They won another SEC title in 2005.
But what Georgia lost after that, many fans thought, was the nasty edge to their defense created by former coordinator Brian VanGorder, who left for the NFL after the 2004 season. Willie Martinez was the DC for five seasons and was let go with two other defensive assistants after Georgia finished No. 71 in total defense and posted a record of 7-5 in 2009.
Richt hired Grantham, who learned defense from Nick Saban at Michigan Wolverines State and Bud Foster at Virginia Cavaliers Tech (his alma mater) before spending 11 years with four NFL teams. In Grantham's first season (2010) there were growing pains but in the last two seasons Georgia's defense has forced 62 turnovers (second only to LSU in the SEC), while the Bulldogs have twice won the SEC East.
Grantham gave Georgia something it had not had since VanGorder left. The elite SEC defenses play with a little bit of a nasty streak. Not dirty, mind you, but with an edge that wears down opponents.
"Oh, he's got that. He's intense," said Smith. "He wants the best and is not going to settle for anything less."
Grantham, named Georgia's associate head coach in 2012, is facing a pretty significant rebuilding job in 2013.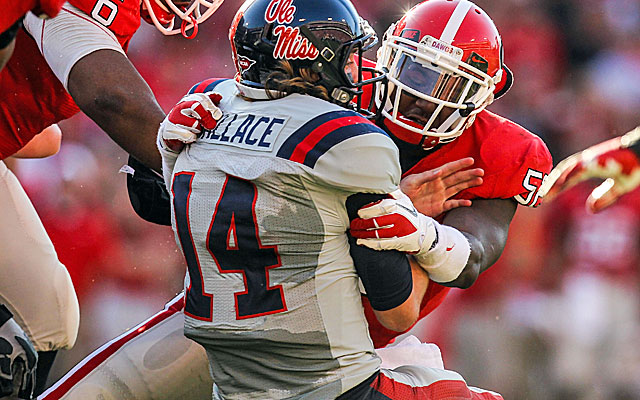 There is talent. Lots of it. A year ago Georgia started the season with only 24 scholarship players on defense. Four players, including Rambo and Ogletree, had multi-game suspensions.
Right now Grantham has 38 players available if they all stay healthy until the opener with Clemson on Aug. 31.
"We've got some young players in certain spots, but overall we have a lot more depth than we did a year ago," said Grantham. "We may not have a John Jenkins caliber player up front right now, but we have strength in numbers. We'll be fine. We have a lot more guys who can play."
Richt reminded me that last season it was the Georgia offense people were worried about while the defense was projected to be one of the best in the country.
"A year ago we had a bunch of very talented players on our defense," said Richt. "But the gap between the ones (first team) and the twos (second team) was significant. We have a lot of guys who have been working hard and waiting on their chance to play. I think our defense is in pretty good shape."
Now this is not going to be a nameless, faceless defense at Georgia.
"Oh, we still have playmakers," said Grantham.
Sophomore linebacker Jordan Jenkins played the opposite side from Jones last season and made the most of it with 31 tackles and five sacks. Amarlo Herrera (6-2, 244) didn't get as much press as an inside linebacker once Ogletree returned from suspension. But he is Georgia's leading returning tackler with 70.
Up front, Georgia has a new defensive line coach in Chris Wilson (replacing Rodney Garner). Thornton played in all 14 games last season. Taylor (6-4, 336) was a redshirt last season. <player idref= es (6-4, 321) played the 2011 season at Mississippi Gulf Coast Community College and redshirted last season. John Atkins (6-4, 321) enrolled early after spending a season in prep school at Hargrave Military.
"I think we're going to be really good up front," said Thornton.
There is work to do in the secondary as three players went to the NFL. But cornerback Damian Swann , the lone returning starter, led the team in interceptions with four last season. And remember this name: Tray Mathews, a true freshman safety, was one of seven new defensive players who enrolled early at Georgia. He is going to be a star.
So the pieces are there at Georgia to build another pretty good defense. The question is whether not it can be put together in time to play Tajh Boyd , Sammy Watkins and Clemson on Aug. 31 in Death Valley. And then the following week Steve Spurrier brings South Carolina to Athens. The Gamecocks have beaten Georgia three straight times.
"These guys have a lot of pride in themselves," said Grantham. "We've played pretty good defense the past two years. These guys are wanting to prove they can play, that they can be dominant in SEC games."
One thing's for sure: Georgia won't have to wait long to find out if these guys are ready for prime time.
Mayfield has also taken an important side in the Katy Perry-Taylor Swift feud

There are seven SEC teams in this week's college football rankings, but Alabama is not No....

For the first time, we have a tie for the top spot in the CBS Sports 130
Mayfield has passed last year's Heisman winner, Lamar Jackson

Georgia-Tennessee has been picked as the SEC Game of the Week

A look back at the weekend that was in college football