Georgia S Harvey-Clemons suspended after marijuana incident
Georgia starting safety Josh Harvey-Clemons could miss the Bulldogs' season opener after telling police he'd smoked marijuana.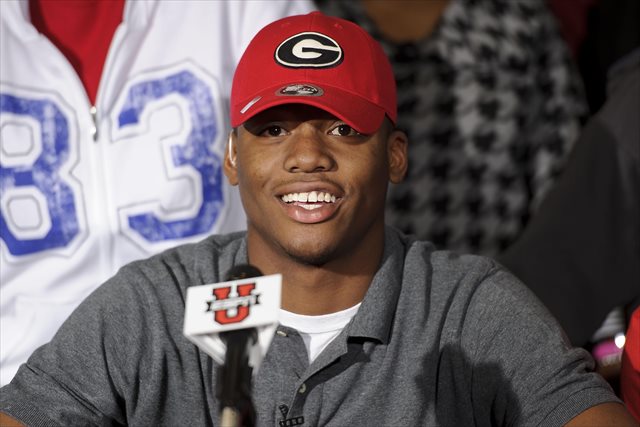 In what's threatening to become an unfortunate annual tradition in Athens, Georgia once again heads into its season opener missing a key member of its defense through suspension.
Mark Richt told the Atlanta Journal-Constitution at the SEC spring meetings that starting saftey Josh Harvey-Clemons will miss the Bulldogs' Aug. 31 debut against Clemson after reportedly telling campus police officers that he had smoked marijuana in a May 15 incident. That admission might have constituted a violation of the athletic department's marijuana-use policy, requiring a suspension of at least a game.
The Bulldogs formally announced that Harvey-Clemons will be suspended for a "violation of team rules."
The AJC obtained a copy of the police report from the alleged incident, in which officers were called to a Georgia dorm room after a residence hall assistant "detected the odor of marijuana emanating" from a room. Officers found Harvey-Clemons and sophomore tight end Ty Flournoy-Smith inside the room. After questioning, the players admitted they had "smoked a blunt" in the room, police said.
Per the report, officers searched the room but did not find any marijuana other than "a barely visible flake of possible marijuana" inside a discarded plastic bag. As a result, the players were not charged with any crime, though the incident report was turned over to the school Office of Student Conduct.
Flournoy-Smith is transferring out of the program, Georgia announced last week. He was arrested in February on charges of filing a false police report.
A rising sophomore and former five-star recruit from Valdosta, Ga., Harvey-Clemons appeared in all 14 Georgia games as a true freshman in 2012 and finished with 14 total tackles. He won the starting strong safety spot in spring practice and is expected to perform as an impact player in 2013. But his absence could be felt and felt harshly against a Clemson team featuring Heisman dark horse Tajh Boys at quarterback and Sammy Watkins at wide receiverat wide receiver. 
With true freshman Tray Matthews likely set at the other safety position, Harvey-Clemons could be replaced by either junior Corey Moore -- who won plaudits from coordinator Todd Grantham during Georgia's spring drills -- or junior Connor Norman.
But his suspension marks the second straight season the Bulldogs will enter the season missing a pivotal member of their secondary. In 2012, starters Bacarri Rambo, Sanders Commings and Branden Smith all missed the season opener vs. Buffalo through suspension.
Louisville and TCU get big-time bumps after conference rivals fell on Saturday

Georgia jumped four spots to No. 8, while Florida State dropped 14 spots to No. 25

The Bulldogs jumped up to No. 7 after an emphatic win over Mississippi State
The Penn State running back made a case that he's a legit Heisman Trophy contender

The Nittany Lions came up huge when they needed to against Iowa

It just might have been the best game of the season so far