Georgia Southern names SHSU's Wille Fritz head coach
The Eagles have one of FCS's most proven coaching commodities set to lead them into the FBS era.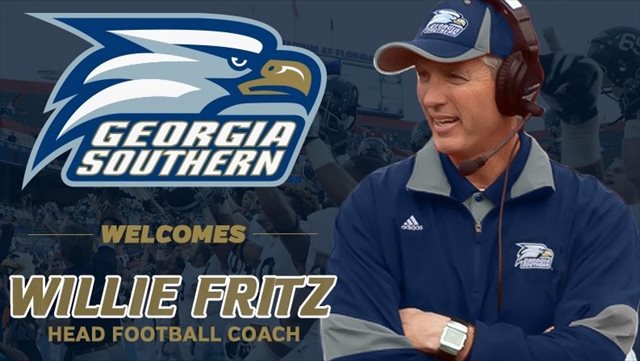 Georgia Southern will head into its new life as an FBS team with one of FCS's most successful coaches at the helm.
The school announced Friday that it has hired Sam Houston State's Willie Fritz as the Eagles' new head coach, replacing Jeff Monken, who was hired as Rich Ellerson's replacement at Army Dec. 24.
The 53-year-old Fritz comes to Statesboro with a 40-15 overall record over his four seasons at SHSU, a relatively brief tenure that nonetheless includes three consecutive FCS playoff apperances, back-to-back Southland Conference titles, and consecutive FCS championship game appearances in 2011 and 2012. (The Bearkats lost to North Dakota State both times.)
GSU president Brooks Keel called Fritz a "perfect fit for this program," per the Associated Press.
The Eagles will likely need the perfect fit in short order; after a transitional year in 2014, Georgia Southern will become a full-fledged Sun Belt member in 2015. Though some recent FBS transitions have succeeded -- UT-San Antonio posted a winning record at 7-5 in 2013 and Texas State was bowl-eligible at 6-6 -- the struggles of programs like UMass (2-22 in two FBS seasons) and Georgia State (0-12 in its 2013 transitional season) also illustrate how difficult the move can be.
Also posing its own challenge will be the Eagles' likely transition from Monken's triple-option offense -- a Georgia Southern staple -- to the spread-option approach favored by Fritz. Though the Bearkats ranked sixth in the FBS in rushing offense in 2013, they also threw for better than 185 yards a game and for 33 touchdowns.
That concern clearly wasn't serious enough to warrant passing on one of the top handful of coaching prospects in all FCS, and one would have to think that the all-time leader in FCS championships -- the Eagles have six -- would be able to make the leap if anyone could. But the offense's learning curve could still make what already shapes up as a serious challenge for the Eagle program over the next few seasons that much more challenging.
Cristobal's first game at Oregon ended the same way Chip Kelly's did

Conner Manning and the Panthers dominated the Hilltoppers in the Cure Bowl

You can only go to the well so often before it dries up
The Trojans beat LSU earlier in the year and now have their first 11-win season as a FBS t...

Saban has never been a fan of the early signing period and made it clear that hasn't chang...

Paul Tyson is a three-star quarterback prospect for the 2019 recruiting class