Georgia's Chris Conley has good sense of art, style and ... player rights
Chris Conley has been outspoken about college athletes being compensated fairly. The times do seem to be changing.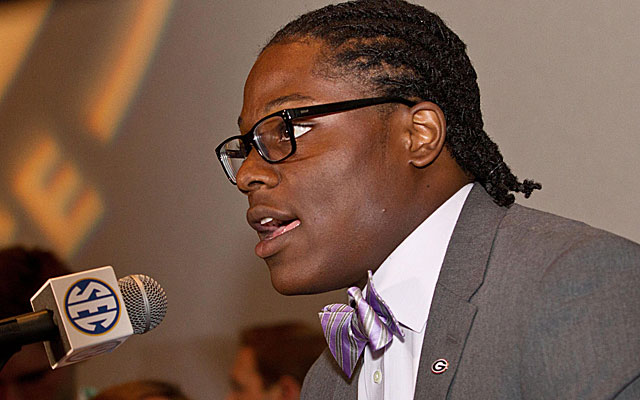 HOOVER, Ala. -- Chris Conley is the embodiment of a modern college conundrum.
He's accomplished. Georgia's senior receiver is in the early stages of directing his second film.
He's brilliant. Conley is an outspoken member of the NCAA's select Student-Athletic Advisory Committee.
He has a sense of style. Conley claims to have talked his Georgia teammates at Thursday's conclusion to SEC media days into a certain trendy neckwear.
"I personally claim responsibility for the fact they're wearing bow ties today," said the man in the Batman socks.
Conley's everything you'd want in a player, a student and culture maven except for this stinging description of his lifestyle the last four years.
"College athletics is just a beast. You're pretty much a semi-pro," Conley said.
That condenses a national discussion that isn't going away anytime soon. How does the NCAA maintain an amateur image – their words: collegiate model -- and still oversee a multibillion-dollar enterprise?
Is a scholarship enough to counterbalance the uncompensated time demands to play major-college football?
And if one of the most accomplished student-athletes in the country is saying it, what hope is there for the rest of the system?
The entire issue got a clearer definition recently when the NCAA granted Conley a waiver to raise a production budget for his second film, Volition.
It was part of a new NCAA interpretation in January that probably passed under the radar. The NCAA Legislative Council liberalized the waiver process accounting for an athlete's "personal circumstances."
Conley's circumstances include rubbing elbows with Hollywood producers, writing scripts, basically preparing himself for life. The talented receiver is a football prospect, but we also could be watching a burgeoning artist.
The budget for the film may approach $75,000. Conley wrote and directed a Star Wars-themed film Retribution that has been viewed hundreds of thousands of times on YouTube. That one had no budget.
In the process, Conley also wrote, directed and pursued his dream.
"It's an age-old question, should college athletes be paid?" he said. "That's really what creates the atmosphere, that's what creates the question. Since we [athletes] haven't had much traction I applaud [the NCAA] for taking steps."
Conley has become a Norma Rae of sorts -- a player-rights advocate.
In January, as a member of the NCAA Student Athlete Advisory committee he stood on the floor of the NCAA Convention challenging the association's leadership. Why, he asked of a new governance model, is the name "student-athlete" not included.
"That comes from a fear of mismanagement," he said.
Next month the NCAA board of directors are expected to approve that governance that includes 15 student-athletes voting directly on legislation. That would be a first in the 109-year history of the organization.
"That's takes a lot to stand up in a room of people who have tenure, who have years of experience, who might not all look at you as a viable source for input," he said. "It takes a lot of courage to stand up in front of that many people and say something that is that pointed. There should be a way for athlete that are doing something productive, starting a career ... and to profit from it and to get the work experience."
Conley knows there was a time when the NCAA would have crushed his dream. Former Colorado receiver Jeremy Bloom fought bitterly with the NCAA over his ability to accept endorsements to fund his Olympic training. That's not unlike what Conley is doing now.
Bloom was declared permanently ineligible. The NCAA had banned a former freshman All-American in football and a world-class, hall-of-fame, two-time Olympic skier.
Not a good look. Make that a bad, bad look.
"We've seen this movie before," said Bloom, now a successful businessman and commentator for the Pac-12 Network and NBC (during the Olympics).
Bloom is referring to the NCAA stance on that collegiate model. Strict, byzantine. The likes of John Elway, Deion Sanders and Drew Henson were compensated in another sport (baseball) while playing college football, but he wasn't.
"The common argument against it is, student-athletes shouldn't be paid, but they're already being paid," Bloom said.
Or at least they will. Cost of attendance is expected to be implemented by next year. Depending on how O'Bannon shakes out there may be more compensation for affected athletes. An antitrust suit filed by a powerful New York attorney seeks to totally remove caps on athlete compensation.
Such economic changes didn't ruin the Olympic movement. The heart-warming stories of compensated Olympians are sponsored by airlines, credit card and rental car companies.
But just last year the NCAA ruled a Minnesota wrestler ineligible because his name was attached to music videos that popped up on YouTube.
A year and a half later, the NCAA is under fire in federal court over the same issue: Controlling players' image and likeness.
"I feel like those wrongs should be corrected," Conley said, adding, "There's no way you can tell me that a guy who's 6-3 from Georgia, has my skin tone and wears my number is not me in video game ... so that rubs me wrong."
While Bloom was applauding the NCAA for its decision, Conley was making his way through the media days' car wash explaining the ramifications. They all wanted to know his story. They'll have to deal with the current reality.
"There is," he said, "no such thing as an offseason."
Cristobal's first game at Oregon ended the same way Chip Kelly's did

Conner Manning and the Panthers dominated the Hilltoppers in the Cure Bowl

You can only go to the well so often before it dries up
The Trojans beat LSU earlier in the year and now have their first 11-win season as a FBS t...

Saban has never been a fan of the early signing period and made it clear that hasn't chang...

Paul Tyson is a three-star quarterback prospect for the 2019 recruiting class