Georgia's Jordan Jenkins looks to fulfill serious potential
Jordan Jenkins leads a young Georgia Bulldogs defense into Clemson this week. Jenkins replaces Jarvis Jones as UGA's primary pass rusher
• 3 min read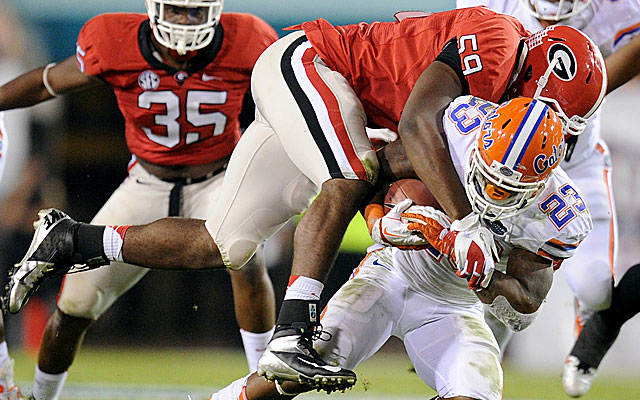 Ronald Jenkins will do anything to motivate his son, Georgia linebacker Jordan Jenkins, even if that requires trolling the Internet message-board scene.
Ronald combs SEC team and recruiting sites. He even subscribes annually. He wants to know what fans are saying about his son, not to praise him, but to quell any unnecessary expectations hurled Jenkins' way before he validates them on the field.
If Ronald can't find a good online zinger to relay to Jenkins, he'll just make one up.
Jenkins said he recently heard from his dad that a message board said, "You can't be as good as Jarvis [Jones]." That never happened.
Hey, it's Clemson week.
"I also said that Clemson scouted him and they thought he wasn't going to be no problem," said Ronald, a Colorado State player from 1982-83 before a neck injury forced him out of the game. "It makes sure he understands -- you have the potential to be great, but you still have a lot of work to do."
That last statement applies to Jenkins and the rest of Georgia's defense that is so fast yet so young, to the point defensive coordinator Todd Grantham expects to use eight or nine defenders playing their first collegiate down Saturday night in Death Valley.
This toddler phase has Georgia turning to Jenkins -- a sophomore with 31 career tackles and six starts -- for leadership.
If you need an example for why Georgia is hopeful, leap into this. Now wait for Jenkins to leap over you. Yes, he's still jumping.
Apparently his lower body strength is insane. He squats more than 600 pounds, according to Ronald. He broad-jumps more than 10 feet, according to Grantham.
This space will refrain from comparing anyone to Clowney, because that's not fair. Clowney stands alone.
But Georgia feels quite good about the growth of 6-foot-3, 246-pound Jenkins, even if he's replacing Jones, a first-round pick with the Steelers after 14.5 sacks a year ago.  Grantham said Jenkins has the burst "you look for in premier pass rushers."
"My motivation is to live up to some of the expectations people put out there for me," Jenkins said.
Jenkins doesn't plan to waste his gift, even if he needed time to realize it. The son of an Army career counselor, Jenkins lived in Texas, South Carolina, Alaska, California and Washington before his family settled in Hamilton, Ga.
In the second grade, Jenkins wrote on a classroom note about his talents: "I am good at sports." But he only played youth football because his dad wanted him to. That changed when he was cut from his middle school team, he said. The feeling of rejection pushed him to work.
A few years later, Harris County High School coaches nicknamed him 'Freak' because he was power-cleaning the bejeezus out of weights in the sweaty Harris County gym. (He now power-cleans more than 400 pounds, per Ronald).
The hype has followed him since. Georgia won the tight recruiting battle for Jenkins over Auburn, Alabama, Florida and others.
His parents helped get him there.
"I always want to make my dad and mom proud of me," Jenkins said of parents Ronald and Phyleshia.
The reminders to be great are all around Jenkins. Ronald never wants to interfere with UGA's coaching but keeps the football tips for his son on tap:
Keep your pad level right.
Don't go too high.
Cut corners sharply off the edge.
Keep variety in the pass rush.
Grantham has worked with Jenkins to become a better pass rusher with his hands and also to "have some coverage skills to him."
Jenkins aims to become a complete linebacker. Grantham has noticed Jenkins, who was reserved as a freshman, urging players to finish practices strong on hot and lethargic camp days.
"I think I can definitely be in that type of role," Jenkins said about setting examples in practices and on the field with his play. "That's one of the mind-sets I have to have, always be creating turnovers, trying to do that extra stuff to outplay the offense."
His dad will make sure of it. If Jenkins misses a few big plays against Clemson, Ronald will probably let his son know, an ardent student of the tough-love book.
Tear down, only to build up.
But after years of talking football with his son, Ronald knows where Jenkins stands.
He wants no regrets.
"He's nowhere near his full potential," Ronald said. "Not even close."
The Nittany Lions want the Crimson Tide after dismantling the Wolverines

The Nittany Lions and Fighting Irish are storied programs but newbies as CFP contenders

Plus, people need to start paying attention to Matt Campbell and Iowa State
Barkley scored three touchdowns and made some big plays in Penn State's massive win

Projecting the many changes in the new AP Top 25 poll college football rankings after Week...

Keeping tabs on the biggest scores and highlights from Week 8 of the 2017 NCAA football se...