Georgia's Mark Richt: Off-field issues magnified because we discipline
Once again, the narrative is Mark Richt has lost control of the Georgia program. But Richt says his program has accountability and gets criticized as a result.
• 2 min read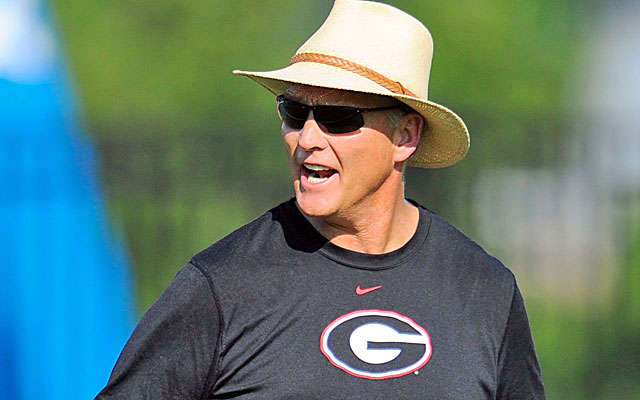 More college football: Jon Solomon | Dennis Dodd | Jeremy Fowler | Latest news
A familiar theme surfaced during a Mark Richt press conference to kick off fall camp.
Off-field player issues.
You might have heard -- Mark Richt has lost control of his program.
Again.
For, like, the seventh straight year.
That's the convenient narrative.
Yes, Georgia has had its share of problems with players, this offseason included. At least five players have faced legal trouble, including a foursome involved in a March theft by deception. 
Look around and Richt clearly isn't alone. Alabama had at least five arrests this offseason, and Saban will never get the same human-pinata treatment as Richt. He's too beloved. Texas A&M has had 15 arrests in the last two years, according to the Houston Chronicle. Florida and Tennessee had extensive criminal behavior at times in the 2000s.
Richt's easy to bash on this stuff, maybe because he's been around so long and doesn't have the national-title cachet. That's not an excuse. This offseason was not his best.
But he seems ready to act when problems arise. One of the four players from the theft remain on the team. Defensive lineman John Taylor is the latest to go after a felony aggravated assault last month.
Linebacker Davin Bellamy got a two-game suspension for a DUI. Safety Josh Harvey-Clemons is gone after multiple failed marijuana tests.
Richt defended his approach to bad behavior at SEC Media Days -- really, if conferences had uniformed policies, we wouldn't have to try to stack who which coach is tough on crime vs. who's soft -- so CBS Sports got a chance to follow up with Richt in a television room.
 His comments were interesting.
"Just because we've got guys suspended isn't evidence we have a discipline problem," Richt said. "It's evidence that we discipline our players. It's evidence there's accountability. ... Sometimes when you make part of your discipline playing time, it becomes a very public thing. Some of your dirty laundry gets out there in public. I'm willing to take that risk if the process will help these guys grow into men. If we ignore stuff they do and act like it didn't happen and sweep it under the rug, let them get away with it or whatever, what are we teaching? We are setting them up for failure down the road."
Though it seems impossible to 'sweep it under the rug' when police reports sometimes leak within minutes, Richt doesn't seem worried about placating impact players. If that was the case, two potential starting defensive backs (Harvey-Clemons and Tray Matthews, part of the theft arrest) would still be on the team.
Just a little context before you bash the SEC's easiest target.
Rhoads led Iowa State to three bowl games in seven years as head coach

The Georgia middle linebacker is one of the most valuable players in college football

Explaining my 2017 Heisman Trophy ballot and Jackson's tremendous season
Mayfield is the sixth Oklahoma player to win the Heisman since its inception

The Heisman Trophy will be presented to the best college football player this season

Army topped Navy for the second straight year in an absolute thriller in Philadelphia