Getting their bell rung
Another week, another player gets knocked out. That is the reality with football. In fact, it usually a lot more than just one player getting knocked out every Saturday.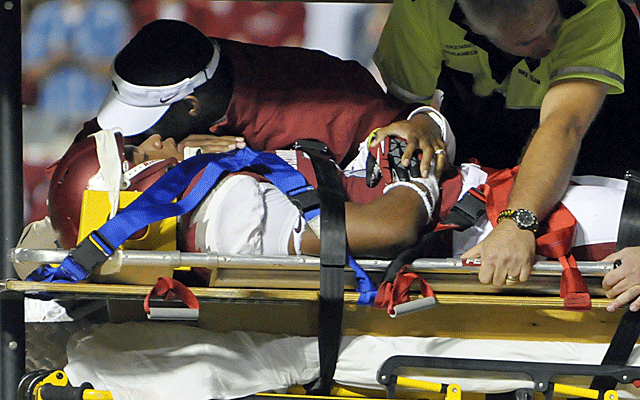 Arkansas' Tevin Mitchel is taken off on a backboard.
(Getty Images)
Another week, another player gets knocked out. That is the cold reality of football. In fact, usually a lot more than just one player gets knocked out every Saturday.
Last Saturday night, Tyler Wilson, Arkansas' quarterback, suffered a head injury in the Hogs overtime loss to Louisiana-Monroe. In 2011, Wilson missed the second half of the Hogs game against New Mexico after he suffered another concussion.
According to the school, Wilson has experienced "grogginess" and has yet to be cleared for practice by doctors. "Tyler Wilson took a hit to the head and was kept in Little Rock last night for observation," coach John L. Smith said in a statement. "His prognosis is good, and he will be day-to-day."
Week 1 Review
Related content
Video
The treatment of head injuries is a complex subject. It has gotten a lot more media attention in the past few years with more and more information coming out. Many of the stories surround tragic tales while the people legislating the sport try to figure out how to respond as it relates to what is inherently such a vicious and violent game.
In MMA, fighters who get knocked out are forced in some states to sit out, at the minimum, 30-day mandatory suspensions. In other state governing bodies, such fighters can be held out of competition for 90 days. Does it seem odd that when it comes to college athletes, players who get knocked out may be allowed back into action in a week?
Myron Rolle, the former Florida State safety who won the Rhodes Scholarship before moving on to the NFL, said he would be very surprised if schools ever agreed to hold players, who suffered concussions out that length of time.
"My first thought about that goes back to the money and the business behind all of it," said Rolle, who is preparing to take the MCAT exam in hopes of someday becoming a neurosurgeon. "They want these kids to play because people want to watch them play, and it increases their chances to win. There is just so much invested in the games."
Asked if he believed that schools would go for mandatory 30, 60 or 90-day suspensions for players getting knocked out, Rolle said he "highly doubted" it "even though that's probably the best and safest policy. There is a huge difference between a week and 60 to 90 days, but it's just not plausible."
Robb Williams, who worked as a trainer in major college athletics for 30 years, called the issue of dealing with head injuries a "quagmire."
"It's gonna keep on getting worse," Williams said. "It's just simple physics. We have to get it under control.
"Each school is moving forward, but it's just not unified yet. We're dealing with young athletes and we don't have much margin for error here. We need strong objective criteria instead of 'Let's just wait a week for him to return to play.' We're just getting to the point that people are having 'something' but it's not across the board. There is just too much gray area here."
Rolle said this is why the debate over paying college athletes gets so heated. "We feel like we were treated like commodities and there are some huge risks that you take.
"I started seeing more and more brain diseases pop up over and over again. More studies are coming out. Obviously, they aren't universally conclusive, but as a player, you hear about it and you read about it, but you can't really think about it when you're on the field, because it's gonna slow you down."
Complicating it even further is a mindset of being committed to the team, he adds. "And it's getting into the 'Well, you gotta tough it out' mentality about how you gotta be super human. You can run through that brick well! And now you gotta do it again. Players don't question it. You know, it's a team sport, but at the same time, you have to care for the individuals and think about what happens at the end."
CBS Sports HQ Daily Newsletter
Get the best highlights and stories - yeah, just the good stuff handpicked by our team to start your day.
Please check the opt-in box to acknowledge that you would like to subscribe.
Thanks for signing up!
Keep an eye on your inbox for the latest sports news.
Sorry!
There was an error processing your subscription.
Former Maryland offensive lineman Jordan McNair died June 13

The 10-year, $75 million contract demands success in College Station

Oklahoma's coach wouldn't commit to Murray as the Sooners' starting quarterback for 2018
The Big 12 now boasts that it has the hardest path to the College Football Playoff

Greg Sankey and Bob Bowlsby addressed a uniform injury report during their media days press...

Barton Simmons and Chip Patterson make win totals picks for the whole ACC