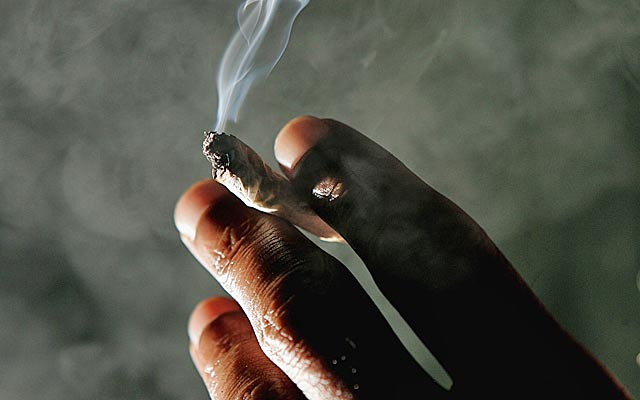 NCAA could change cheating penalties | Fowler: Food won't curb reform cravings
Marijuana is no longer the Devil's Weed when it comes to the NCAA.
The association will never say that. But its language in de-mystifying pot -- not decriminalizing it -- was significant on Tuesday.
The penalty for a positive marijuana test was reduced from a full season to half a season. The Legislative Council forwarded the measure. It is expected to breeze through approval, meaning each positive after Aug. 1 will, in the words, of the University of Texas make it more likely violators will be subject to "campus intervention."
Commenting on the legislation, USC went a step further in supporting the measure. It said "these issues can be treated the same as academic fraud."
We've come a long way since simple possession of pot meant a multiple-year jail term. In considering the lessened ban, the NCAA used some significant language. "Street drugs are not performance-enhancing in nature, and this change will encourage schools to provide student-athletes the necessary rehabilitation."
Rehab instead of suspension. That's a reflection of the nation's changing mores. Marijuana is still illegal in the majority of states but decriminalization is coming. That doesn't mean you have to agree with it. It means that placing pot in the same category as a steroid doesn't make sense.
One makes you bigger, the other makes you want to attack a bag of Cheetos.
Besides, you aren't going to win many national championships with Cheech and Chong.
It's still up to individual schools and conferences to do what they will with athletes who test positive. Former top-rated recruit Dorial Green-Beckham was kicked off Missouri last week. Two previous marijuana-related run-ins with police at least had something to do with it.
Florida State's Jimbo Fisher in 2012 dismissed star Greg Reid three weeks after the player was charged with misdemeanor marijuana possession.
There aren't many coaches who believe that pot is a mere distraction.
But the groupthink started to move the other way in 2010. The NCAA Committee on Competitive Safeguards and the Medical Aspects of Sports concluded a positive marijuana test was not "considered 'cheating' the same way as performance enhancing drugs."
Last year, the NCAA lowered the threshold for a positive. That made it easier to detect pot in a urine test. But it also made it more likely to distinguish whether smoke was inhaled second-hand at, say, a party. That was progress.
The NCAA began drug testing in 1986. Since 1999, it has contracted with the National Center For Drug Free Sport in Kansas City to do its testing. The rate of positives has hovered around 1 percent according to this 2013 New York Times story.
In the 3 1/2 years it took to get Tuesday's legislation this far, we can logically conclude that society's view of pot has changed. Me? I don't spark up but I do consider marijuana this college generation's beer.
It just isn't that big a deal. You may disagree. But at the same time use of marijuana seems to be going up, and so does the public's acceptance of lighting up.
Without saying it out loud, the NCAA's relaxed standards seem to be reflecting society.
The legislation does not include synthetic marijuana, currently a scourge for the NCAA and society.
The NCAA only tests for marijuana during championships (bowls, basketball tournament). It's fairly easy to get off the chronic in time for the NCAA Tournament. All you have to know is that marijuana stays in the body for up to a month.
It's still up to conferences and schools to set their own testing standards. It is treating marijuana the same way as heroin (banned street drug). Don't freak. According to the NCAA, no player has tested positive for heroin.
Sometimes NCAA change is slow. The association faces multiple challenges from the courts and critics. But this one they got right.
Pot is still illegal in many places, but it isn't the Devil's Weed it used to be.