Grading those 'bold' preseason predictions for 2013
Texas A&M QB Johnny Manziel to lead the Aggies back to the top 5? South Carolina DL Jadeveon Clowney to win the Heisman? Um. But how about that Texas D to come through in the Red River? Or Gus Malzahn to turn Auburn around immediately. A look back at our preseason predictions column.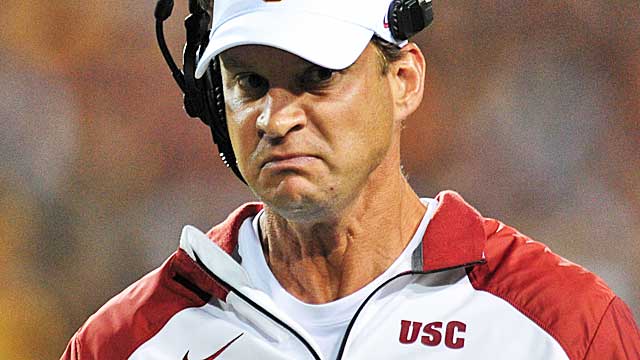 So back in August, I did this Top 10 list called "Bold Predictions for the 2013 season" ... I've done these before, where it seems one night I must've hatched the idea for this column in a bar, scribbled something down on a napkin and "Bad" became "Bold." Anyhow, thanks to the suggestion of a Twitter follower, it's time to revisit that column and see how we did. There's some very good, some very bad and, for the second year in a row, a Lane Kiffin-related prediction I cringed at when I read it months later.
1. Johnny Manziel will play this season: (Correct, this column came a day before the NCAA cleared the QB and only suspended him for the first half of the season-opener) and lead Texas A&M to another top-five finish (No): He will also complete a pass after scrambling for 20 seconds (No) and he'll become the first athlete to ever present at the CMAs and the BET awards (TBD). But he won't win another Heisman (Yes).
Upshot: Manziel didn't complete a pass after scrambling for 20 seconds but this one lasted about 10 seconds and was pretty remarkable. And the prediction that he wouldn't win another Heisman held up. We'll see about the part that he'll become the first athlete to ever present at the CMAs and the BET awards.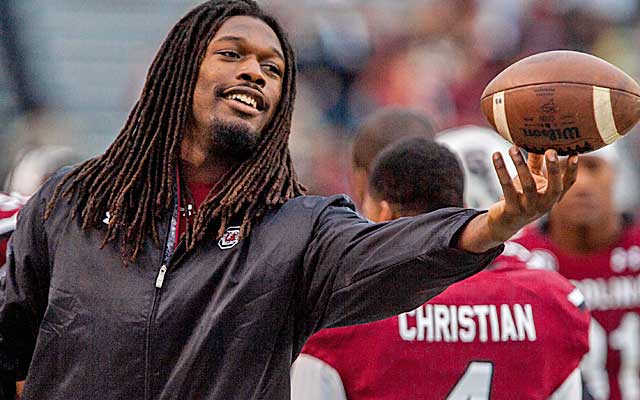 2. The Heisman Trophy winner will be a defensive lineman (Definitely not).
Upshot: My preseason pick, Jadeveon Clowney, who finished sixth for the Heisman in 2012, had an underwhelming season. He was hobbled by injuries that cost him to miss two games and left many speculating about his heart and toughness. He ended up the regular season with just 10.5 TFLs and only three sacks. FWIW, I still think he'll emerge from the NFL draft process as the top overall pick once his displays his Freakish athleticism and scouts look back at this 2012 film and come away thinking he's too talented to pass up.
3.  Jameis Winston will live up to the hype (Yes).
Upshot: This one proved correct, as Winston ran away with the Heisman and has led Florida State to an unbeaten season and a BCS National Title berth.
4. FSU will run the table: But the FSU is Fresno State (No).
Upshot: I should've stopped with the first part although the Bulldogs came close, going 11-1.
5. Texas will win the Red River game with its defense (Yes!): The Longhorns will also have a top 15 season (No!).
Upshot: Well, both of the first parts were correct. Texas stunned No. 12 OU and did so thanks in large part due to its beleaguered defense, limiting the Sooners to 263 total yards and a 2-of-13 third down showing. The downside: UT still only went 8-4 and even with a big upset of Oregon probably doesn't get close to the Top 15.
6. Charlie Weis will finally beat an FBS opponent at Kansas (Yes): He will beat two of them. (Yes)
Upshot: True. The Jayhawks did get two FBS wins. One over WVU and the other against La. Tech. Of course, Charlie Weis, now 4-20 in two seasons at KU, is going to need to win a bunch more to keep his job beyond 2014.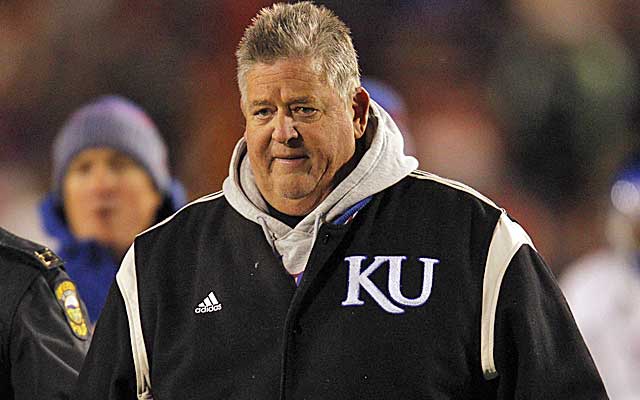 7. Gus Malzahn will lead Auburn to a win over a ranked opponent (Yes): The Tigers will go on to more than double last season's win total (Yes).
Upshot: Turns out, I undersold this one. Auburn beat five ranked opponents, including No. 1 Alabama. The Tigers only more than doubled last year's win total (3), they quadrupled it.
8. By midseason it won't just be NFL scouts who know the name of Buffalo's Khalil Mack (Yes).
Upshot: Mack's showing in the season-opening 40-20 loss at Ohio State (9.5 tackles, 2.5 sacks; one INT, which was a Pick-6) had many convinced he was the best player on the field, leaving scouts --and fans raving.
9. The two biggest beneficiaries of USC going to a 5-2 defensive scheme will be Devon Kennard, who is finally healthy and found a position at SAM (Yes), and Lane Kiffin, who will get to keep his job (Not so much).
Upshot: First-year DC Clancy Pendergast made some significant improvement in the Trojans D. USC went from No. 7 in the Pac-12 to No. 2 in total defense and from a middling 69th against the run nationally to No. 19. And Kennard did have a breakout season, leading the team in TFLs (13.5) and sacks (nine). Kiffin, though, didn't even make it to October with his job. But Pendergast's 5-2 scheme managed to have a strong season regardless, as interim head coach Ed Orgeron took over and led the Trojans to a 9-3 season and 6-1 record in the Pac-12 down the stretch that included a win over No. 5 Stanford.
How far removed is Kiffin from the Trojans' radar at this point? Consider this quote from USC safety Demetrius Wright as the team preps for Saturday's Las Vegas Bowl match-up against Fresno State: "It's pretty clear we want to win it for Coach O," Wright told USCFootball.com. "The whole team wants to win it for him. It's still Coach O's team. We know he'll be watching."
10. (tie) Eastern Michigan coach Ron English, 10-38 in four seasons, will be the first coach fired this season (No).
Upshot: English was fired, after going 1-8 this season and for a locker room rant. He was actually the fifth head coach fired in the season, following Kiffin, Paul Pasqualoni, Carl Pelini and Don Treadwell.
10. (tie) Miami will finally hear from the NCAA, wrapping up the Nevin Shapiro investigation before the season ... ends. (Yes) And people will be outraged by what the NCAA rules. (Yes)

Upshot: (Miami, Fla.) did hear from the NCAA, and it took all the way to the middle of the season for the news to come out. And yes people were outraged by the NCAA ruling. People are always outraged by what the NCAA rules.
Everything you need to know to watch and pick the Las Vegas Bowl on Saturday

Everything you need to know to watch and pick the Camellia Bowl on Dec. 16

Everything you need to know to watch and pick the New Mexico Bowl on Dec. 16
Everything you need to know to watch and pick the Cure Bowl on Saturday

Everything you need to know to watch and pick the New Orleans Bowl on Dec. 16

Bowl games are unpredictable, which means teams need to be on upset alert