Greyson Lambert named Virginia's starting quarterback
Greyson Lambert has taken the No. 1 quarterback job from incumbent David Watford for 2014, Cavs coach Mike London announced Monday.
• 1 min read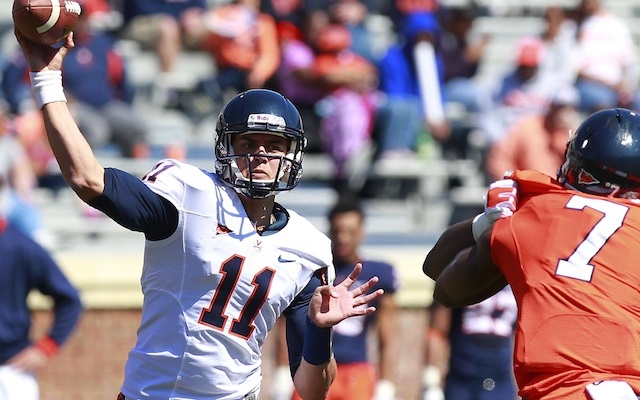 Mike London will enter his fifth year as Virginia's head coach with a new starting quarterback. On Monday, London announced that redshirt sophomore Greyson Lambert had earned the starting job during spring practice and is expected to lead the first-string offense in the fall.
Quarterback has not been a position of stability in London's brief tenure. Even UVA's 8-win season in 2011 -- when London was named ACC Coach of the Year -- featured both Michael Rocco and David Watford under center in 10 of 13 games. Rocco has since transferred away, former Alabama quarterback Phillip Sims has come and gone, and Watford failed to take command of the job last season after redshirting in 2012.
"I don't think it's a huge surprise how things worked out," London said on a conference call with reporters. "Greyson did a very good job with his on-the-field performance, his off-the-field performance, the things we've asked him to do. He's done them and he put himself in position to come out of the spring as the guy being named as the starter at this point.
"At that position you have to have a leader, and in a lot of respects, huddle command, presence -- it was all those things that added up coming out of it that we thought Greyson did a pretty good job at it."
Watford had eight touchdowns and 15 interceptions, the most of any ACC quarterbacks, last season. He is listed as the second string quarterback along with sophomore Matt Johns. 
Lambert, a former four-star prospect from Jesup, Ga., chose Virginia over Alabama, Clemson, and Georgia when he joined London's 2012 recruiting class and chose to enroll early. According to London, Lambert has earned the respect of the locker room and was voted one of the four team captains for 2014 by his teammates in spring practice.
The movie will zero in on former Penn State coach Joe Paterno during the Jerry Sandusky sc...

Bidding for Salaam's trophy, which the auction house says was obtained legally, ends Satur...

Locksley has been the offensive coordinator at Illinois and Maryland during his coaching c...
Many NFL-eligible juniors ignore advice provided by the league and risk going undrafted each...

Snyder died in Manhattan, Kansas, on Wednesday

Locksley joined Alabama's staff in 2016