Gritty Johnny Manziel, Texas A&M probably lose shot at BCS title
Johnny Manziel and Texas A&M won't hang their heads after losing to Alabama, nor should they, but if the goal was reaching the SEC or BCS title games, they need lots of help.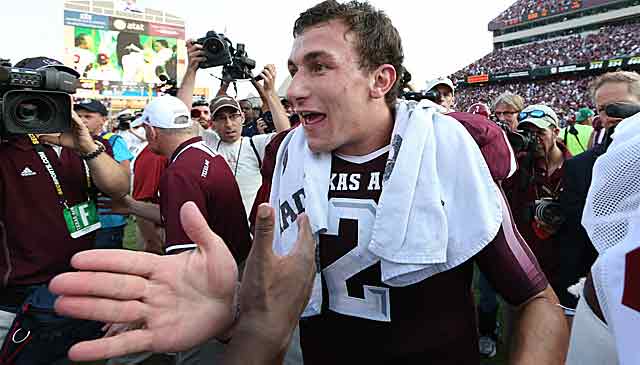 COLLEGE STATION, Texas -- The disappointment clearly was etched in his face. Losing what may be the biggest home game of your of life will do that. But there is no way -- absolutely no damn way -- that Johnny Manziel's head was going to be bowed after Texas A&M's 49-42 loss to No. 1 Alabama at Kyle Field.
"I can't tell [you] how proud I am of these guys," said Manziel, who has been the focus of so much attention -- a lot of it negative -- in the offseason. "I just kept telling the guys that no matter what happened on offense or defense, we could score points. I just told them to keep playing and we would have a chance to win."
When Alabama wiped out a nearly 14-0 deficit to score 35 straight points, it looked like Texas A&M was going to get run out of its own stadium, which was rocking for what many believe was the biggest home game in Aggies' history. But Manziel (464 yards passing) would not let his team quit and Mike Evans (seven catches, 279 yards) had a night for the ages.
Alabama led by 21, 42-21, late in the third quarter and that is usually enough to make normal opponents pack it in. But the Aggies scored with 15 seconds left to pull within a touchdown. Alabama recovered the onside kick and the Crimson Tide faithful could finally breathe.
Texas A&M had 628 yards of total offense, the highest ever recorded against Alabama.
"First of all you have to give credit to Texas A&M. They are really good at what they do," Alabama coach Nick Saban said. "But our guys hung in there and did what we had to do to win the football game. It was a great game."
Moments after the game in the Texas A&M locker room, coach Kevin Sumlin threw down the narrative for the Aggies moving forward.
"First of all, I am very proud of the effort that we gave against the No. 1 team in the nation," he said. "Alabama is a very good team and there is a reason they are the defending national champions. Nobody could say that this team quit."
Manziel said that Sumlin's message was simple.
"Our season is not over," Manziel said. "It is not over by a long shot. Alabama lost to us a year ago and they still won the national championship. Two years ago they lost to LSU and they still found a way to win the national championship. If we win the rest of our games then we have to believe we can get to the big game."
A lot of people thought Alabama's hopes for a national championship were over when Texas A&M won 29-24 in Tuscaloosa last November. But one week later, No. 1 Kansas State and No. 2 Oregon lost. Alabama moved to No. 2 after beating Georgia in the SEC championship game and then beat No. 1 Notre Dame for the BCS title.
"I told our guys that they have the perfect example of how to behave moving forward," Sumlin said. "Last year it was us dancing on their [Alabama's] home field after a big win. Today Alabama got to enjoy a big win at our place. But that just shows you why we have to keep playing every single game."
Texas A&M may in fact run the table. The Aggies will certainly be favored in every game moving forward with the possible exception of a Nov. 23 trip to LSU. There are also road trips to Arkansas and Missouri.
But the harsh reality, as it began to sink in at sundown on Saturday, was that for the Aggies to get to Atlanta and the SEC championship game they would need to beat LSU and Alabama would have to lose twice. Alabama gets LSU at home and now that the Crimson Tide has climbed over this big hurdle in College Station, the rest of the road schedule is at Kentucky, at Mississippi State and at Auburn.
So if Aggie fans felt that anything less than an SEC championship this season was going to be a bust, this loss is going to prove to be devastating.
After Alabama's 35-10 win in the opener against Virginia Tech on Aug. 31, some thought the Crimson Tide's offense was flawed coming into this game. But Alabama ran for 239 yards and quarterback AJ McCarron was his usual brilliant self, throwing for 334 yards and four touchdowns with no interceptions.
"Look, Alabama is Alabama. They are a great offensive team," said defensive end A&M's Julien Obioha. "I watched the Virginia Tech tape. I saw a lot of rookie mistakes but I also saw a lot of talent."
Manziel continues to defy any kind of mortal definition. His entire day was represented by one play, when he escaped the grasp of Jeoffrey Pagan and completed a 12-yard pass to Edward Pope down to the Alabama 22-yard line.
But the miracle play was wiped out later in the drive when Manziel's throw into the end zone was intercepted by Alabama's Cyrus Jones.
"That one is on me," Manziel said. "There are a lot of different ways you can throw that ball and I didn't throw it well."
It was one of two interceptions Manziel had on the day. The other bounced off a Texas A&M receiver and Alabama safety Vinnie Sunseri returned it 73 yards for a touchdown to give the Crimson Tide a 35-14 lead early in the third quarter.
It's hard to say Texas A&M could play better when they set the all-time record for yardage against Alabama. But that is what Manziel and Texas A&M are hanging their hats on as they move forward.
"This is not the end of our season. This was not our Super Bowl," said Manziel. "This is not the NFL. It's college football. And when you lose a big game early you always have a chance to come. We still have a chance to have a big season if we take care of our business."
Gyree Durante of Albright College was dismissed after he kneeled during the national anthe...

Penn State's star rusher loves to argue, just not about whether he's the nation's best pla...

The Fornelli 50 ranks teams based on nothing but their performance in 2017
Find out which of your favorite team's players are among the nation's best midway through...

Anybody can rank the best college football teams, only we rank the worst each week

The Badgers never get talked about, but that might change if they keep up their hot streak