Gundy positions OK State for a Big 12 title, himself for a new job
Oklahoma State knocks off No. 3 Baylor in one of the biggest wins of the Mike Gundy era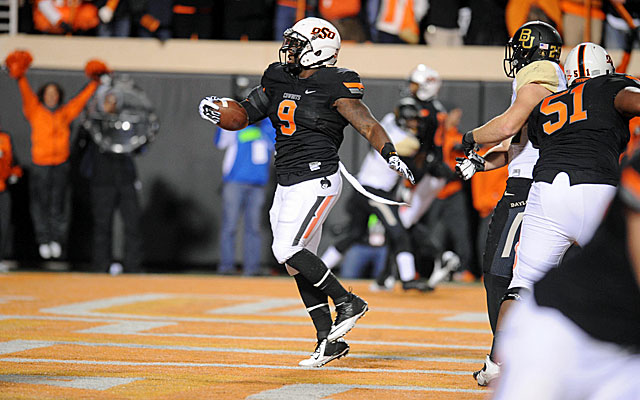 STILLWATER, Okla. – Why would Mike Gundy leave all this?
Saturday was another pinnacle in the career of Oklahoma State's steady hand. His No. 11 Cowboys had just made a visit to Stillwater an absolute mother for Baylor.
Mother Nature, for starters.
A cold north wind blew. The Bears were blown out by 32. It seemed like more.
If only the game description could have ended with the weather conditions. After a Big 12 season which Baylor has ruled, the result positioned Gundy to possibly become the conference's coach of the year. It put the Cowboys one game away from clinching their second Big 12 title in three years.
It also begged the biggest question of the conference's season. How in the holy heck did Gundy and the Cowboys lose to West Virginia on Sept. 28?
Oklahoma State is 10-1 now. But that 30-21 defeat 56 days ago to what is now the 4-7 Mountaineers is all that stands between Oklahoma State and a national title shot of their own.
"Things happen," Gundy said following the 49-17 win over Baylor. "Life's about moving on and taking the next challenge."
Why would Gundy leave all this? No matter how bittersweet, Saturday's result also helps position the 46-year old coach beyond Stillwater.
USC is open. Texas and Florida might be. Those are all clear career upgrades even with all the millions T. Boone Pickens has thrown -- and will throw -- at the program.
Why would Gundy leave all this? The stadium that bears Pickens' name sold out for the first time Saturday in the four years since it was remodeled.
You want to talk upgrades? That may be defined a bit different around here these days. There's not a question the Trojans, Longhorns or Gators are destination jobs.
Gundy also has one of the wheelingst, dealingest agents in the country, Jimmy Sexton. If nothing else, what Gundy is about to accomplish – those two conference titles in three years – are going to net him a big raise.
At least.
Even for a coach who might not necessarily care much about money, that's a lot. As it is, Gundy who is being paid an average of $3.7 million through 2019.
With those millions, Pickens wants to beat Texas. Gundy could soon be at Texas, essentially cutting out the middle man.
If his name hasn't come in serious conversations at those schools, it likely soon will be. At least at should be. It's not a good year for hiring a coach at a superpower. There's no obvious choice at USC unless Kevin Sumlin says yes tomorrow. Ed Orgeron's a nice story at the moment, but his long-term success not a sure thing. Same for Jack Del Rio.
Florida may suddenly be in scramble mode after an unthinkable loss to Georgia Southern. Texas, if it makes a move, is going to have to hire the George Clooney of coaches. Home run, personality, Xs and Os guy all wrapped into one.
What Gundy perhaps lacks in personality, he makes up in flat-out coaching ability. Operating in the shadow of big brother Oklahoma, he has pulled the program even, if not ahead in his ninth season.
Fifth-year senior quarterback Clint Chelf was yanked in the first game of the season. By the Oct. 19 game against TCU he had the job back. On Saturday night, Chelf played the game of his life throwing for 370 yards and three touchdowns. When asked why Chelf isn't allowed to talk to the media, Gundy told us only that it isn't personal.
"Ultimately I have to make hard decisions," Gundy said. "I could be wrong. It's not anything about you guys, trust me."
The mysterious part of Mike Gundy is still, well, a mystery. But that's as much as attraction as a question mark. Gundy's low-key approach gives him a Saban-like air.
"I was upset at myself about the West Virginia game as I've ever been," Gundy said. "It was my fault. I allowed it happen."
He did not elaborate. Mysterious.
You just wonder how Gundy would do at a program with better resources. No offense, Boone, but there are such places.
"To summarize kind of where we're at," Gundy said, "I can't remember the last time when we went on the field that our players didn't expect to win."
That was the goal nine years ago when Gundy took over for Les Miles, to create an environment where every Saturday was like this. The Cowboys are getting close.
Just last week they became the first team to win three in a row in Austin since Colorado in 1997. Since that West Virginia loss, the passing game has gone from 38th nationally to 17th nationally. The special teams are, well, special.
It's the little things. Defensive tackle James Castleman was heady enough to smack the ball out of the hands of Baylor's' Shock Linwood as he tried to stretch the ball across the goal line. Oklahoma State recovered the fumble and drove 99 yards for the game's first score.
Gundy broke out fullback Kye Staley who scored twice on short runs. The sixth-year Cowboys senior came into the game with two career carries. Arriving here in 2008, Staley see didn't the field until his fourth year in the program.
What kind of kid sticks with a coach so long, he's loyal enough to wait for his third career carry in his sixth year of eligibility?
"A lot of people call me crazy," Staley said. "I just thought I had something to prove."
Baylor, the nation's highest-scoring team, went from dominant to dysfunctional. The Bears didn't score in the first quarter for the first time since the third week of the 2012 season. They barely avoided being shut out in the first half for the first time in two years. They went a span of nine consecutive plays over three possessions gaining two yards or fewer. They turned it over three times.
"The only number that is in my head is 1939," Bears safety Ahmad Dixon said.
He was speaking of the last time Baylor won here. Both Oklahoma State's defense and a bitter north wind stiffened at the wrong time for the Bears. They still haven't beaten a team ranked this high on the road since 1985.
Baylor's national championship hopes are done. Its conference title chances might not be far behind. Baylor fell into a three-way tie for the Big 12 lead at 6-1 with Texas and Oklahoma State. However, the Cowboys control their own destiny and can snag the Big 12's BCS berth by beating Oklahoma on Dec. 7.
The loss wasn't so surprising than how it was shaped. Defensive coordinator Glenn Spencer's defense basically loaded the box against Baylor, daring quarterback Bryce Petty to beat the Cowboys.
The nation's most efficient passer couldn't.
"They [mistakes] just happened all at once," Petty said.
At times the game resembled a bad Star Trek sequel. The quarterbacks looked like they had switched bodies. Chelf completed his first 11 passes helping his team to a 14-0 lead. Even when Petty -- the Heisman candidate -- looked somewhat good, he stumbled. Literally.
On the Bears' second possession Petty was running untouched 28 yards for the game's first touchdown. But he fell on his own at the Cowboys' 1. Linwood fumbled the ball away to Castleman.
An offense that had been averaging 61 points and 684 yards per game fell flat as a whole at the worst possible time.
The cold – a 26-degree wind chill at kickoff – and hostile environment seemed to close in on the Bears. They finally started looking like a team that was missing its top two tailbacks (Lache Seastrunk, Glasco Martin), its best receiver (Tevin Reese) and its left tackle Spencer Drango, all to injuries.
For Gundy it was reinforcement that he may be the Big 12's best coach at the moment. The former national coach of the year (2011) showed no mercy. His offense was still throwing with three minutes left.
Like Saban, the man is coolly ruthless. Those are positive traits for some school out there. Or maybe not. Maybe Gundy is a lifer at Okie State, his alma mater. Maybe with him, the Cowboys can be a mother every week.
"I feel like I've been here about as long as he has," Staley said. "I don't think he's going anywhere."
Florida State and Alabama will face off in a highly touted game in Atlanta in Week 1

Five NC State freshman were punished team rules and code of conduct violations

Browne was benched in favor of Darnold early into last season
There are new names to learn every season, and here are 14 to keep an eye on from the SEC

Taking a close, detailed and opinionated look at the SEC a week before the start of the 2017...

Rosier will start for the Hurricanes in their opener against Bethune-Cookman