Gus Malzahn: 'Absolutely zero evidence' for rule change this year
Auburn coach and no-huddle proponent Gus Malzahn says the proposed 10-second substitution rule should wait a year o the two sides can construct a 'healthy debate.'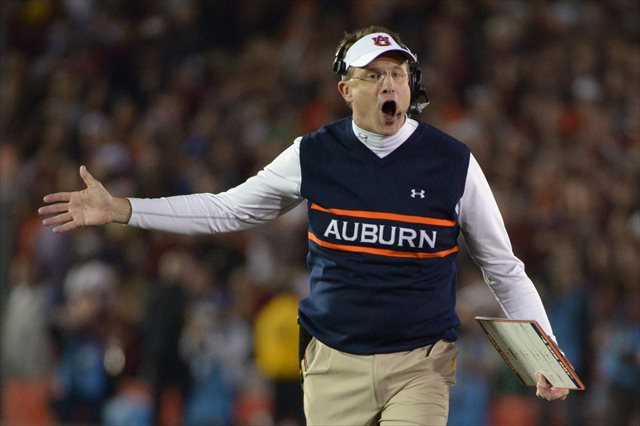 It wasn't really a question of whether Auburn's Gus Malzahn would oppose the NCAA rules proposal to give defenses 10 seconds to substitute after each play and penalize offenses for snapping the ball too fast -- this is the coach who literally wrote the book on the hurry-up-no-huddle offense -- but exactly how intensely he'd oppose it.
The answer from Malzahn's comments Tuesday to 247Sports affiliate Auburn Undercover and other outlets is that his opposition is intense, yes ... but maybe not as intense as expected?Malzahn said there is "absolutely zero evidence" that no-huddle offenses cause injury, and as such there should be no rule changes in a year in which the only alterations can be made in the arena of player safety. 
But he also said he encourages the NCAA to put the changes on the table for 2015 and have a "healthy debate" over whether to implement them or not -- and he said the same to Football Rules Committee member Troy Calhoun.
"The bottom line: This is not a rule-change year," Malzahn said. "For a rule to be changed, it has to be under the umbrella of health and safety. And the fact that there's absolutely zero evidence, documented evidence, that is hazardous on the pace of play, only opinions.

"What I asked [Calhoun] to do is move this to next year where it is a rule-change year, that we can hear both sides and have a healthy debate on moving forward with the rules."
Per al.com, Malzahn does not expect the proposals to survive the Playing Rules Oversight Committee, which will rule on the changes in early March.
"I would like to think that it wouldn't [pass]," Malzahn said. "I'm just going to do everything in my power the right way to stand up."
Malzahn says he has reached out to fellow SEC no-huddle advocates Kevin Sumlin and Hugh Freeze, but has yet to speak to either Bret Bielema or Nick Saban -- the two coaches who were reportedly present at the Rules Committee meeting regarding the proposals.
It's not surprising. But it does mean that SEC Media Days -- where the league's developing chasm over this issue will truly be put under the media broiler -- can't get here soon enough.
Kelly is presently deciding whether to start anew with the Gators or Bruins

There are a handful of conference championship games still to be determined

SportsLine's top college football expert, on a 30-18 run, locks in his top picks for a loaded...
Haynes was 14-45 in five years with the Golden Flashes

True romance isn't dead yet

The Egg bowl will be a Thanksgiving night treat for the college football world