Gus Malzahn named AP Coach of the Year
After engineering arguably the most amazing turnaround in college football history, Gus Malzahn has been named the AP Coach of the Year.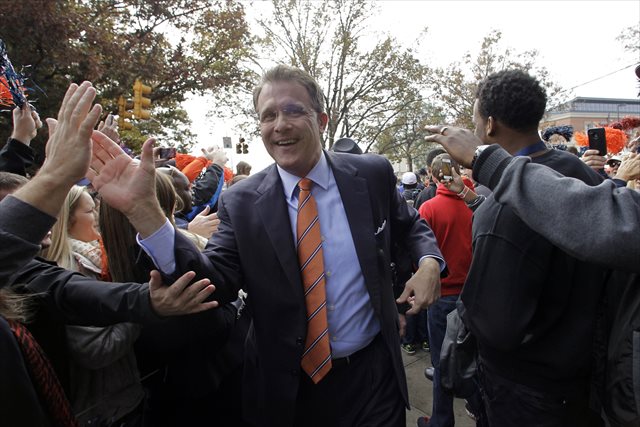 In 1999, June Jones led Hawaii from an 0-12 record the year before to a 9-4 season capped by an Oahu Bowl win, those nine wins setting the FBS record for biggest single-season turnaround.
Not only did Gus Malzahn tie that record in 2013, taking Auburn from 3-9 to 12-1, he did it in arguably the toughest division (and conference) in college football and ended No. 1 Alabama's hopes of a third-straight national title in the hyper-dramatic process. So it was no great surprise Monday when the Associated Press named Malzahn its 2013 Coach of the Year.
"It's very humbling," Malzahn told the AP Monday. "Any time you get awards like this, it's a team thing, as far as our staff and our players. It's been fun to be a part of this year."
Malzahn and Auburn would set the all-time turnaround record with a win in the national championship game on Jan. 6 against top-ranked, undefeated Florida State. Seminoles coach Jimbo Fisher received three votes for the honor, with Malzahn taking 33.
Duke coach David Cutcliffe, winner of multiple other Coach of the Year awards, finished second with 17 votes. Michigan State's Mark Dantonio also received three votes.
Malzahn is the second Auburn coach to win the award since its 1998 inception, joining Tommy Tuberville in 2004. He has already won the Eddie Robinson Award and been named the CBSSports.com Coach of the Year, among other honors. He won the 2010 Broyles Award as the nation's top assistant coach, the second of three seasons spent as Gene Chizik's offensive coordinator at Auburn.
Malzahn said that the Tigers' 45-41 midseason victory over Texas A&M was the turning point.
"At the time they were one of the top teams in the country, one of the toughest places to play," Malzahn said. "Our offense drove the field with under two minutes to score, and then we held the best player in college football (Manziel) out of the end zone on the last drive, which nobody had done that up to that point.

"When we walked off that field, we felt like we could play with anybody." 
That's exactly what Auburn proved the remainder of the season, and Malzahn has duly become the beneficiary.
There are new names to learn every season, and here are 14 to keep an eye on from the SEC

Taking a close, detailed and opinionated look at the SEC a week before the start of the 2017...

Rosier will start for the Hurricanes in their opener against Bethune-Cookman
Alabama has won three straight conference titles, and the rest of the SEC is full of quest...

Struggles out of the SEC in 2016 were a mere blip on the conference supremacy radar

Georgia Tech has been with Russell Athletic since 1992