Gus Malzahn's goal for Auburn is simple: 'Go back and win it'
Second-year Auburn coach Gus Malzahn has a broad mission in mind: finish what he started.
• 6 min read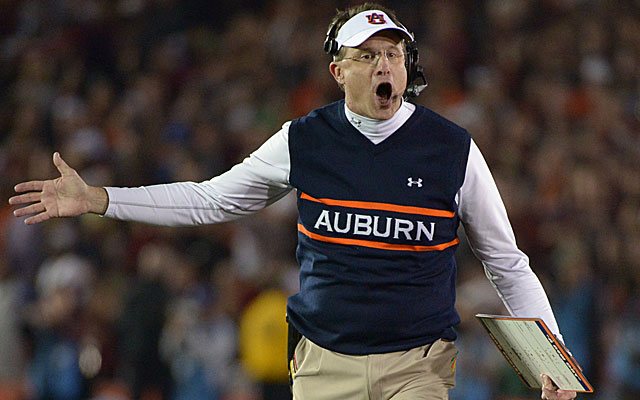 More college football: Dennis Dodd | Jeremy Fowler | Latest news
AUBURN, Ala. -- Gus Malzahn says hello in a blue-and-white-patterned, button-down shirt with short sleeves.
This is a bit shocking. Figured he always coaches in the blue Auburn vest with the white long-sleeve shirt and visor.
"It's getting a little hotter out," said Malzahn from his office on a rainy Monday.
And Malzahn is taking the temperature of his team at every moment, which means he's on a tight schedule. In preparation for Auburn's 'A-Day' Spring Game on Saturday, Malzahn has a broad mission in mind.
Finish what he started.
In the first 10 minutes of an interview, Malzahn twice mentions that, despite 12 wins and the single best turnaround in college football last year, the last game is what he remembers.
More pointedly, he remembers Auburn being 13 seconds away from a national title, before Kelvin Benjamin happened.
"You're always looking for things to motivate you, and we're extremely motivated right now after you get that close," Malzahn said.
Running back Corey Grant has noticed.
"I don't' want to say paranoid, but he wants everything perfect," said Grant of Malzahn. "When [a standard's] not met, it bothers him."
That often means running the same play four, five, six times consecutively in a practice.
But this is an off day, so Malzahn put down his call sheet for a few moments and touch on several topics with CBSSports.com.
On Year 2: "Last year we had a new staff, we were trying to learn our kids. This year is different. We have more information about our players. We have our staff completely intact. The expectations are higher. The guys understand that."
On Auburn's offensive evolution: "Last year we were a very, very simplified version. Our goal is to get better at our base foundation of offense and defense. But we're a year farther along, so we have been a little bit more specific on some things we'd like to do in the fall. We still haven't lost the concept of the foundation of offense and defense. We've still been pretty simple."
On more balance: "We're going to be who we are but we'll be more balanced. A lot of people took chances trying to stop the run last year. We just need to make them pay on a more consistent basis. That's what we've been working hard on in the spring. The quarterback always has a read, always has options off that read. We build around the strengths of our quarterback. We're the same core offense very year, but we try to build around his strengths."
On whether he cares about setting trends offensively: "As a coach, you don't get caught up in that. Whatever you feel as a coach gives your team an advantage and what you believe in and all that."
On Nick Marshall's passing improvements: "He definitely has. Coach (Rhett) Lashlee and him have been working extremely hard on his drops, his timing throws, making sure his eyes and feet are in the right spot. He's getting more reactive. He's not having to think through everything. He can just react."
On why Marshall couldn't work with QB coach George Whitfield in the spring:  "We believe strongly in what we do and how we coach it. We're very specific. We've got a very good QB coach in our own right. Nothing against anybody else, we just like our guys and doing exactly what we need to do and when their eligibility is exhausted, whatever they need to do, they can do."
On title game heartbreak: "You always remember your last game. You're always looking for things to motivate you, and we're extremely motivated right now after you get that close. We're finding ways to improve and get better and try to go back and win it."
On avoiding dropoff at Auburn: "You can win championships here. It's been proven. I knew it was only a matter of time if our coaches and players came together. Our coaches deserve a lot of credit for developing relationships with our players in a short period of time. Players deserve a lot of credit for everything they went through before with all the scars they had and putting it behind them. We need to keep winning."
On losing the luxury of being overlooked: "We understand we're not going to be overlooked by anybody next year. You've still got to earn stuff, but I'd bet we weren't circled on many people's preseason schedule [last year]."
On when Gus Bus truly got moving: "In 2007, when we were at Tulsa, that was the first year we really put the hammer down. We were No. 1 in the country in total offense, second year No. 1 total offense. That's when it really felt like [no huddle] could be a big advantage in college."
On the Tulsa football staff think tank -- Arizona State head coach Todd Graham, Malzahn, Penn State OL coach Herb Hand, Tulsa head coach Bill Blankenship, Arizona State OC Mike Norvell and Texas A&M OC Jake Spavital were GAs). "That was my first experience. Todd Graham is a brilliant mind. Herb Hand deserves a lot of credit for what we did at Tulsa. He brought some of that West Virginia element to what we were doing. That was a good staff. I was still trying to establish myself as a college coach. A lot of questions with would this offense work? 2007 and 2008 kind of answered that question."
On left tackle battle between Shon Coleman and Pat Miller: "We have two talented guys, both of them we feel could start for a lot of teams. We try to give them equal opportunities. They both came to play LT, which is a key spot in our offense. We feel really good about Shon Coleman and Pat Miller. Both are NFL-type players."
On offensive philosophy: "I believe in doing a few things and trying to be the best at it. Once you get to that point, you can put the bells and whistles and it looks comp and fancy and you can try to out scheme people, but you've got to execute. The whole scheming thing only gets you so far."
On calling plays with Lashlee: "We have a lot of pre-determined calls. A lot of times he's in charge of the checks, things like that. We are on the same page. He's run this offense since he was in the seventh grade. He knows it like the back of his hand. We're together on it. It's really a natural deal."
On play calling process: "When you go quick you've got to make calls, and after you make the calls, once the ball is snapped you're talking about the next call. What if they did this in that situation? You have to have somebody that's thinking like you so you can be thinking ahead a couple of plays."
On why the SEC should continue to play an eight-game schedule: "We have the best conference in college football. I think our conference speaks for itself."
On 10-second substitution ruling: "Now there will be discussion to decide if there's going to be a changed rule, do it the right way. Next year will be a rule change year and people will submit their suggestions. It will be properly debated on both sides and people will decide where they want the game to go."
On the College Football Playoff: "I think everybody will learn it's a new deal. Obviously you try to win our league and everything. There will be some learning from everyone in the first year. I think we'll figure that out after year one."
Debating the top team in the country, grading the surprise teams with 'real' or 'fake' des...

SEC races kick into high gear with some fun matchups that will shape the landscape of each...

The Bottom 25 ranks the 25 worst teams in college football every week
Antonio Callaway and Jordan Scarlett are two of the nine players under investigation

The SEC released its 2018 schedule in full Tuesday afternoon, and it's dripping with intri...

The 2021 Chick-fil-A Kickoff Game will feature Louisville and Ole Miss