Harbaugh using 'hand of the Lord' to pick, develop Michigan's starting QB
There is no Grbac or Brady in Michigan's locker room, but Jim Harbaugh is working to get the most out of either Shane Morris or Jake Rudock.
ANN ARBOR, Mich. -- It has to be a special kind of hell being coached by a former Michigan quarterback while trying to become the next Michigan quarterback.
Especially when the coach is a deity in these parts.
"They don't get it easy," Wolverines guard Kyle Kalis said. "They get the hand of the Lord."
A moment of pity, then, for junior Shane Morris and graduate transfer Jake Rudock. Those are top candidates to become Harbaugh's first starter at Michigan.
Rudock was (seemingly) brought in to win the job and stabilize the position for his one year of remaining eligibility. Morris is a lefty best known for getting his clock cleaned against Minnesota last season. The resulting mishandling of his concussion cost former coach Brady Hoke and athletic director Dave Brandon their jobs.
Never mind there may not be a hint of Grbac, Brady or Harbaugh in either. And whether they like or not, Morris and Rudock are more or less footnotes just like every other Wolverine in Year 1 of Harbaugh.
"If you screw up once, he'll say, 'Next guy in,'" Kalis said. "That's the mindset he brings from the NFL. You have to be consistent every day, every snap. Every read you make as a quarterback."
It almost doesn't matter who wins the job. Harbaugh's record suggests eventually he's going to turn it around in Ann Arbor. We're talking about a coach who pulled off arguably the greatest upset of all time with the immortal Tavita Pritchard (Stanford over USC, 2007). Harbaugh's also the guy who had the stones to yank Alex Smith and his 70 percent completion rate in favor of Colin Kaepernick. And then go to the Super Bowl.
In between, he recruited and developed someone named Andrew Luck.
Morris and Rudock should be so lucky, then, to earn their coach's scrutiny. The winner of the battle may be the answer to a trivia question, or never have to buy a drink in this town again.
That's how magic Harbaugh's touch can be.
"He played the position, played in the same stadium," Rudock said less than a week from Thursday's opener at Utah. "He's kind of got a leg up on you there. He'll let you know that."
There's a reason Rudock is here. Despite being the second most accurate Big Ten quarterback last season (61.7 percent), he lost the job at Iowa. He was described in some corners as too technical, too conservative.
All that was easy to overlook when Harbaugh needed a serviceable signal-caller to kick off his Michigan career.
"My game would be better explained by coaches and teammates in my opinion," Rudock said.
It soon will be. Harbaugh, playing mental chess to the end, said he won't release a depth chart until Utah releases theirs on Monday. He hinted on Detroit radio Friday that he even might play two quarterbacks.
"Everything's an option if you talk about could this happen, could that happen?" Harbaugh said on WXYT-FM. "Everything's an option and you don't mind your opponent thinking that everything's an option."
Receiver Jehu Cresson spoke of, "the special sense of pride Coach Harbaugh would have in that position. I think he holds himself to a higher standard than anyone else. I think that's more of a personal thing with him."
If body language counts as an indicator, Morris is out. He seemed resigned to his fate Friday night in a brief meeting with reporters. As a Michigan Man, that has to hurt the Hazel Park native.
Morris is aware of Luck, Smith and Kaepernick, but he had to be told about Pritchard. The Stanford sophomore had thrown three career passes before making his first career start at USC eight years ago. Pritchard threw the winning touchdown pass with less than a minute left.
"Oh really?" Morris said, intrigued.
Yes, that came after Pritchard hit Richard Sherman on 4th and  20 during that drive. The same Richard Sherman who is now an All-Pro corner with the Seahawks.
The point being that Morris, a lefty, shouldn't resign himself to the backup bin. He could be the next Pritchard who is now the current Stanford quarterbacks coach. Harbaugh built on that success during a 4-8 debut at Stanford, getting to the Orange Bowl three years later.
"The fans want to know who's going to play quarterback," Michigan play-by-play voice Jim Brandstatter said. "Jim sees the big picture. I always say don't worry about the quarterback. He'll find a guy to do what he needs him to do to be successful. It's the other 21 guys out there that all have to do well too.
"Jim will find a way for him to be successful."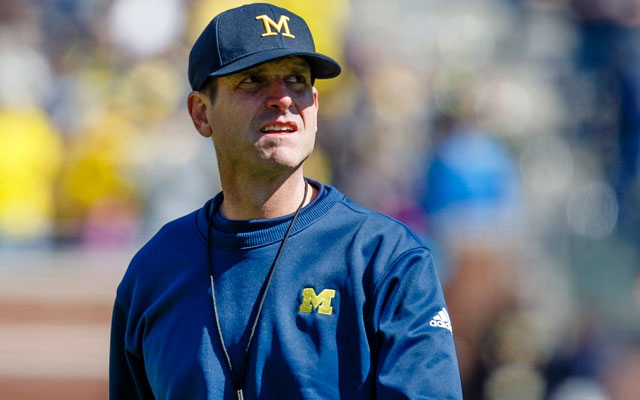 CBS Sports HQ Daily Newsletter
Get the best highlights and stories - yeah, just the good stuff handpicked by our team to start your day.
Please check the opt-in box to acknowledge that you would like to subscribe.
Thanks for signing up!
Keep an eye on your inbox for the latest sports news.
Sorry!
There was an error processing your subscription.
Clemson's quarterbacks, Willie Taggart's FSU revival and more talking points in the ACC

The Bulldogs wish they could guarantee a return to the College Football Playoff, but they...

The Orange and Blue now feature the signature Jumpman logo
Making predictions in a loaded Big Ten between Ohio State, Michigan, Penn State and Wiscon...

The Gators have been down for too long, and Mullen seems to know how to save them

Mullen has been known for rocking the sneaker and suit combo for a few years now